Writer

Martin is a nerd of various stripes with an affinity for paradox and interests in systems design and trans-disciplinary intersections. Martin is a child of the world having lived in Bulgaria, Czech Republic, Denmark, Israel and currently Taiwan.
READ FULL BIO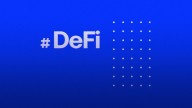 Decentralized Finance (#DeFi): A Quick Walkthrough of the Ethereum DeFi Stack
Here we present a comprehensive overview of the Ethereum DeFi ("decentralized finance") ecosystem of applications and protocols.
Ethereum
Jun 26, 2019 - 19 min, 37 sec read
All the post are loaded