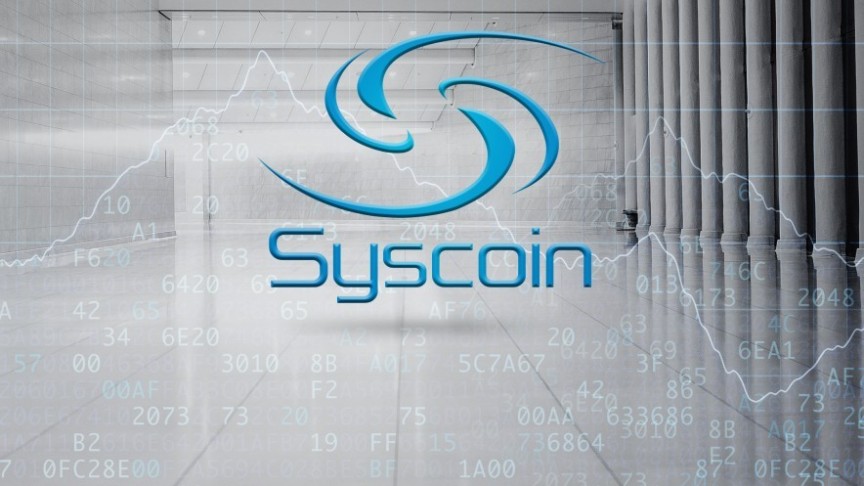 Binance Halts All Trading and Resets API Keys after Syscoin Attack
Jul 5, 2018, 10:20AM
Binance halted all trading activity and resetted all its API keys in response to a hack that generated an aberrant number of Syscoins.
Syscoin was recently targeted by a hack that generated a number of SYS coins greater than the original maximum SYS supply. Next, the hackers sent the SYS coins to Binance, where they were sold. The resulting high trade volume pumped SYS coin prices up to 96 BTC (approximately $600,000), to which Binance responded by temporarily halting all trading activity and resetting all its API keys, which are suspected to have been exploited during the attack.
Moments after the anomaly was detected, the Syscoin team announced via Twitter they would investigate any possible issues with their blockchain, and asked all exchanges to halt all trading in the meantime,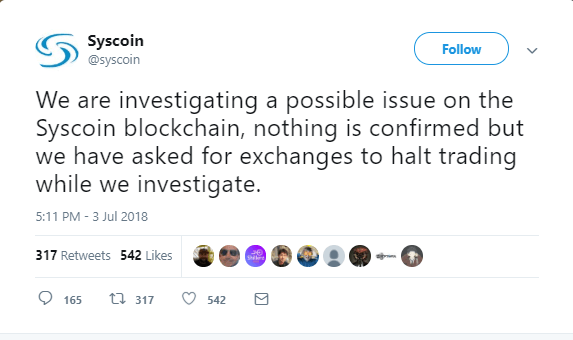 Shortly after, the Syscoin team tweeted an update that despite the anomalous trading behavior, their blockchain was safe from harm,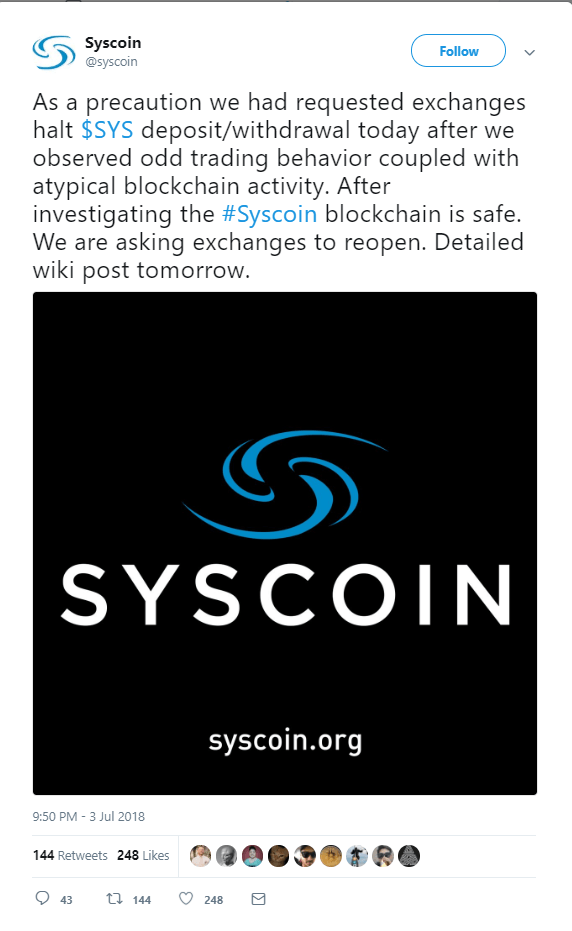 Simultaneously, Binance announced a system maintenance and that it would be resetting "all existing API keys as a precautionary security measure" and asked all users to recreate their API keys, without mentioning the reason behind the move.
A few hours later, Binance acknowledged that the system maintenance and the API key reset were executed in response to the Syscoin attack, and stated that it would allow no-fee trading between July 5 and July 14 to all users that were affected by trading during the pump. Also, Binance added that it would start a "Secure Asset Fund for Users", in order to be able to reimburse users affected in such situations,
To protect the future interests of all users, Binance will create a Secure Asset Fund for Users (SAFU). Starting from 2018/07/14, we will allocate 10% of all trading fees received into SAFU to offer protection to our users and their funds in extreme cases. This fund will be stored in a separate cold wallet.
Disclaimer: information contained herein is provided without considering your personal circumstances, therefore should not be construed as financial advice, investment recommendation or an offer of, or solicitation for, any transactions in cryptocurrencies.