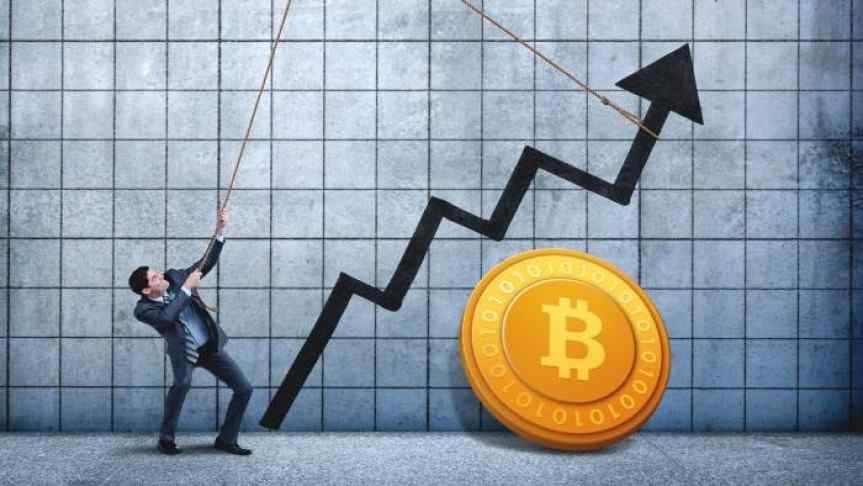 Bitcoin Falls as U.S. Launches Criminal Probe into Bitcoin Price Manipulation
May 25, 2018, 8:45AM
Bitcoin prices fall this week as leaks informed the US Justice Department will launch a criminal investigation on BTC and ETH price manipulation.
Bitcoin prices fell to their lowest point in 30 days, after leaks that the US Justice Department is launching a criminal investigation into Ether and Bitcoin price manipulation. The probe will be a joint effort between the Department of Justice and the US Commodity Futures Trading Commission. Spokespersons from both institutions have declined requests for comment.
According to Bloomberg, four people "familiar with the matter" suggested the investigation would focus into illicit trading tactics like wash trading and price spoofing, practices that have been actively prosecuted in the equities and futures markets for years. Wash trading is the act of repeatedly trading with one's self with the hopes of giving the impression of increased demand for an asset. Price spoofing is when traders flood crypto exchanges with fake buy or sell orders with the intention of moving prices in a desired direction.
Some even suggested that the article by Bloomberg was a part of its own form of price manipulation. The popular Twitter handle @lowstrife pointed out Bitcoin movement related to the Bitcoin price trend observed before, during, and after the US investigation leak was published,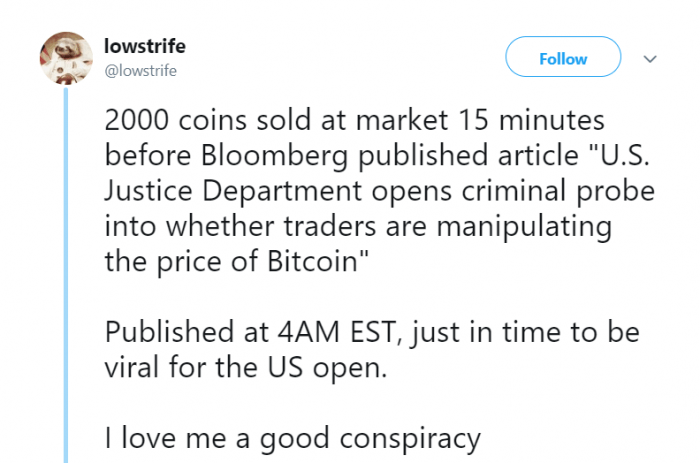 The cryptocurrency market is susceptible to manipulation and crime, according to the Anti-Phishing Working Group, over $1.2 Billion worth of crypto assets have been stolen this year alone. These criminal activities will likely continue to impact Bitcoin prices negatively in the long term. After all, recent scientific evidence suggests human emotion is what is driving cryptocurrency prices during this early adoption phase.
Disclaimer: information contained herein is provided without considering your personal circumstances, therefore should not be construed as financial advice, investment recommendation or an offer of, or solicitation for, any transactions in cryptocurrencies.