Bitcoin Price Extends the Rally to $23,000, HBAR, AXS, MATIC, Jan. 23
Jan 24, 2023, 4:55PM

by
Kevin George
BTC shrugs off Genesis with 9% gain. HBAR sees a rise in TVL. AXS gains but selling could come with token unlock. MATIC governance disappoints.
BTC
The Bitcoin price extended a recent rally to test the $23,000 level. The world's largest cryptocurrency by market cap was higher by 9% for the week.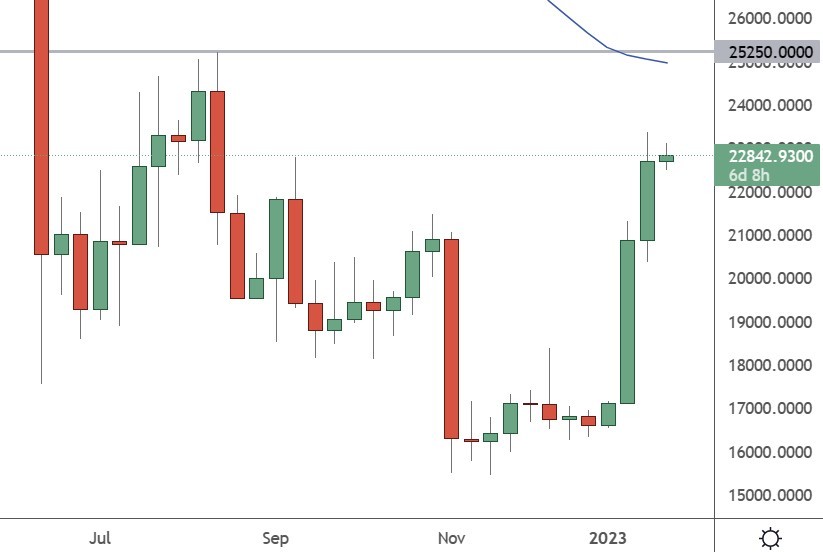 The bullish move in BTC came despite the bankruptcy of the Genesis crypto lending platform. The company is the latest victim of the FTX exchange collapse and ran into problems after having $175 million locked up in FTX.
Genesis first ran into problems with the collapse of another crypto firm, Three Arrows Capital, which went bust in June last year. The company was owed $1.2bn by Three Arrows, which had been brought down by the failure of the Terra stablecoin and LUNA.
Earlier this month, Genesis said it was cutting 30% of its staff, and is said to owe creditors $3.5 billion. One of those is the Gemini platform, owned by the Winklevoss twins, which had partnered with Genesis on the Earn staking protocol.
Some 340,000 Earn users have been unable to gain access to their funds since the FTX collapse in November when Genesis was forced to halt withdrawals. Gemini has since been caught up in a high-profile spat with its parent company, Digital Currency Group. DCG also owns the Coin Desk news platform and ironically, it broke the news story that led to the demise of FTX and the troubles at its parent firm.
Bitcoin will now look to test the $25,250 level which marked the low in May for the crypto market.
HBAR
Hedera (HBAR) mounted a 30% rally this week as investors take interest in the smart contracts platform. The project was hard hit in the 2021 bear market with a price drop from $0.50 to $0.044. Hedera is aiming to be a disruptor in the smart contracts space but there is already stiff competition from the likes of Avalanche, Fantom, and Ethereum.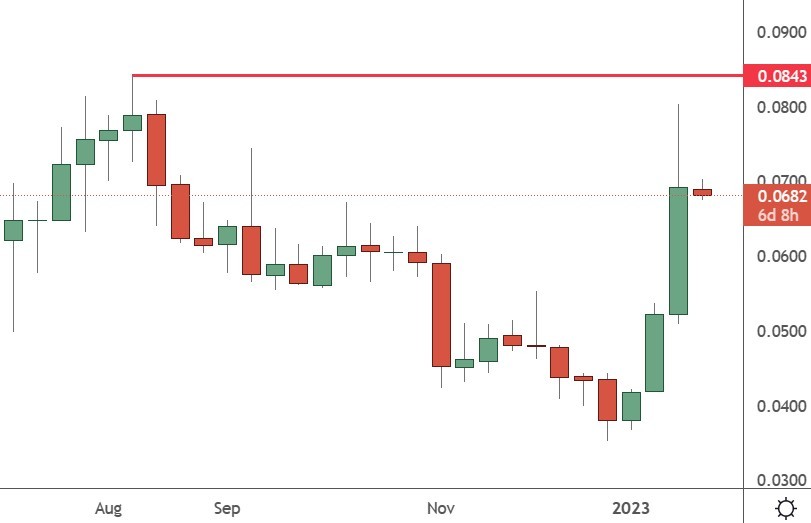 Hedera stands on a platform of providing smart contracts that are "smarter" with speeds of up to 10x greater than its rivals. The project is also looking to diversify into other areas. Non-fungible tokens are an interest for Hedera and a project insider recently talked of the news that tech giant LG is rolling out its new television technology which will integrate the HBAR NFT marketplace. The TVs would also allow users to display their NFT collection. That could eventually boost HBAR due to the large market reach that LG has in the home appliance world.
Hedera was boosted this week by on-chain metrics as Santiment reported a large increase in trading volume. The Hedera network's on-chain metrics, such as transactions per second and total value, have been rising, alongside its Total Value Locked. Over 40 million transactions have been processed on Hedera, at an average of 469.7 transactions per second (TPS) and a maximum of 6,856 TPS.
The TVL has now grown to $39 million, which is up sharply from May 2022, according to DefILlama.

Hedera currently trades at $0.07 after this week's price rally and has resistance around the $0.0840 level.
AXS
Axie Infinity (AXS) was another strong performer this week, with the play-to-earn project seeing a 40% jump in its token.
However, there are worries of potential selling pressure ahead of a token unlock. The imminent token unlock will release 4.89 million new tokens, representing 1.8% of the asset's 270 million total supply, according to Token Unlocks.
Hartmann Capital, Felix Hartmann, said: "Historically teams have saved up announcements for unlocks. I think the market has become so reflexive that people buy in anticipation of unlock news. The funding rate is at around +0.03% meaning starting to see an imbalance with more longs than shorts."
The Axie Infinity platform is also struggling as user numbers continue to decline in the blockchain game. The P2E game had close to 100,000 daily live players and 432,000 over the past month. This is a heavy decline from the 2.3 million players recorded at the project's peak in late 2021. Trust in Axie Infinity was hurt when the Ronin Network, which hosted the game, was hacked for $600 million.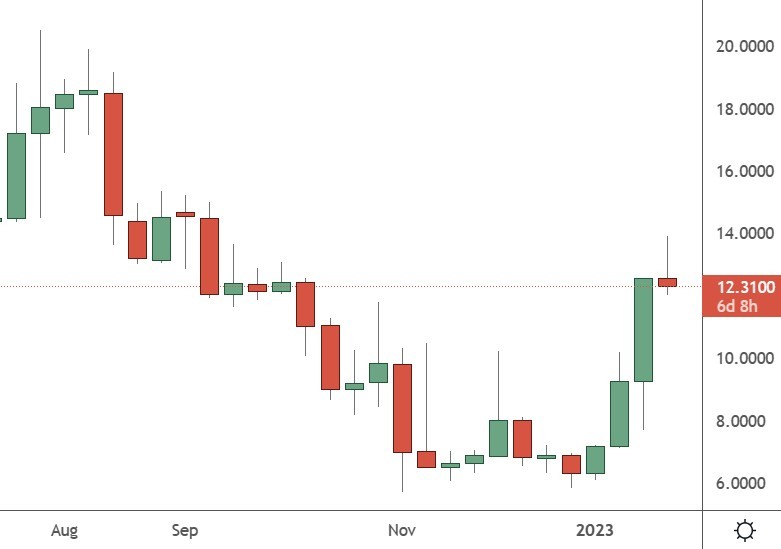 The price of AXS currently trades at $12 after a three-week rally in the token.
MATIC
Polygon (MATIC) did not join the week's bullish rally after concerns over a hard fork.
There were concerns about the decentralization of Polygon's network after it was said that only 13 people completed the recent upgrade. The platform successfully completed the hard fork last Tuesday, creating a new Polygon blockchain that developers hope will see faster transactions and limited gas fee spikes.
While the upgrade was hailed as a technical improvement, governance was questioned. In December, Polygon's Governance Team put forth the initial hard fork proposal. However, only the network's 100 validators were invited to participate in the vote, with only 15 voting and 13 approving the move.
In all, just 15 validators cast their votes. 13 of them signed on to Polygon's plan, called 87% in favor. A source familiar with the matter told Decrypt that a number of Polygon validators haven't even Despite the negative sentiment, there was good news for Polygon in the trend for Layer 2 usage. Polygon, Optimism, and Arbitrum have all seen increased daily user activity up by 30%, 180%, and 40%, respectively.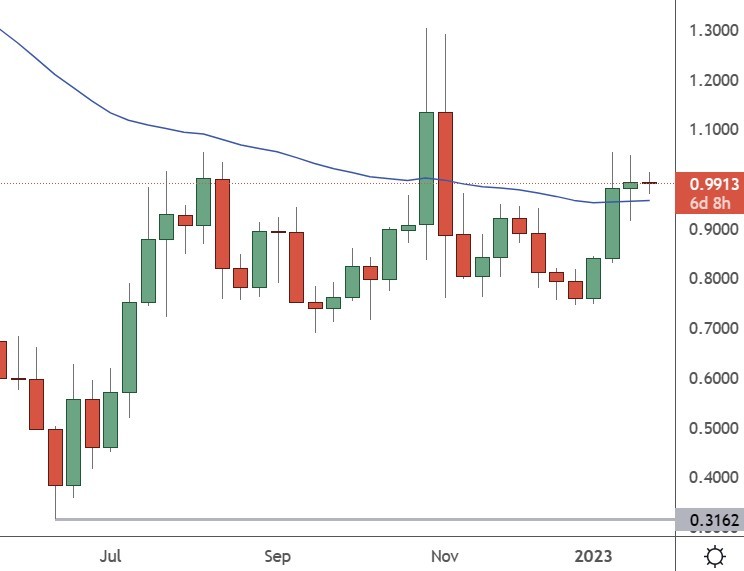 MATIC has been finding resistance at the $1.00 level and currently trades below it.
Disclaimer: information contained herein is provided without considering your personal circumstances, therefore should not be construed as financial advice, investment recommendation or an offer of, or solicitation for, any transactions in cryptocurrencies.