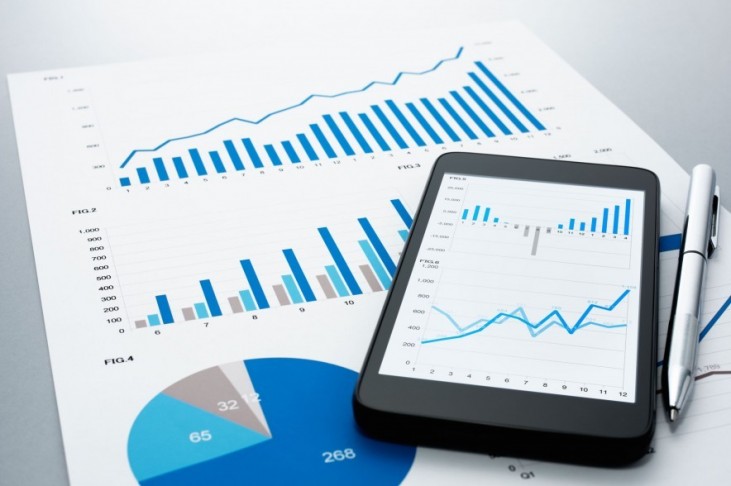 Bitcoin Slumps as China Tightens Regulations, HT, DOGE, XDC, Jun. 21
Jun 21, 2021, 7:28PM

by
Kevin George
Bitcoin price is lower on Monday after China blocks banks from Cryptocurrency activities. XDC rises 20% with Flare Finance partnership.
BTC
Bitcoin has dropped to the $33k level and may look to test the May price lows at $30k after China's central bank tightened restrictions on the cryptocurrency market. The People's Bank of China (PBOC) on Monday told the country's large financial institutions to stop providing cryptocurrency transactions. The news has added pressure to BTC with the coin already struggling to hold onto the uptrend.
The institutions also have to spot transactions from virtual-currency exchanges' and over-the-counter dealers' capital accounts and sever payment links. The writing has been on the wall for further China regulation, but the market is still lower and many of the top coins are down around 20% for the week.
China has been working on its own digital Yuan and the latest restrictions are aimed at holding onto control of the country's money supply.
The latest restrictions also saw further pressure on the crypto mining industry with many bitcoin mines shutdown in Sichuan after authorities in the southwestern province ordered a halt to crypto mining, according to the Global Times. More than 90% of China's bitcoin mining capacity is estimated to be shut down.
The Chinese government also took action against exchanges recently in what is turning out to be a blanket assault on the dominance of Bitcoin and the cryptocurrency market in the country.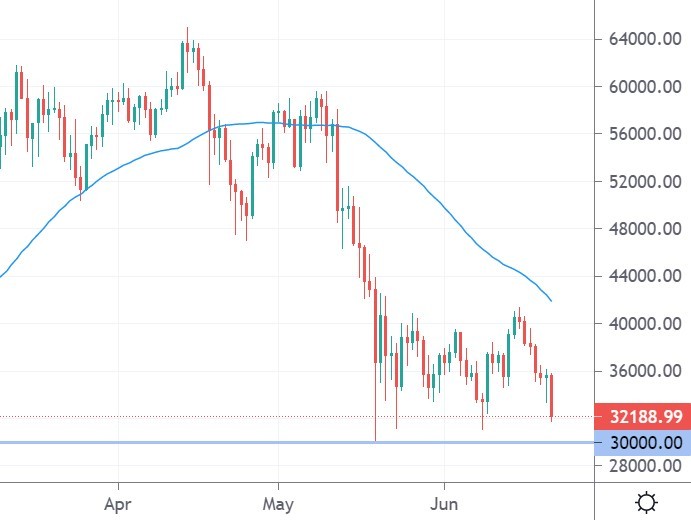 BTC looks to be heading for the $30k level, which marked the lows in May. If that level doesn't hold then it could see sharp losses towards the $20,000 price level which was the previous all-time high, set in 2017.
HT
The obvious losers from the China crackdown are the crypto exchanges with Huobi token down 30% for the week.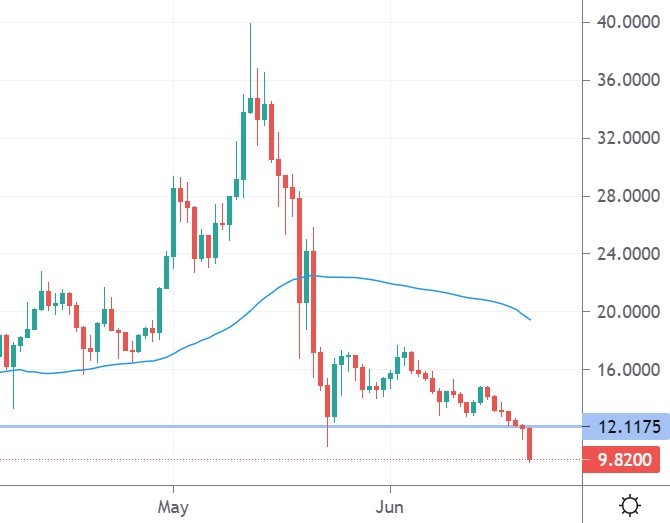 HT was trading near the $40.00 level recently but has surrendered those gains to slip below the $10.00 mark. The coin is also at risk of dropping from the top 50 coins list.
The Huobi exchange has seen an accumulative turnover exceeding $1.2 trillion USD. It has established compliance teams across the world and offers digital asset trading to millions of users in over 130 countries.
The problem for these exchanges is that they will see volumes decline if China diverts all money to its own digital token and blocks the sale of others that it deems to be a threat.
The price of HT is trading below $10.00 but could slip to the $5.00 mark if it can't find support.
DOGE
Dogecoin has seen its value plummet recently with the coin down by 36% for the week. The lack of recent gains has seen retail investors shy away from the so-called 'meme coin'.
Cardano founder Charles Hoskinson has said in a recent podcast that he hopes Elon Musk's appeal for ideas to upgrade dogecoin will bring value for the token.
"Dogecoin is a reasonable target for someone to fix it up and make it an interesting cryptocurrency," he said in a podcast.
After Musk called on developers to submit ideas for upgrades to the meme token last month, Hoskinson described some of the issues in upgrading:
My hope is that a compromise can be made where real developers come in, and they start working on doge to create some use and utility for it, so at least it has a value floor and won't collapse.
He predicted it could take as much as three years for dogecoin to be able to function as a modern cryptocurrency.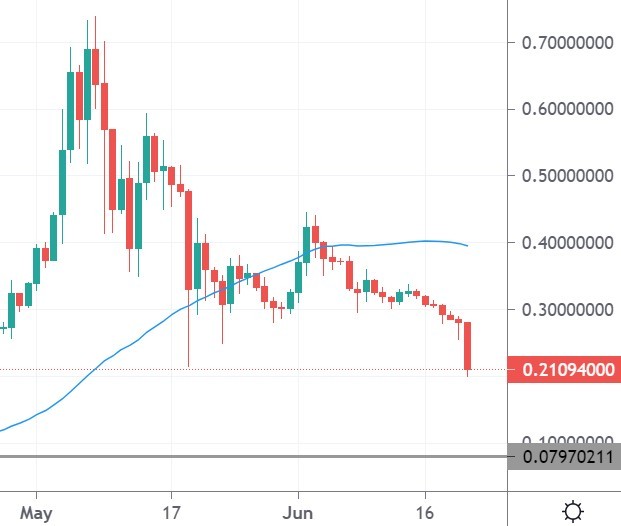 DOGE trades at $0.21 after seeing highs above $0.70 in May, while the coin has slipped to number 7 in the list of coins with a market cap of $28 billion.
XDC
XDC has rallied well from near the $0.05 level and that could be positive in a gloomy market.
The coin has moved higher after Flare Finance announced a partnership with XinFin Network. With the new partnership, Flare Finance and XinFin Network would have a bi-directional bridge allowing assets from either chain to be wrapped and utilized on the other chain.
Flare Finance has also announced that it will support XinFin Network's native token, XDC across its platform. This would allow XDC holders to mine YFIN by participating in the Flare Farm or XDC holders could use their XDC as collateral with FlareLoans to borrow money.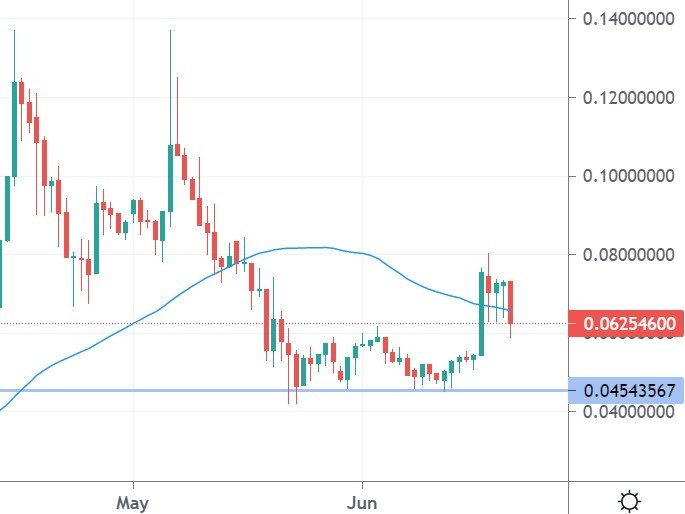 The price of XDC moved to $0.08 on the news but has pulled back a little with the bearish market sentiment. XDC had previously been performing well due to the coin's green credentials when it comes to mining new coins. XinFin Network has a market cap of $700 million and trades at number 79 in the list of coins.
Disclaimer: information contained herein is provided without considering your personal circumstances, therefore should not be construed as financial advice, investment recommendation or an offer of, or solicitation for, any transactions in cryptocurrencies.