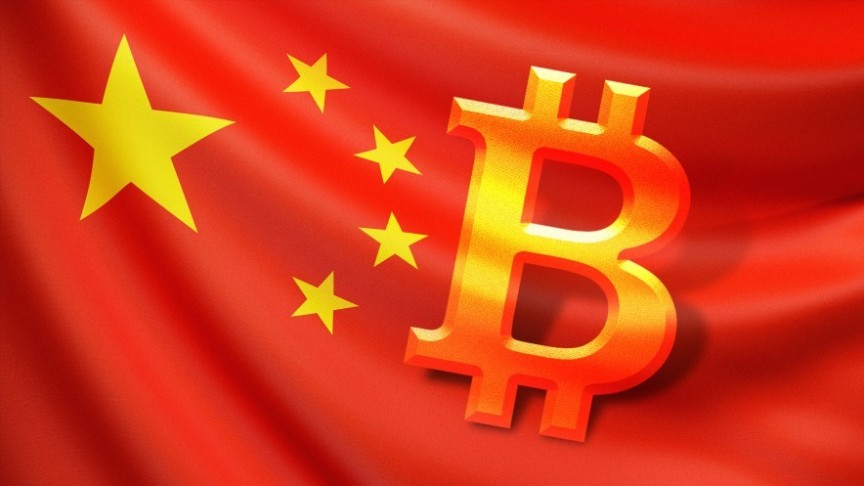 Chinese National Coin Could Replace Bitcoin as the Global Cryptocurrency
Aug 17, 2018, 1:15PM
The Chinese government may be exploring a national crypto as it has invested in blockchain technology despite imposing an outright ban on crypto
The Chinese market was one of the earliest supporters of Bitcoin and digital currencies. In the sector's early stages, the government also created a conducive environment for the industry which saw Chinese hardware companies take the lead in digital currency mining. See Bitmain's global mining dominance as evidence. In addition, thanks to China's friendly crypto environment, Binance, a Chinese cryptocurrency exchange, went on to become one of the largest digital currency exchanges in the world.
However, the embrace of cryptos soon changed when, in early 2018, the government imposed an outright ban on the buying and trading of digital currencies and tokens. And yet, while they've gone cold on crypto trading, Chinese authorities have maintained a positive outlook about blockchain technology. The Chinese government has invested $1.6 billion in blockchain technology, all while attempting to eradicate Bitcoin, the coin which made the first use case for the technology. Many believe that this is an indication that the country is laying down the groundwork for a national crypto, which it hopes will replace Bitcoin as the international standard for cryptocurrency valuation.
In this feature, we explore the very real possibility that China will create a national cryptocurrency, take a look at what such an action would entail, and discuss the potential effect it may have on the future of Bitcoin and other digital currencies.
Imposing Tougher Anti-Crypto Laws and Bans
China is among the few countries that have adopted a zero-tolerance attitude towards cryptocurrencies. Financial authorities cite the fear that digital currencies are being used for financing illegal activities, buying and selling drugs, and being used for laundering money or being used as a tool to stash capital. In their early days, such currencies had been a preferred payment option at illegal marketplaces, including at the now-defunct Silk Road website. Several drug dealers were caught using digital currencies to avoid being tracked by financial and police authorities. This convinced several governments to introduce stricter laws for cryptocurrencies. While most stopped at implementing tougher KYC and AML frameworks, a few countries, such as China and India, took the extreme step of laying down a complete ban on them.
Exploring the Idea of a State-Backed Cryptocurrency
Some countries have already explored a state-backed cryptocurrency. While China took the lead in the crypto and blockchain industry when the technology was in its early days, it then cited investor safety guidelines and presumably got cold feet. Nevertheless, the government has continued its support for blockchain technology as it explored its use for various applications. According to estimates by IG Group, China has already invested $1.6 billion in the technology. The financial company also hosted a panel of speakers who each expressed their opinions on a Chinese national cryptocurrency.
Shaun Murison, Senior Market Analyst at IG said,
It is said that the idea (of a state backed digital currency) has been in research since 2014 and that China has run trials on a prototype currency. The region is fast-tracking the standardisation and regulation of digital currencies for use in the economy. It could set a global trend and we could see other major economies following suit.
China launching a state-backed crypto could perhaps mark the biggest moment in the short history of digital currency and blockchain technology. China has been trying to promote the Yuan as a rival to the American Dollar for gaining the status of world reserve currency. American and European authorities have accused China of devaluing the Yuan. China could introduce a state-backed crypto pegged to the Yuan and then link this cryptocurrency with its One Belt and Road initiative. The multi-country trade belt could also be exploited to promote the new digital currency and find more users. The One Belt and Road initiative is a Chinese trade project which has already been accepted by several countries.
Could China's Crypto Mark the End of Traditional Digital Currencies?
Digital currencies were originally launched as an alternative to state-backed, centralized fiat currencies. We have perhaps come full circle now, with the same centralized authorities now mulling future use cases of cryptocurrencies. Digital currencies are still a long way from becoming a preferred option for people to complete transactions. Most users are still hobbyists that also use a fair amount of fiat currency to complete payments. A state-backed cryptocurrency could improve trust in them and bring in more users. Another important limitation that analysts have pointed out is the high volatility of the current crop of cryptocurrencies. This could be attributed to a number of factors, including limited volume and the lack of any intrinsic value. However, a state-backed crypto could be the solution to both these problems. A national crypto would not only be sponsored by the government but also pegged to the national fiat currency, much like Venezuela has already done.
Many countries suffering from high inflation and volatile currency prices have explored the idea of a state-backed crypto. In the case of Venezuela, citizens have been using cryptocurrencies for a while now. Venezuela has suffered from an extended period of hyperinflation that resulted in a destabilized fiat currency. In 2017, the government launched its own digital currency called el Petro. Venezuela and Iran, one of the biggest oil exporters, also launched a digital currency for receiving payments from global vendors in lieu of crude oil. Iran and Russia are exploring the launch of state-backed digital currencies as a way to circumvent American trade sanctions.
On the other hand, Bitcoin and other cryptocurrencies may or may not see a sharp reduction in the number of users if state-backed coins become the norm. Crypto fundamentalists argue that a state-backed centralized crypto kills the original premise of digital currencies and would also fail to guarantee privacy. The government can monitor holdings in an individual's crypto wallet. Conversely, while privacy would likely be compromised in the process, a state-backed cryptocurrency would certainly improve the confidence of many everyday users. A common citizen is, after all, more likely to use a national crypto over another digital currency. Meanwhile, crypto purists will likely hodl, regardless of what happens. All eyes for now are on China, with the world's largest population and the imminent threat, or promise, of a national crypto.
Disclaimer: information contained herein is provided without considering your personal circumstances, therefore should not be construed as financial advice, investment recommendation or an offer of, or solicitation for, any transactions in cryptocurrencies.