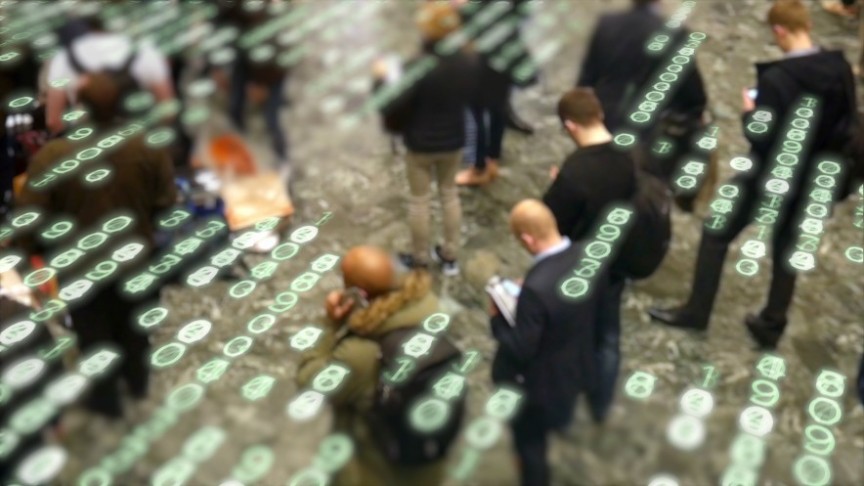 Crypto Bull Predicts Another Alt-Coin Rally, DASH, ENJ, REP Apr. 22
Apr 22, 2019, 7:34PM

by
Kevin George
Fundstrat's Tom Lee sees conditions in the current market that are ripe for an alt-coin rally. DASH, ENJ, and REP eye further gains.
Prominent crypto bull and co-founder of research firm Fundstrat Global, Tom Lee, has provided the market with some research on BTC vs alt-coin correlations that hints at the potential for a strong rally in alt-coins.
Sharing the analysis on Twitter, Lee showed that a drop in the correlation between BTC and altcoin prices has been a pre-cursor to previous rallies that have averaged 1100%.
Since 2015, one of the "pre-conditions" for the start of alt-season is a drop in the correlation between Alts and $BTC… This is a data point to suggest alt-season could be underway.
This observation is similar to what I wrote about in a previous article, where I asked: "Will Bitcoin Be Left Behind in the Next Rally?"
Lee also agreed with my assessment that any rally in alts will still be positive for BTC but that alt-coins may outperform. Giving some further insight to his bullish thesis, Mr. Lee noted that there are currently 50 million active crypto wallets versus 5 billion Mastercard/Visa accounts:
Given there are probably only ~50mm active wallets (vs 5 billion Visa/MasterCard accts), we think crypto still early in the adoption curve.
2015/16 saw two alt-coin rallies that only returned 58 and 80%, however that is possibly affected by lower public awareness. The 2017/ rallies returned 3631 and 641%, which is when BTC really grabbed the attention of financial markets, before the onset of the year-long "crypto winter".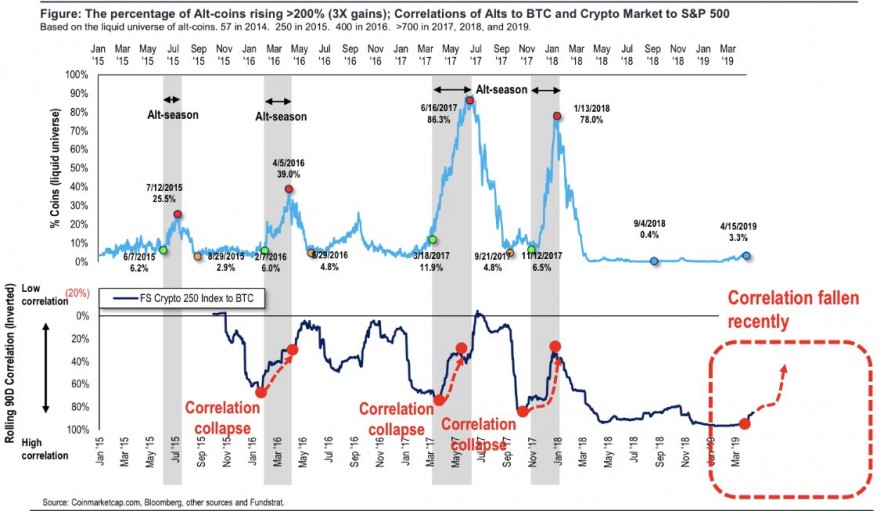 It is common in investor psychology to see public awareness rise as an asset hits mainstream news. Retail investors then pile in at the top end of a move and lose money, and time, as the market retreats.
In previous articles, I have noted that a real possibility lies in a financial crisis-style event that sees trust in governments and banking institutions, or the investment outlook recede. One only has to look at the recent moves by Turkey to trap short-sellers in the Lira as a sign that risks are still around. Capital controls in China, which were put in place as a means to stop investment capital escaping the country's economic slowdown, were previously seen as a key driver of the late-2017 rally in crypto. As countries such as Turkey, Argentina, and Brazil struggle with the ongoing global growth slowdown, investors should be on guard.
Continuing with that theme, the crisis-hit country of Venezuela has been the beneficiary of some crypto-community charity as a campaign has been started to transfer $1 million of crypto donations to the Venezuelan people. "Airdrop Venezuela" was created by Professor Steve Hanke of John Hopkins University and has seen 60,000 verified donors, highlighting that cryptocurrency technology can be used as a force for good.
Venezuela's economic crisis has seen cryptocurrency become more widespread in the country, with DASH being one of the favored coins used by citizens. One of the most important points to note is that the project aims to have 100,000 I.D. verified Venezuelans registered to receive their share. This shows that foreign aid can be tracked on the blockchain, where it is currently trusted in the hands of centralized agencies or air-dropped on pallets of fiat currency. If you remove the need for those agencies and remove the ability to hand taxpayer funds to a foreign leader, you can see why some governments fear crypto. Decentralization could soon be a game-changer for charity and foreign donations.
DASH
Like most of the cryptocurrency market, DASH bottomed in mid-December and since rallied to stronger levels as it looks for another advance.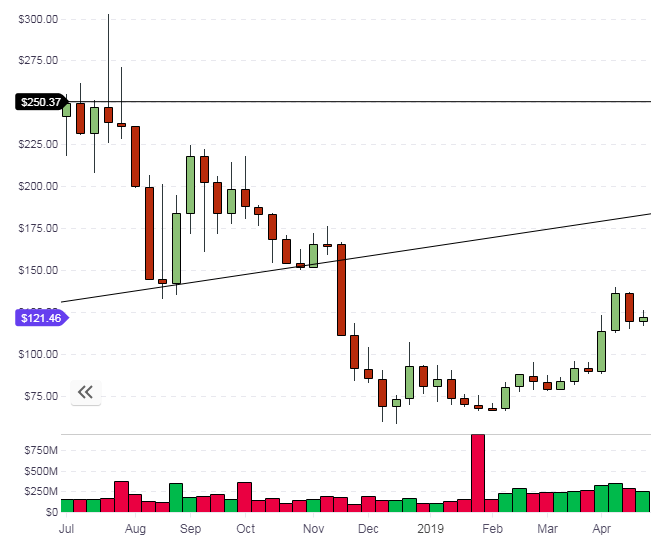 DASH is currently at the number 13 spot in the list of coins by market cap with a value of just over $1 billion. The coin currently trades at $121, with the previous uptrend line being a target around $175. Stronger resistance comes in at $250 on DASH.
ENJ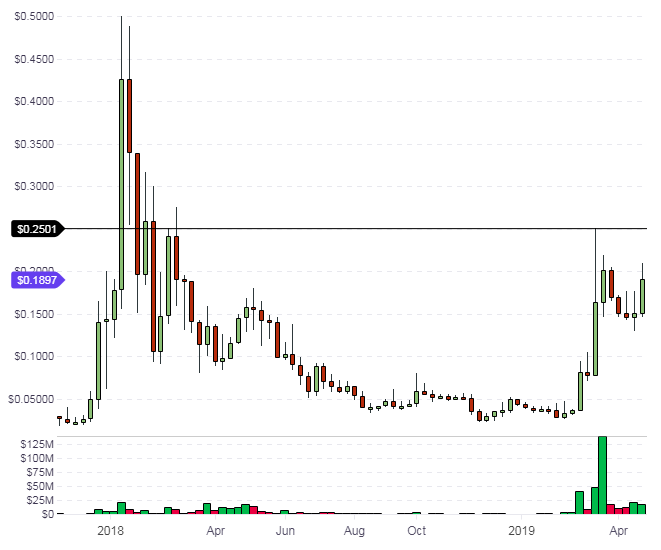 I wrote about Enjin Coin in the same article in which I talked of the alt-coin versus BTC situation. ENJ has retreated to find support after a recent strong rally and this support has brought an 18% move and another test of the $0.200 level. $0.25 is the stronger resistance level and a move above that could see ENJ pushed higher into the top 50 coins. The market cap is currently $145 million.
REP
Augur's REP token, which drives the projects prediction markets, has also been a beneficiary of the 2019 rally and the key resistance levels, which marked support from April-2018, are now being tested near the $25 mark with a 10% gain on the week.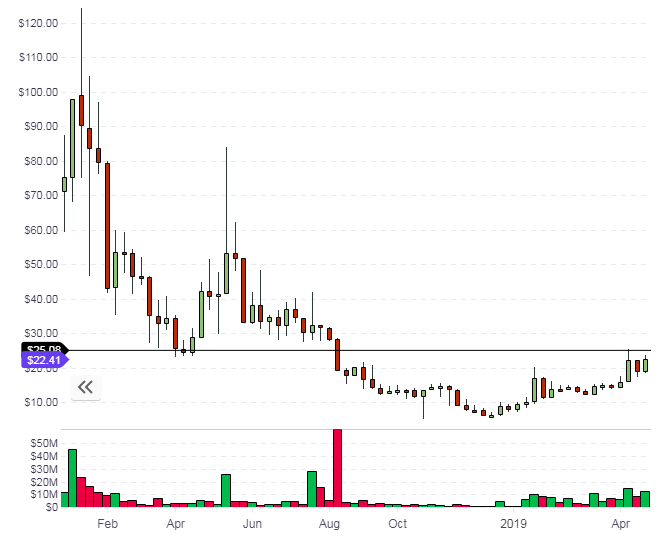 This would be a key level to advance beyond and could see the market push higher towards $50 or higher. REP currently has a market cap of $190 million. The project releases weekly reports highlighting the latest user metrics, where it has highlighted that open interest on the platform is $383 million.
The cryptocurrency market has cooled from its recent gains, yet the market looks to be staging for the next move up. If Tom Lee's research on correlations provides a fifth-success rally, this would be a good time to consider your alt-coin exposure.
Disclaimer: information contained herein is provided without considering your personal circumstances, therefore should not be construed as financial advice, investment recommendation or an offer of, or solicitation for, any transactions in cryptocurrencies.