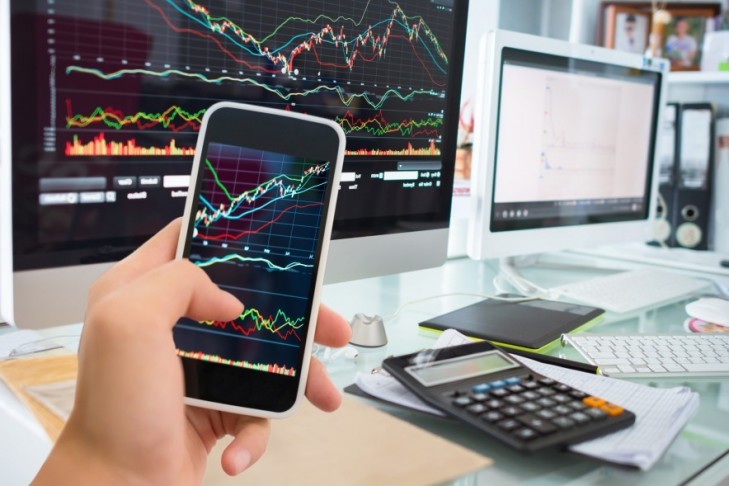 Will Bitcoin Be Left Behind in the Next Rally? LTC, XEM, ENJ March 11
Mar 11, 2019, 4:40PM

by
Kevin George
Bitcoin struggles at resistance while LTC powers through. NEM secures a recovery deal as ENJIN coin scores big gains on the week.
BTC
Bitcoin has once again tested the key $4,000 level but has failed to create a meaningful close on the weekly chart. There is still potential for further gains but the "inverted hammer" on last week's close is a warning sign. The bar would be more worrying after an uptrend however and the volumes are still fairly low.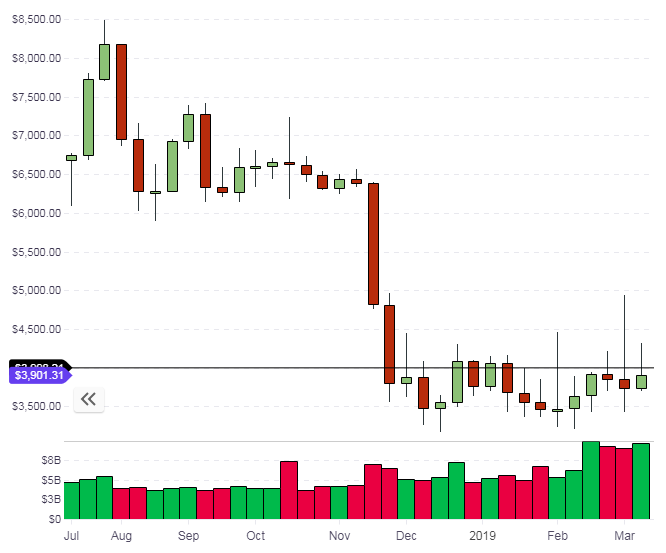 BTC is still at the higher end of the recent range and a breakout above would still create a rally towards $6,000 which was previously a stubborn resistance point. That level would provide resistance this time so a breach of that level would be a strong indicator.
The long-awaited arrival of Fidelity is now in its early stages as the company announced on March 8 that it is now live for "select clients".
On the company's blog they stated:
We are currently serving a select set of eligible clients as we continue to build our initial solutions. We've established a robust set of technical and operational standards at a level that institutions have come to expect from Fidelity.

Our initial clients are an important part of our final testing and process refinement periods, which will eventually enable us to provide these services to a broader set of eligible institutions.
This final testing is an important part of the process and we should definitely begin to see a change in the volumes of trade in the cryptocurrency markets. Another important statement from Fidelity said,
Our conversations with a variety of institutions have served to underscore their clear need for a trusted platform provider in order to engage with digital assets in a meaningful way.
This is bigger than many understand. Large-scale institutions were shut out of the cryptocurrency markets because of the trust factor. The exchanges that were dealing in cryptocurrencies were all relatively new and many were in foreign countries, whilst there were also risks surrounding hacking after high-profile failures such as Mt. Gox. If you were an asset manager with billions of client money at stake, it would have been unthinkable to invest in the market with all of the perceived risks. The arrival of a trusted institution with a long history of professional investment is a big deal and whether it ignites new volume, or is simply waiting in the wings for the next rally, we could see big movement in the future.
Another hint of larger adoption in the future can be found with continued moves by Facebook to move into cryptocurrency. The tech giant's careers site currently has 19 jobs available in blockchain-related roles, which shows their continued scaling into this sector. With over 2 billion monthly average users (MAU), their arrival would be game-changing and could revolutionize the advertising and social media industries alongside the obvious boost for cryptocurrencies.
LTC -- Will BTC Be Left Behind?
If you compare and contrast the charts of BTC and LTC, it's clear to see that LTC is in better technical shape. This leads me to question whether BTC will be left behind in the next rally. Nobody doubts that BTC is the "gold standard" for cryptocurrency and a store of wealth but the largest gains may be found elsewhere. If an ETF or futures contract doesn't arrive before the next rally then we could see BTC lag behind some of its peers; many of whom were beaten down over the last year. BTC held its value better than others but this was likely due to institutional buying and profit-taking from riskier currencies. BTC is still a benchmark that should be used for valuation and investors should look around to compare currencies that are undervalued despite having faster transaction speeds than BTC with similar levels of security or a valuable use case.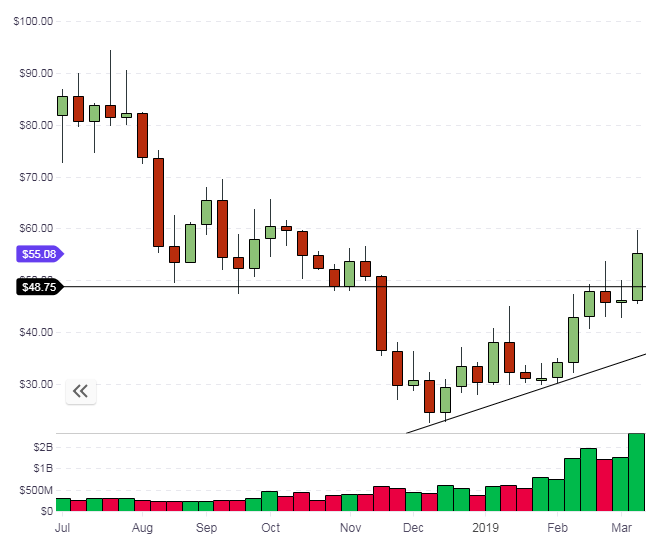 The levels near $48-50.00 were key support on the monthly charts previously and Litecoin's ability to close above $50.00 suggests that further gains could be coming. LTC has been one of the better performers in recent weeks and another Bitrates writer has recently written about the prospects for LTC, which was a previous fork of BTC itself and trades at a significant discount.
NEM
The price of XEM has stabilized after the project's recent troubles, with a rescue approved by the community.
A request to release 210 million XEM from reserves was approved by key members on February 20 and the NEM Foundation's leaders laid out a roadmap on how the first installment of 25 million XEM (around $1 million) will be spent.
The foundation's President stated,
I think this is a vote of confidence that the industry is moving forward and that we're ready to pivot to a very new way of working.
It should be noted that the rally of late-2017 possibly led to overconfidence in the price projections and the industry is now adjusting to reality and a more stable path of investment. This is no different to the oil industry and its cost-cutting efforts to stay alive after the $100 a barrel bubble burst. Nem has had to restructure its workforce and project focus but this could make it a strong performer in the future if it can attract the same level of volumes and popularity that it did in the past and the current price of $0.04 would be a real buying opportunity for long-term believers.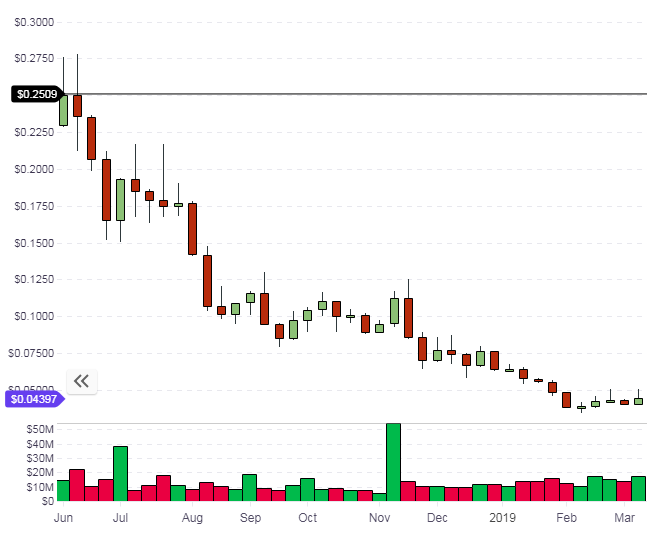 An interesting development is the coming launch of the Catapult blockchain engine, which is designed to power both private and public networks. The NEM foundation's CTO told Coindesk that,
The tech itself is doing things that no other blockchain has done before.
ENJ
A big winner on the week has been Enjin Coin (ENJ). This is another coin that is creeping up in the background with the project now at number 39 in the list of coins by market cap.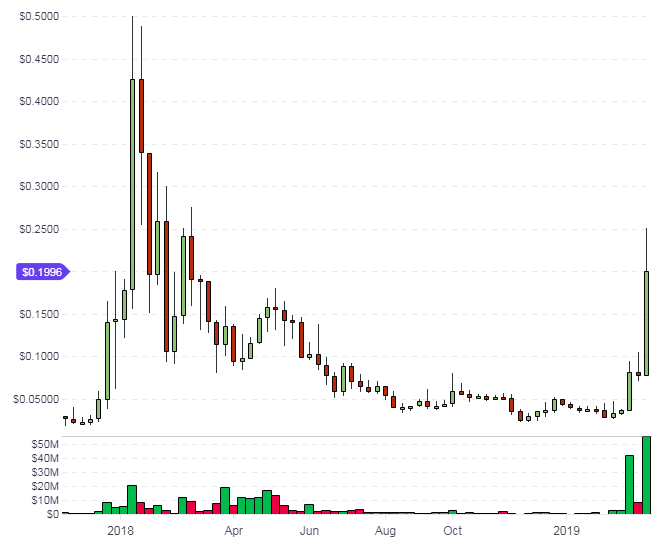 ENJ is up 160% on the week and the weekly chart hints at a test of the all-time highs in the future. ENJ is currently priced around $0.20 and has a value of $150 million with 762 million of its 1 billion coins in circulation.
The ENJ platform is gaming-focused and allows its 20 million users to create their own games, dapps, and rewards tokens. The ERC-1155 tokens can be used to create unique gaming assets such as collectible cards, scarce weapons, and heroes. If and when the market sees mass adoption, the gaming communities could really power projects like ENJ higher. In these cases, it is important to remember that some of the cryptocurrency projects are companies with strong user bases that could be bought out by larger rivals, rather than simply a coin or token.
Disclaimer: information contained herein is provided without considering your personal circumstances, therefore should not be construed as financial advice, investment recommendation or an offer of, or solicitation for, any transactions in cryptocurrencies.