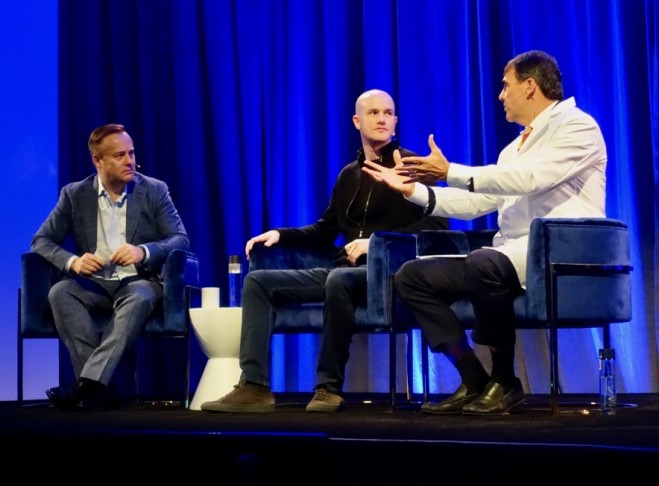 Crypto Exchange IPOs: Will Coinbase's Stock Market Listing Set a Trend?
Apr 21, 2021, 4:09PM

by
Mike Dalton
Coinbase ran its IPO on April 14, making it one of the first crypto exchanges to go public. Will this set a trend for other companies?
The popular U.S.-based cryptocurrency exchange Coinbase successfully ran its IPO last week, becoming one of the first crypto companies to do so. Its success means that other crypto exchanges could follow suit. Here are the stances of various exchanges.
Coinbase
Coinbase carried out its IPO on Wednesday, April 15. On that day the company's Class A Common Stock was listed on Nasdaq under the ticker "COIN."
Before the IPO began, Nasdaq gave Coinbase a reference price of $250 per share, giving the company a valuation of approximately $65.3 billion on a fully diluted basis.
Coinbase's IPO has been in the works for at least a year. Rumors began to circulate in mid-2020. The firm then released its application publicly in February 2021 and announced that it had gained approval from the U.S. SEC on April 1, 2020.
Though widely referred to as an IPO, Coinbase actually carried out a direct listing. That means the company did not need to seek out underwriters and bankers; instead, company members simply converted their own existing shares to publicly listed assets.
Kraken
Kraken, another major cryptocurrency exchange, is also planning to go public. The most recent statements from company CEO Jesse Powell suggest it will do so in 2022.
Powell noted that Kraken will likely carry out a direct listing as well. In an interview on April 9, he told CNBC: "We're looking at being able to go public sometime next year … it would probably be a direct listing, similar to Coinbase."
Some sources have estimated that Kraken's IPO could raise $10 billion, though Powell has stated that $10 billion is too low of a valuation to make selling shares worthwhile. He has also stated that his company is not in a "rush to raise capital" and that it is waiting to see how Coinbase's IPO performs.
In addition to its IPO, Kraken is also seeking out new funding from VC funds and other investors. That could help it raise up to $20 billion.
Gemini
Tyler and Cameron Winklevoss's Gemini exchange is also considering an IPO. In a January interview with Bloomberg, the exchange founders hinted at the possibility.
Cameron Winklevoss stated that the exchange is "watching the market" and "having internal discussions" on the matter. However, few technical details have been revealed, and there do not appear to be any valuation estimates for the company.
Robinhood and eToro
Distinct from crypto exchanges, two stock trading apps that offer cryptocurrency investment contracts are planning to run IPOs before the end of 2021.
The first is Robinhood, which has an estimated valuation of $40 billion. The second is eToro, which has an estimated valuation of $10.4 billion.
Though these companies' services can only be considered adjacent to cryptocurrency, each company is highly visible in the crypto industry. It remains to be seen whether crypto investors will be interested in purchasing company shares.
Exodus
Exodus, a crypto wallet with a built-in trading platform, carried out an IPO this month. Rather than list its shares on a mainstream stock exchange such as Nasdaq, Exodus instead chose to sell shares on its own in-app trading platform.
The company's IPO is fully regulated by the U.S. SEC and is compliant with Regulation A, meaning that it has some exemptions from certain requirements.
This means that Exodus's IPO is relatively accessible. The firm says that it chose an approach that allowed customers to buy shares through the Exodus wallet with digital assets. It remains to be seen if other exchanges will imitate this strategy.
Binance
The popular Asia-based exchange Binance has stated that it has no intention to run an IPO, sell shares of the company, or go public in any way.
The company is apparently disinterested because it is already thriving. Binance CEO Changpeng Zhao stated during a Coindesk interview in March: "We're not really short on funds. We're surviving OK and we're growing very healthily and organically."
That assertion is backed up by Binance's high-ranking status: Binance is the largest exchange by far, with a daily volume of $25 billion to $50 billion.
Will Crypto Exchange IPOs Become Popular?
Coinbase will be the first major cryptocurrency exchange to go public.

One possible exception is the payments app Square, which ran its IPO in 2015 before it added support for Bitcoin two years later. Several minor Bitcoin mining companies (Riot, Marathon, Canaan, and HIVE) are also traded publicly.
Regardless, Coinbase will be one of the most notable and influential stock offerings of the year. With over 500 crypto exchanges in existence, it seems likely that several more will pursue this course of action in order to raise funds.
Disclaimer: information contained herein is provided without considering your personal circumstances, therefore should not be construed as financial advice, investment recommendation or an offer of, or solicitation for, any transactions in cryptocurrencies.