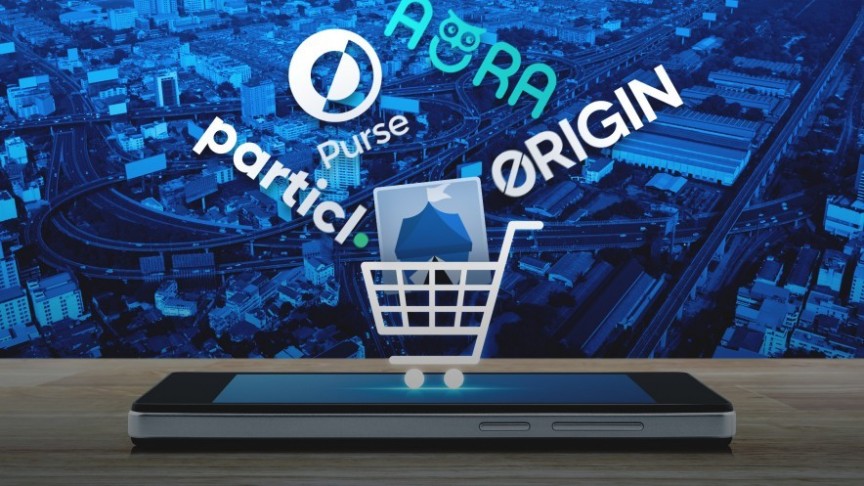 Crypto Marketplaces: Five Blockchain-Based Amazon Competitors to Watch
Apr 3, 2020, 11:38AM

by
Mike Dalton
Cryptocurrency and blockchain could reinvent e-commerce. Will these five marketplaces reinvent online shopping?
Blockchain technology has plenty to offer online marketplaces. Thanks to the efficiency of cryptocurrency, marketplaces can cut back on transaction costs, overhead costs, and middlemen. Plus, the peer-to-peer nature of blockchain means that marketplaces can place fewer restrictions on their customers and exercise less oversight.

Marketplaces that rely on blockchain tech may be modeled after just about any existing platform, from large-scale marketplaces like Amazon to small-scale listing sites like Craigslist. Others resemble storefront platforms like Shopify. These five blockchain-based marketplaces are making the most of those models.
OpenBazaar
OpenBazaar is one of the best-known blockchain marketplaces. Its main goal is to open up e-commerce by eliminating seller fees, supporting Bitcoin payments, and by offering community-provided escrow. OpenBazaar was forked from the Dark Market codebase in 2014, discarding the project's potential for illegal activity.

This March, OpenBazaar parent company OB1 announced plans to downsize. Though it will still support the project, it will shift its focus heavily. Going forward, OB1 will focus on meeting market growth and revenue targets. It will also focus on growing Haven, the project's mobile marketplace app, which currently has 120,000 users.
Particl
Particl is similar to OpenBazaar insofar as its decentralized marketplace must be accessed through a desktop app. One difference is that it doesn't rely on Bitcoin or other common altcoins for payments: instead, it uses its own Particl token. This custom token offers faster payment, greater privacy, and staking rewards.

Recent updates from Particl indicate that the platform will soon introduce Infinite Markets and Market Management. These features will allow users to join an unlimited number of markets and create personalized markets. Lower listing fees, performance improvements, and a number of other UX/UI improvements are also on the way.
Origin Protocol
Origin Protocol is another decentralized marketplace. Right now, it can mainly be accessed through the project's own website, but developers can additionally build their own separate marketplace applications. Origin supports cryptocurrency transactions as usual: it allows Ethereum, Dai, and Origin Tokens as payment methods.

Origin has also expanded its efforts in other areas. In March, it launched a browser extension with built-in cryptocurrency rewards. It also integrated its Marketplace app into the Samsung Blockchain Wallet for mobile devices in February. Finally, Origin has just earned a listing on Kyber Network, one of Ethereum's largest DeFi apps.
Aora
Aora offers a unique marketplace that acts as a "concierge" or "buy for me" service. This means that users can request items from Amazon and other sites. Then, Aora provides a price quote and ships the item―bypassing international shipping restrictions. Right now, customers can pay for Aora's services with Bitcoin, Ethereum, or credit card.
The company is also building a more extensive blockchain-based market platform called Aora Merchant Services. Aora completed its ICO for this merchant platform in 2018, and it is now under development. When it is complete, the platform will use Ethereum to power its payment, reputation, and logistics systems.
Purse
Purse is a savings app and marketplace that replaces Amazon's normal payment options with Bitcoin and Bitcoin Cash payments. Purse users can request an Amazon item via Purse's website. Then, when they order an item, they can request a discount of 5% to 33%. Orders with smaller discounts are filled first.
On the other end of the transaction, Purse matches buyers with Amazon gift cardholders, who pay for Amazon orders on the buyer's behalf and receive Bitcoin in return. Since gift cards are generally sold below market value, this allows Purse to offer a discount. In other words, Purse is a variation on Bitcoin-to-gift card swaps.
Will the Trend Survive?
There are dozens of other blockchain marketplaces in development, and not all of them will succeed. In order to be useful, marketplaces need to unite buyers and sellers. That sort of coordination is a difficult task, and several early blockchain marketplaces, such as Dbid.io and Forra, have seemingly been abandoned.

With that challenge in mind, mainstream marketplaces could become the biggest adopters of blockchain technology. Newegg and Overstock, among other online retailers, have accepted Bitcoin for years. Further efforts from existing e-commerce leaders could overshadow smaller projects, for better or for worse.
Disclaimer: information contained herein is provided without considering your personal circumstances, therefore should not be construed as financial advice, investment recommendation or an offer of, or solicitation for, any transactions in cryptocurrencies.