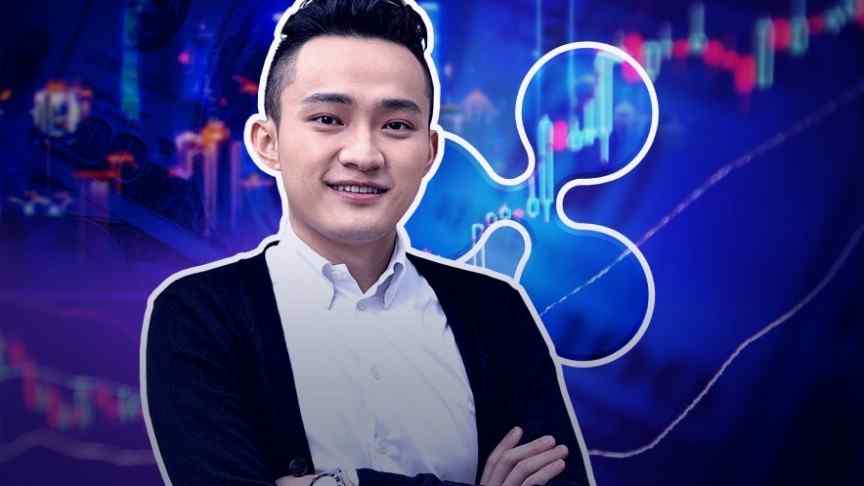 Justin Sun Views Recent XRP Surge as a Positive Sign for the Future of Blockchain
Sep 23, 2018, 6:46AM

by
Chris Madill
The founder of the TRON project, Justin Sun, has turned to Twitter to offer his accolades and support to the Ripple project
As XRP and ETH battle it out for second place on the crypto charts, TRON's founder, Justin Sun, has offered his public support to the Ripple project, turning to Twitter to remark on what XRP's recent bull run means for Ripple and how it will impact the future of blockchain.
In his tweet, Sun attributes the recent surge in XRP's marketcap to the newly formed partnership between PNC Bank and Ripple. Sun was previously employed by Ripple as their Chief Representative in China from 2014 to 2016, lending credibility to his speculations that this new partnership is a sign that financial institutions are beginning to look seriously at blockchain technology,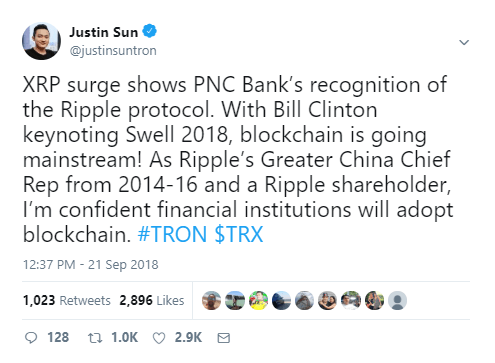 Ripple's new partnership with PNC Bank marks a massive step towards the adoption of RippleNet, Ripple's flagship financial network. PNC Bank ranks as one of the top 10 banks in the U.S., and as outlined by Marcus Treacher, SVP of Customer Success at Ripple, this type of growth for the RippleNet is a clear sign of a healthy and growing network,
For far too long, the technology underlying cross-border payments has been opaque, slow and costly. PNC, as an innovative and forward-thinking institution, understands the promise of emerging technologies like blockchain. Quite a few payment providers have joined RippleNet recently, so it's great to see one of the major U.S. banks come on board as well. We view that as a sign of a diverse, healthy and growing network. / Marcus Treacher, SVP of Customer Success at Ripple
At a time when most crypto tokens are seeing declining marketcaps, XRP's success shows the Ripple project is continuing to mature despite an overall bullish crypto market. As outlined by Justin Sun, enterprise-focused applications of blockchain such as RippleNet are continuing to bring the technology into the world of mainstream finance, providing further support to the broader blockchain development community and proving that blockchain has the potential to revolutionize the financial industry.
Disclaimer: information contained herein is provided without considering your personal circumstances, therefore should not be construed as financial advice, investment recommendation or an offer of, or solicitation for, any transactions in cryptocurrencies.