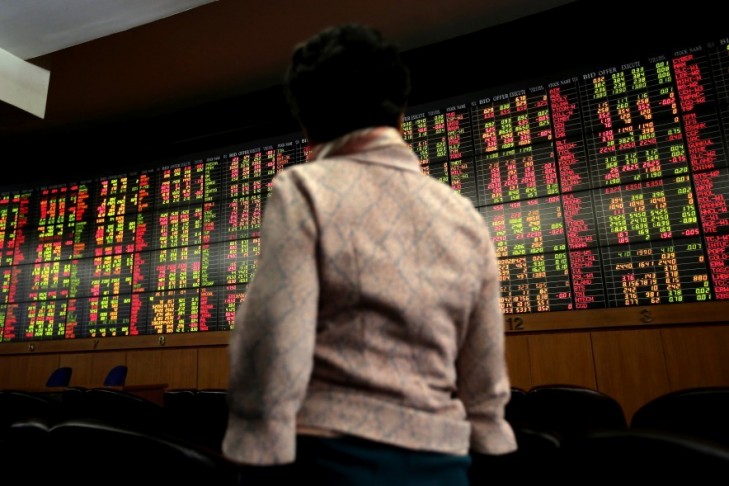 LTC and Altcoin Market Roundup: Some Quiet After the Storm: Market Analysis, Aug. 18
Aug 18, 2018, 3:39PM

by
Kevin George
Cryptocurrency markets are recovering after a stormy few weeks, which saw some big losses in some coins. Bitcoin has held support at $6,000.
Cryptocurrency markets are consolidating ahead of the weekend after a busy few weeks in which we saw panic selling in many altcoins. Bitcoin has performed as expected, with the price holding at the support level of $6,000, making a slight rally beginning Wednesday, and trading now at $6,500. I noted previously that BTC would see its rally capped before it hits $7,000 as we await further clarification from the American SEC on the possible Bitcion ETF decision. The current deadline for the announcement is Thursday. If the ETF proposal is turned down again, then we can expect further selling. However, it may well be that investors see a Bitcoin ETF as a high probability event at this point and have positioned themselves at these low levels until an approval is confirmed. Price action across the cryptocurrency market is likely to be muted until the Thursday ProShares ETF decision deadline.
LTC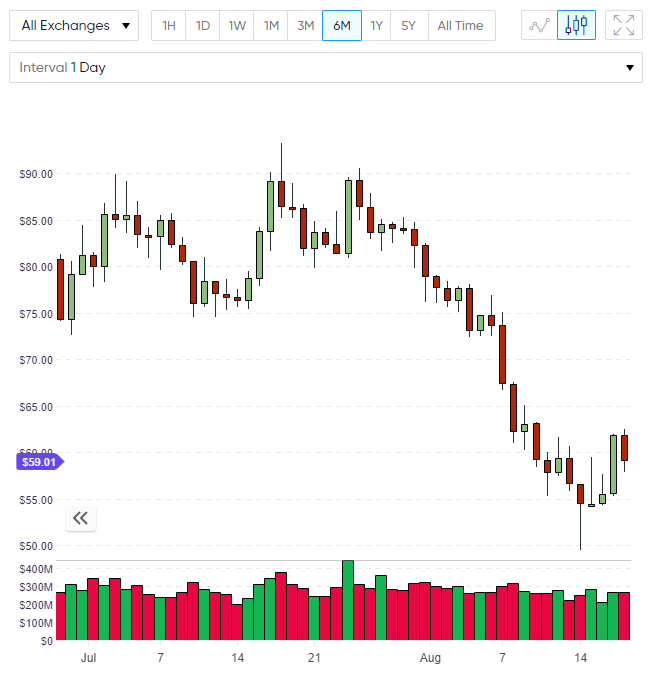 Litecoin has been weak in recent weeks and we are now seeing a pause from the sell-off. I noted when we were trading around $75.00 that LTC could hit a target of $50.00 on the downside and that is where we reached before seeing a bounce. The bounce in LTC has been fairly strong with a daily close above $60.00, which gives some hope that we can build a low here.
In my July articles I noted that the Litecoin Foundation had acquired 10% of a German bank in a joint venture with TokenPay. This development is a rare merging of the old and new worlds in cryptocurrency and could be a game-changer if LTC can integrate with WEG Bank's existing services and customer base.
The last few weeks of selling have provided some low price opportunities in the crypto market and, if the selling period is over, then investors need to get on the right projects ahead of another rally.
XRP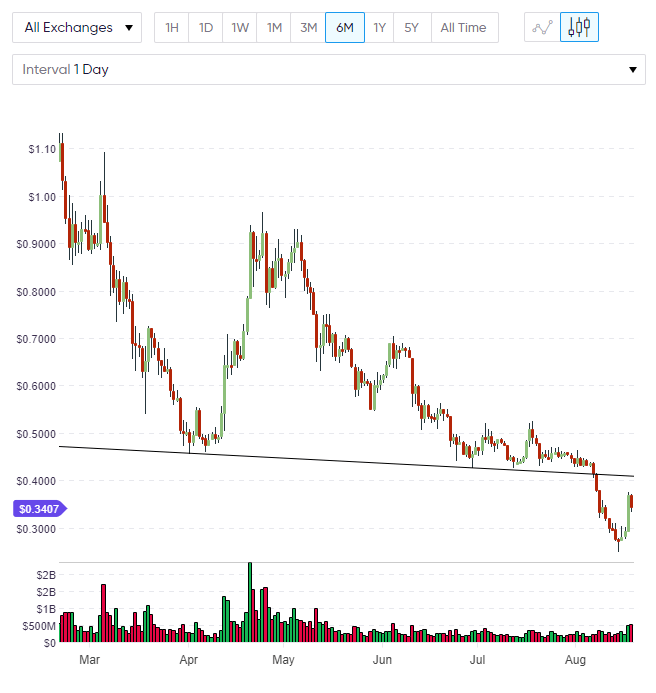 I wrote about the XRP bounce yesterday and we also saw a strong daily close there with the price making a move towards the key $40.00 level, which I noted was the previous support level. We will need a few sessions to get above that line but a strong move above could see this being a spike low in XRP.
ETP
Metaverse ETP is a coin I have been watching in recent weeks due to its strength. The ETP token has seen strong gains and moved from a double bottom at $0.56 to now trading at $3.23. The demand for ETP is highlighted by the fact that it shook off the selling of the general cryptocurrency market and has rallied once more for a strong close to the week. It's possible that we see further gains, with the coin now targeting the key $5.00 levels, however some caution would be advised.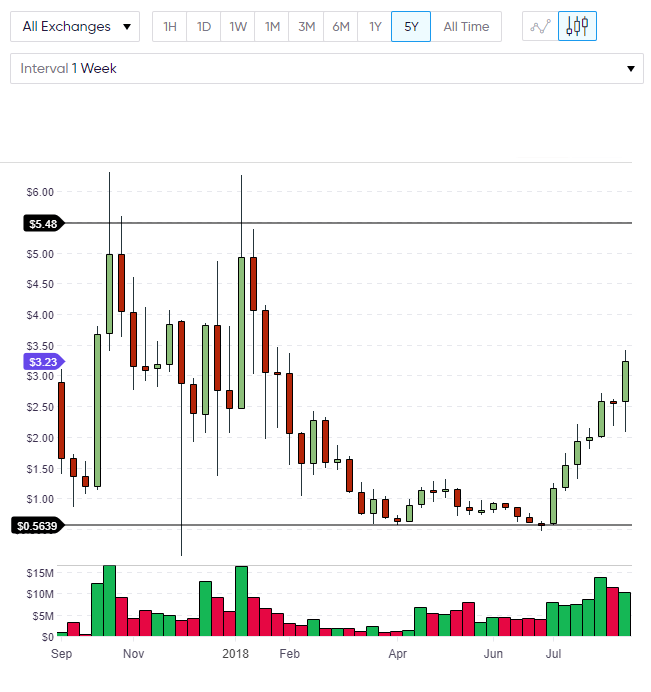 Metaverse is a Chinese BaaS (Blockchain as a Service) startup that was founded in 2016. The project seeks to be a Chinese substitute for Ethereum. Metaverse may be a better option in China than some coins as it does not require developer skills or a need for English language skills. ETP currently has a market capitalization of $156 million and is number 49 on the list of the largest coins.
WAVES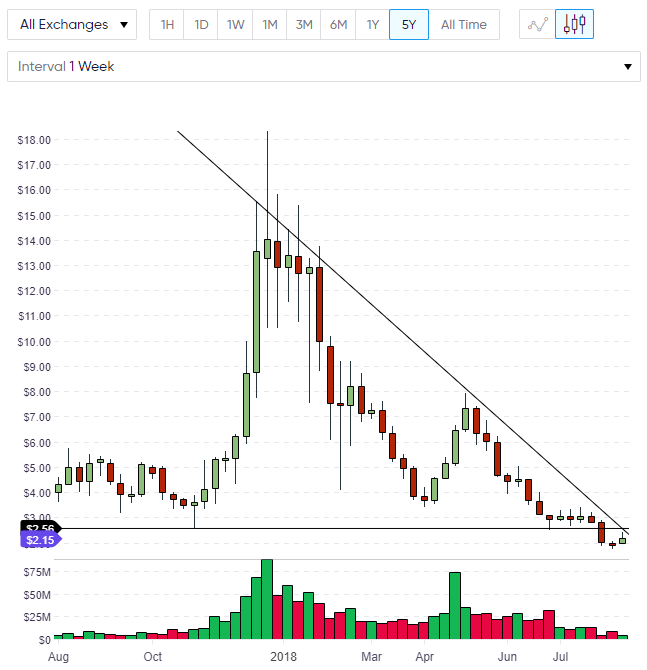 The price of WAVES has been sent lower in the recent sell-off and traded right through a support level around $2.50. Last week saw very small trade volumes and we have seen a rally back towards $2.50. With a descending trendline and the key support line converging then it's possible that we could see a rally above both to create a low in WAVES. A weekly close above $3.00 in the next week or two would be a good start and could open up a move higher with the largest resistance being $7.00 in the medium term.
DCR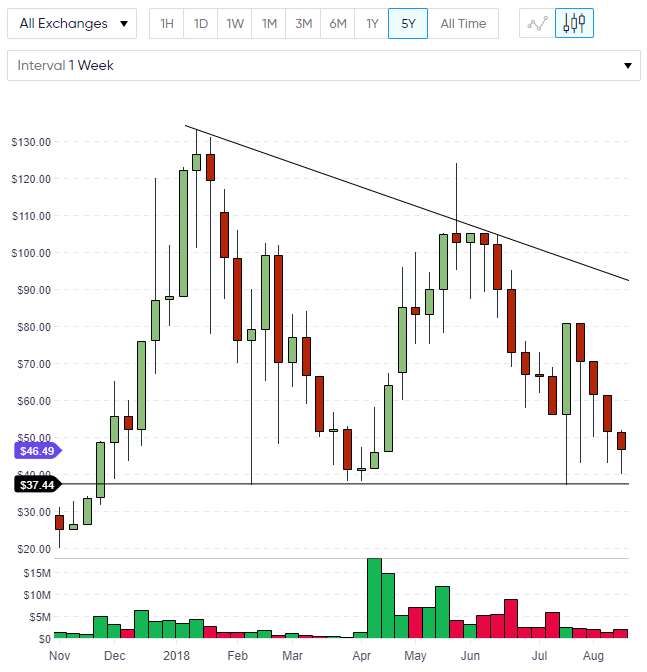 The price of Decred has been lower in recent weeks, which was disappointing after a strong rally from $40.00 to $50.00 during a week in July. That type of price move highlights the interest in DCR, however, and this will be one to keep an eye on as we are near that $40.00 level once more. We have already tested that area two or three times and another move higher would likely see a test of the downward resistance line near $90.00.
Decred currently ranks at number 25 in the list of coins by market cap with a value of $344 million. The name is short for "decentralized credits" and this proof-of-work (PoW) coin has the same supply as Bitcoin. DCR uses an off-chain governance system where token holders vote for changes and business decisions in the project.
Disclaimer: information contained herein is provided without considering your personal circumstances, therefore should not be construed as financial advice, investment recommendation or an offer of, or solicitation for, any transactions in cryptocurrencies.