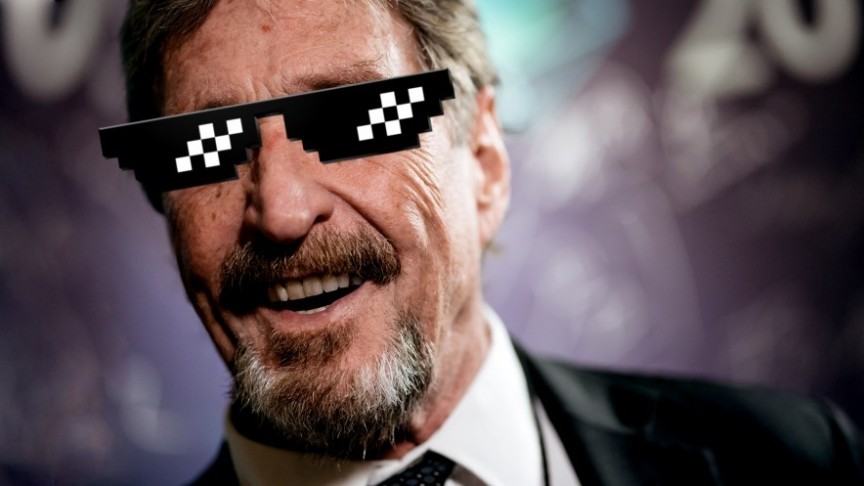 McAfee Offers $100,000 Bounty to Anyone Who Can Hack the 'Unhackable' Bitfi Wallet
Jul 25, 2018, 6:26PM
John McAfee has backed his claim that the Bitfi crypto wallet is 'unhackable' by offering a $100,000 bounty to anyone that can crack it.
John McAfee, famous for creating one of the most popular anti-virus softwares in the 90s, announced a $100,000 bounty to anyone that can hack the Bitfi cryptocurrency hardware wallet. McAfee has been a vocal proponent of the device on social media for quite some time and has claimed that the wallet is 'the world's first unhackable device'.
In a tweet published July 24, McAfee said,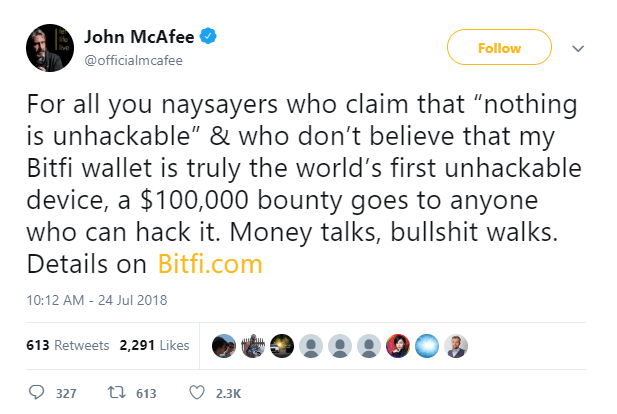 McAfee has become famous in the cryptocurrency ecosystem for his bold and improbable claims, especially on Twitter. In July 2017, he bet that the price of one Bitcoin would reach at least $500,000 by 2020. A few months later, after the cryptocurrency reached an all-time high of $10,000, he doubled his estimate to $1 million.
Making Good on the Reward
Shortly after McAfee's tweet, the Bitfi marketing team put up an extensive list of rules that need to be followed by anyone looking to claim the bounty. Would-be hackers will have to first purchase a wallet from Bitfi with $50 worth of cryptocurrency preloaded onto it. If the individual is able to successfully extract the coins and prove it to Bitfi, they can keep the coins as well as the $100,000 bounty, which is apparently sponsored by McAfee himself.
With all the restrictions surrounding the scheme, it is pretty evident that the reward is a publicity stunt for the device. Nevertheless, this is not the first time a cryptocurrency company has offered a bug bounty program. Last month, a Dutch ethical hacker found as many as 12 vulnerabilities in the EOS blockchain platform, which netted him around $120,000 in a single week from bounties paid by EOS. In March, cryptocurrency exchange Binance also pledged around $10 million in digital currency for its own bug bounty program.
Disclaimer: information contained herein is provided without considering your personal circumstances, therefore should not be construed as financial advice, investment recommendation or an offer of, or solicitation for, any transactions in cryptocurrencies.