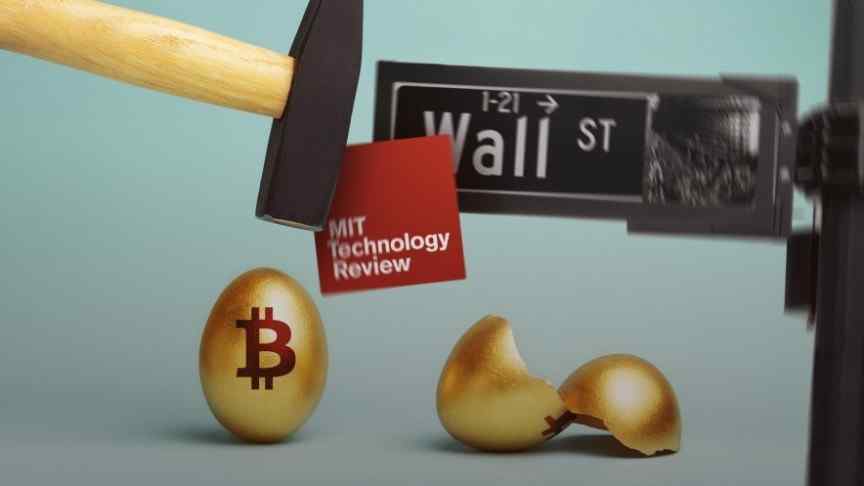 MIT Technology Review: Wall Street Could Break Bitcoin
Sep 9, 2018, 9:00AM
As cryptocurrency becomes more mainstream, traditional financial institutions are seeking more and more exposure to the market.
Mainstream financial firms have become increasingly involved in the cryptocurrency sector, and there are mixed reactions to this trend. MIT Tech Review, a magazine published by the Massachusets Institute of Technology, is not optimistic about Wall Street's growing presence in the Bitcoin market.
The Tech Review builds upon earlier statements from Wall Street veteran, Caitlin Long, to suggest Intercontinental Exchange's New Platform, Bakkt, could introduce unwelcome changes to the asset.
As cryptocurrency becomes more mainstream, traditional financial institutions are seeking more exposure to the market. These institutions include hedge funds, family offices, and sovereign wealth funds. In the past, many of these investors shied away from cryptocurrency investment due to a lack of regulatory oversight or conventional financial market infrastructure, but new platforms like Bakkt aim to address these challenges through the development of a fully-regulated Bitcoin exchange.
Possible Negative Repercussions of Walls Street's Involvement in Bitcoin
The MIT Review interviewed Caitlin Long who is now involved in the cryptocurrency sector through her company Wyoming Blockchain Coalition.
Last month, Long warned about the potential for "hidden leverage" from the Bakkt platform. Now, she builds upon her position, stating Bitcoin and Wall Street have "fundamentally different systems" for handling assets. She brings up two fundamental issues, ownership and leverage. While Bitcoins are directly owned by individuals, traditional financial assets are generally owned by financial clearinghouses. On top of this, Wall Street firms often use their client's assets as collateral, and this can introduce a form of unwanted leverage into the market.
The MIT Review is not the first publication to analyze the potential implications of Wall Street's involvement in Bitcoin. Earlier this the month, SFOX, a cryptocurrency research firm took a more positive view of the trend. They presented data suggesting that Wall Street is actually helping Bitcoin by stabilizing price volatility, making it more useful as a store of value.
Disclaimer: information contained herein is provided without considering your personal circumstances, therefore should not be construed as financial advice, investment recommendation or an offer of, or solicitation for, any transactions in cryptocurrencies.