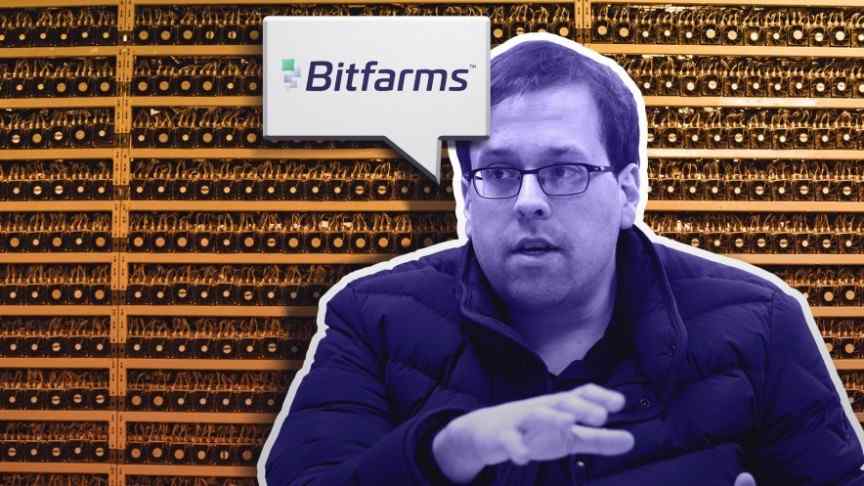 Bitcoin Mining Part 3: Bitfarms Speaks On The Emerging Blockchain Sector In Quebec
Nov 3, 2018, 11:27AM

by
Chris Madill
Join us as we talk to the founder of Bitfarms, a Quebec-based blockchain leader, about one of the world's hottest spots for Bitcoin mining.
In our previous articles, Bitcoin Mining Part 1: Decentralization, Nationalism and the Future of Blockchain and Bitcoin Mining Part 2: An Insightful Interview with TMGcore's JD Enright, we examined the world of Bitcoin mining and offered an intimate look at the state of the industry today.
Today, we follow-up with the Founder and Director of Quebec-based Bitfarms, Pierre-Luc Quimper. Through his insights, we examine his company's innovative approach to Bitcoin mining in Quebec, Canada, and gain insight into one of the fastest emerging blockchain sectors on the planet.
An Interview with One of Canada's Leading Blockchain Entrepreneurs
Bitfarms operates one of the largest Bitcoin mining operations in North America, and as such, the company is on the bleeding edge of the emerging blockchain industry. The company is based in Quebec, Canada, a locale wildly considered as one of the best places on earth to mine Bitcoin thanks to a mild climate and an abundance of cheap, clean hydro-electricity.
Earlier this year, we interviewed a spokesperson from Hydro-Quebec (HQ), the public utility responsible for the management of electricity within the province. We asked HQ about the utility's vision for the future of the blockchain industry in the province and gained insight into the complex politics currently surrounding the issue. Now, Bitfarms' President Pierre-Luc Quimper lets us peer into the industry from a different perspective, detailing how an ambitious blockchain business such as Bitfarms looks to grow its presence while benefiting the economy of Quebec.
Could you introduce yourself?
I am a 34-year-old Quebec businessman. I was born in Saint-Quentin, New Brunswick. At that time, I was one of the first to adopt a new little-known technology: the Internet. I left school at a young age to start my own business.
At age 14, I launched my first data center hosting company, Globo.tech, which still exists in Montreal. I realized that the Internet would change the way we communicate and exchange. Three years ago, I started to learn more about blockchain technology and felt that blockchain had the potential to change many things in the digital world all around us. With the help of my long-time friend and business partner, Mathieu Vachon, we started building our first computing center in Notre-Dame-de-Stanbridge. Thanks to an online blockchain forum, we met Emiliano Grodzki and Nicolas Bonta. We joined forces and we officially created Bitfarms almost a year ago. Bitfarms is a Quebec-based company registered in Canada and listed on the Tel-Aviv Stock Exchange (TASE: BLLCF.TASE, OTC: BLLCF).
Bitfarms currently has the intention of building two projects in Sherbrooke, Quebec. Can you describe these projects in detail?
We want to create a global innovation hub dedicated to the blockchain technology in Quebec. I believe Quebec has all the ingredients in order to build up a "Silicon Valley" dedicated to the blockchain: innovative universities, cold climate and hydroelectricity at a competitive price. Our intention is to make Sherbrooke be part of that hub. It's a technology-oriented city.
That's what I explained to the Premier of Quebec, Philippe Couillard, in February, during a roundtable of young entrepreneurs that I was invited to attend. Mr Couillard mentioned the potential of the blockchain technology a few minutes after the meeting and it was very encouraging:
We have Quebec entrepreneurs. Earlier on, I've met a young entrepreneur, Bitfarms, [...] his company, he was with us. Well, good for us if we have Quebecers who want to build this kind of environnement here / Philippe Couillard, Premier of Quebec
What size are these projects?
In Sherbrooke, we have an agreement with Hydro-Sherbrooke, the municipal hydroelectricity corporation (owned by the city), in order to have access to 98 MW of clean energy.
We already bought two facilities without financing in Sherbrooke, a total of $4.75 million CAD. Our intention is to establish three computing centers in Sherbrooke, a microelectronics lab and a regional branch.
We have the support of the City of Sherbrooke,
We are delighted that Bitfarms is coming to Sherbrooke. The entire population of the city will benefit from this innovative and growing technology company because of its positive economic impact on Sherbrooke / Sherbrooke Mayor Steve Lussier
How many jobs will the Sherbrooke project produce?
Our intention is to create up to 200 permanent, full-time, high-paying jobs, including engineers, technicians, electricians, system administrators, security managers and security staff.
How much power consumption will this project use?
98 MW of clean hydroelectricity. Hydro-Sherbrooke will not produce more electricity for Bitfarms, we are only using the surpluses. Bitfarms intention is to carry out "load shedding" during winter peak periods, at the request of Hydro-Sherbrooke, by using surplus energy when electricity consumption decreases. It means we can turn off our computing centres when Hydro-Sherbrooke has a very high demand, mostly during the winter. It's a common practice for some industries in Quebec, called load shedding. Hydro-Sherbrooke plans to generate $40 million CAD a year once Bitfarms' computing centers will be built, without producing more electricity.
Are there any unique innovations specific to Bitfarms? What are your projected roadmaps?
Our intention is to do research and development in collaboration with a Quebec university starting in January 2019 to find new applications based on the blockchain.
Our facilities are very efficient, 94% of our energy is used for our computing power. We do not have air conditioning, thanks to our design. We have developed our own software to monitor our servers. We also bought our own electricity company, Volta. The Bromont-based company is 100% owned by Bitfarms and has around 40 electricians now specialized in blockchain infrastructure.
By developing our own computing power centres, we can significantly reduce our production costs. Our goal is to build a fully vertically integrated company. We want to depend only on energy, and nothing else!
We have a 100%-owned proprietary software that provides chip-level diagnostics on 3-second intervals, and we have our own microelectronics repair facility (Saint-Jean-sur-Richelieu) with staff trained directly by a leading hardware manufacturer. [Additonally, we have] Testing completed on 100%-owned private mining pool with anticipated near-term public launch. (This mining pool has since launched after our interview with Bitfarms)
Bitfarms appears to be actively involved with the provincial government, local communities and local decision-makers of Quebec.
Can you explain why Bitfarms has forged these connections, and how Bitfarms will benefit the province of Quebec through its continued business of mining cryptocurrencies?
We are transparent in our activities, and we talk with local decision makers to explain what the blockchain technology is and what our activities are about.
Three years ago, we started to be interested in blockchain technology. We then set up our first computing centre in Notre-Dame-de-Stanbridge. Since we were the first in Québec, I was asked by Hydro-Quebec to sit with one of their high level managers and explain to him what is blockchain technology. I remember the Hydro-Quebec team showed us a map of Quebec and pinpointed the locations where there is hydroelectricity available for our needs. This is how we chose most of our the current locations of our facilities in Quebec. By talking to Hydro-Québec and making sure that our facilities do not have a negative impact on the grid.
I believe there is a need to explain to Quebec decision makers that the blockchain technology will reshape the way we trade and we exchange. Quebec has huge hydroelectricity surpluses that can be used to create a global blockchain hub.
Can you describe how local and provincial governments and community leaders are supporting Bitfarms?
Our Sherbrooke project has received final approval for participation in the Québec government Large Investment Tax Holiday program. Given the magnitude of this project, and subject to certain conditions, Bitfarms may be eligible for a tax holiday on future income related to its Sherbrooke investment, up to 15 million dollars CAD.
Several Quebec decision makers do agree that the blockchain technology has an important potential. It's encouraging to hear that.
No, we would never give a monopoly to a Chinese or a foreign company, never, ever! [...] It's the future of transaction security [...] a Parti québécois government will have a policy that will support [...] and develop ways to use the blockchain technology [...] so it becomes a Quebec trademark / The Parti Québécois Leader (opposition), Jean-François Lisée
We essentially want a policy that will help us to attract the best players, not those with containers, ready to leave overnight. [...] Bitfarms [...] We are very well aware that they are good corporate citizens / The Minister of Energy, Pierre Moreau
[Additionally] The Minister in charge of Northern Quebec, Pierre Arcand, thinks the blockchain technology is something "extremely" important. Northern Quebec has a lot of electricity available because the pulp and paper and the aluminium industries are slowing down compared to before:
It helps Bitfarms in the sense that it reassures us that Quebec has stability and predictability and is open for emerging technologies, which is good when you want to establish a business.
At the municipal level, several mayors are actively supporting new blockchain projects in their city because it brings economic diversification. There are places in Quebec that have energy surpluses and that needs economic diversification.
For example, the mayor of Baie-Comeau, Yves Montigny, said: "We want to attract blockchain technology in Baie-Comeau".
Baie-Comeau's economy in Northern Quebec is based on pulp and paper and aluminum, but there has been a serious slowdown in these two industries. Baie-Comeau is located near hydroelectric dams. The blockchain technology can bring jobs and economic diversification.
Another example, in Thetford Mines, a former asbestos mining town, the industrial infrastructure can be used for the blockchain technology:
A project like this has significant potential spin-offs. This is a promising avenue that fits well with our economic diversification objectives for the region and the conversion of mining facilities / Mayor Marc-Alexandre Brosseau, in a letter sent to the Minister of Energy, Pierre Moreau.
As noted in our previous articles regarding Bitcoin Mining in Quebec, the province has become a highly desirable location for Cryptocurrency mining operations thanks to a favorable climate and cheap hydroelectricity.
Can you describe how Bitfarms views this new found interest in Quebec from large overseas entities such as Bitmain? Do these overseas operations threaten the potential benefits to the province of Quebec?
We believe we are very well positioned in Quebec. It does not threaten us, we already have 162.5 MW of hydroelectricity secured here in Quebec, and we have very serious options in other jurisdictions.
Due to the unprecedented number of applications coming in there has been a moratorium placed on mining applications in the province of Quebec until succinct guidelines can be put in place.
Being an established mining operation, Does Bitfarms have any hand in providing guidance to policy-makers who wish to foster a healthy crypto-mining industry?
We are already established in Quebec and policy makers can definitely look at our activities if they want to build up a healthy, successful blockchain industry, instead of relying on theoretical studies or hypothetical foreign examples, far away from the Quebec reality. We offered guided tours to several elected official, including the minister of Economy and Innovation, Dominique Anglade. [Additionally,] we have had official meetings via our government relations team with key decision makers in Quebec to explain our industry to them.
How does Bitfarms see the future of the crypto-mining industry in Quebec over the long term? What sort of potential does crypto-mining present for the Quebec economy?
Quebec needs innovation and technology to be competitive globally. Hydroelectricity surpluses and former empty manufacturing facilities can be used to establish computing centers that can finance research and development and innovation in Quebec. It can create technology-oriented jobs. At Bitfarms, in less than a year we have created around 90 jobs.
Does Bitfarms itself identify with the Canadian government as an "arm of influence" in the Bitcoin ecosystem?
We believe in free market and we do not want to be the "arm of influence" of any government. We want to become a diversified, global-scale blockchain technology and infrastructure company, with strong roots in Quebec.
With the price of Bitcoin falling, and the limited number of Bitcoins available to mine, does Bitfarms see itself as a profitable venture well into the future? Is it profitable now?
We are profitable as you can see in our latest financial results, between January the 1st and June 30th. 2018:
Consolidated revenue of $22.3 million; gross profit of $12.5 million (56% gross profit margin), operating income of $6.8 million (31% operating margin), EBITDA of $12.6M (57% EBITDA margin) and net income of $4.9 million;
Mining operations segment revenue of $21.1 million, gross profit of $12.3 million (58% gross profit margin), gross mining profit of $17 million (80% gross mining margin), operating income of $8.1 million (38% operating margin), EBITDA of $13.9M (66% EBITDA margin) and net income of $6.2 million. (Financial Results)
[Ultimately] We want to depend only on energy, and nothing else!
Bitfarms is committed to becoming a diversified, global-scale blockchain technology and infrastructure company. We want to continue our operational expansion and secure additional green energy in other jurisdictions, further vertical integration, develop other related business verticals: Mining pools, blockchain as a service and private blockchain infrastructure services.
Finally, In Bitfarm's opinion, is the Quebec Government doing enough to help foster and grow a healthy blockchain industry within the country of Canada? What are they doing right? What could they do differently?
Overall, the Quebec government is giving moral support to Quebec blockchain companies. Quebec entrepreneurs, the private sector in other terms, are the one who are helping to foster and grow a healthy blockchain industry. There is an amazing ecosystem dedicated to the blockchain technology in Quebec right now.
Twenty years ago when I started in the IT field, I was 14 years old and people around me didn't understand the potential of the Internet. At 14 years old, I started my data-center hosting company, Globo.tech, which still exists in Montreal. Today, Montreal is a global hub for data-centers. In a near future, it has the potential to become a global hub for the blockchain technology. The Quebec government seems to understand that potential. I hope that the Quebec government will create a comprehensive framework that will help Quebec entrepreneurs build a global innovation hub dedicated to the blockchain, rather than having a short-term vision based on the price of electricity only. The Quebec government already helped two other technology-oriented industries to set up in the province by building a comprehensive framework: the gaming industry and the artificial intelligence emerging field.
A Bright Future
Pierre-Luc Quimper paints a picture of a bright future for blockchain technology in Quebec. While there is currently big money in Bitcoin mining, the technology and infrastructure being developed by companies such as Bitfarms look well-past the Bitcoin mining industry, preparing Quebec to benefit as blockchain technology continues to evolve.
While Bitcoin mining is an essential part of the evolution of blockchain technology, industry leaders continue to speak of a future where blockchain infrastructure becomes an integral part of national economies, and Pierre-Luc's industry know-how and deep insight let us share in his vision of the future. With regard to Quebec, the province seems to be developing strategies and frameworks that look to regulate blockchain-focused technologies in a conscious manner, working alongside the private sector to ensure the blockchain industry evolves in a way that benefits local economies.

We'd like to thank Pierre-Luc Quimper, and his team at Bitfarms, for their time to help us make this piece. It has been our pleasure to provide our readers with the opportunity to see the developing Bitcoin mining industry from the inside, and to show everyone the staggering amount of potential yet to be realized by the evolving blockchain industry.
Disclaimer: information contained herein is provided without considering your personal circumstances, therefore should not be construed as financial advice, investment recommendation or an offer of, or solicitation for, any transactions in cryptocurrencies.