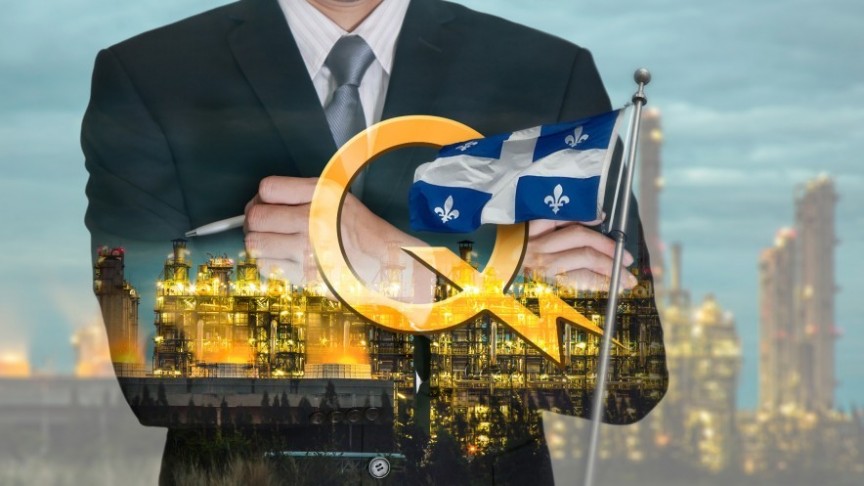 Exclusive Interview: Hydro-Québec's Vision For The Future Of Bitcoin Mining In Quebec
Jul 20, 2018, 6:36AM

by
Chris Madill
Our exclusive interview with Hydro-Québec paints a clearer picture of the Bitcoin-mining future in one of the world's desirable mining locations.
Two weeks ago, Bitrates.com reported on a string of tweets by Québecois Bitcoin-mining expert Jonathan Bertrand. These tweets revealed a growing negative sentiment among Bitcoin miners in Quebec with regard to Hydro-Québec's (HQ) ongoing moratorium on mining applications within the Canadian province. Not only did the tweets outline the Quebec mining community's concerns over when the moratorium would finally cease, but Bertrand also went as far as to suggest HQ is colluding with large international mining operations, namely Bitmain, to keep small domestic operations from ever having a chance to benefit from the cheap electricity provided by the province's public utility.
In response to the article published on Bitrates.com, Bitrates was contacted by Jonathan Côté, a spokesperson at Hydro-Québec. Jonathan's primary role at HQ is focused on public relations, specifically in the fields of blockchain and technological innovation. Jonathan provided guidance on the issues we outlined in our previous article, and he was generous enough to answer some pertinent questions surrounding the current state of Bitcoin-mining applications in the province of Quebec. Jonathan's answers detail HQ's plans for the future of Bitcoin-mining in Quebec and set the record straight on what he believes is the primary misinformation surrounding the issues.
Below are Jonathan's unedited responses to our questions regarding HQ's plans to support a Bitcoin-mining industry in Quebec:
Could you please describe what you believe to be the primary misinformation being spread about Hydro-Québec's policy towards crypto mining?
There are a few things that are going around about crypto mining in Québec that are just false. One of them is that our end goal is to charge 15¢/kWh for these projects. This confusion probably comes from the fact that we have requested a temporary dissuasive rate of 15¢/kWh to the Régie de l'énergie until it sets the final rates and guidelines for this industry. It is merely a tool to confirm the moratorium until the final guidelines are set, but certainly not our goal.
Another myth that seems to be going around is that we are against cryptocurrency mining, which is not the case. It is actually a good opportunity for us and we are eager to get the final guidelines for this industry as we are losing out on some good sales during the moratorium. We are definitely not against these projects. We just need a framework for this industry in Quebec to make it manageable.
For those of our readers that don't know why Hydro-Québec has placed a moratorium on the sale of electricity to cryptocurrency mining operations wanting to operate in Quebec, could you outline why the moratorium was enacted and what issues HQ and the Quebec government are examining during this moratorium?
The reason for this moratorium is that we have received over the past few months an unprecedented number of requests from miners who want to operate in Québec. We are talking about more than 300 companies, totalling over 18,000 MW. This poses a few problems. The first one is that we simply do not have the capacity to take on that much new demand. The reason why the rates are so low in Québec is because we have a block of low-cost energy (called the heritage pool) available for local consumption. We have about 1,500 MW of that block which is currently unused and that we can use to attract businesses in Québec, like data centers, mines, greenhouses, crypto miners, etc. Under the current framework, we would have the obligation to connect these new customers. If we go over that unused block of energy, we would quickly need to purchase new capacity on the market. Any new costs related to power purchases would, by law, be added to the rates paid by all our customers. The moratorium is a necessary step that needed to be taken to protect the low rates paid by all our customers until we can get guidelines to accept a certain number of projects. Also, while we have some available energy in Québec, it is not evenly distributed all throughout the year. In the winter time, during cold snaps, we have less capacity available. In order to accept a good number of blockchain projects, we need to have them become interruptible for about 100h to 300h in the winter to help us manage winter peaks. At the moment, nothing allows us to force customers to lower their demand during peak periods.
It is my understanding that HQ has submitted a set of parameters to the Régie de l'énergie (energy board of Quebec) regarding the sale of energy used for Bitcoin mining. The Régie de l'énergie will ultimately decide if these parameters are acceptable for the province of Quebec. Could you please outline how much electricity HQ wants to sell, at what cost, and what benefits the sale of this electricity will bring to HQ?
What we are proposing is a new block of 500 MW reserved for the blockchain industry. This would be added to the existing block of about 150 MW already either in operation or approved for deployment in Quebec. The criteria to select the projects would be as follow :
The price offered above the current rates
Number of jobs created per MW
Total payroll per MW of the jobs created
Investments in Quebec per MW
The logic behind this is simple: faced with a huge demand and the impossibility of accepting every project, we want to pick the combination of projects that will maximise economic benefits for Quebec. Also, the analysis will favor projects whose facilities will be ready for use as soon as possible. This could favor smaller projects that are setting up in existing buildings that already have the electric capacity as opposed to big new projects that would require new constructions and upgrades to our network in the area:
[The selection process as we submitted it to the Régie de l'énergie]
A large part of Quebec's platform for promoting the province for Bitcoin mining focuses on the benefits the blockchain industry will bring to Quebec's citizens. Can you please outline some of the benefits this industry will bring to Quebec?
The benefits that we think this industry could bring for Quebec are in line with the criteria we are proposing with our selection process :
It will bring new revenue for Hydro-Québec, which is state-owned, so it means more profit that will allow us to pay a higher dividend to the government, which is then used to support public services and infrastructure.
It can create jobs.
It will generate investment and economic activity in Quebec.
As Bitrates recently reported, some members of the Quebec Bitcoin mining community are stating that Hydro-Québec is not providing equal opportunities for domestic Bitcoin mining operations. Primarily, individuals are concerned with the "auctioning" of electricity for Bitcoin mining going to established overseas mining operations like Bitmain rather than domestic operations.
Could you elaborate on how Hydro-Québec would like to structure the sale of electricity for blockchain projects, and what criteria applicants will need to meet in order to be accepted?
We first have to be careful about calling our selection process an "auction". In a regular auction, each company can see what others are bidding and can keep driving up the bids until they effectively outbid the smaller players out of the game. In the selection process that we are proposing, companies would present us with their projects and their propositions would be evaluated by taking into account all of the criteria of the selection process. While the price paid for electricity is a major factor, several other criteria are definitely favoring smaller operations:
Jobs created per MW. We have commissioned KPMG to analyse the economic spinoffs of the cryptocurrency mining sector. They found out that, the bigger the "mines", the lower the number of jobs created per MW.
As mentioned earlier, the analysis will favor projects whose facilities will be ready for use as soon as possible. This could favor smaller projects that are setting up in existing buildings that already have the electric capacity as opposed to big new projects that would require new constructions and upgrades to our network in the area.
Will any preference be given to domestic mining operations that choose to apply?
No. We are looking for the projects that maximize economic spinoffs for Québec, regardless of their origin or size. As an example, if we had to pick between two identical projects, except that one would create 5 jobs here and is from Quebec but the other creates 20 jobs here and comes from outside of Quebec, we would favor the one that creates 20 jobs. What counts in the end is the positive economic impact for Quebec.
Part of the apparent uproar coming from domestic Bitcoin miners in Quebec stems from a belief that HQ and Bitmain are colluding to ensure that Bitmain receives a large portion of the available electricity when the moratorium is over. What is your view on this issue?
As I mentioned in my previous e-mail, any accusations of collusion with a specific company are completely frivolous considering the following facts :
All new projects are currently on hold. The moratorium affects everyone equally.
The process that will determine the final selection process at the Régie de l'énergie is public and transparent. All documents pertaining to this are public and there are public hearings held all throughout the process where domestic miners can voice their concerns : [Link]
The final selection process will be decided by the Régie de l'énergie, an administrative tribunal which is completely independent from Hydro-Québec and from the government.
We understand that smaller industry players might feel intimidated by the prospect of competing with larger companies in a selection process. It is perfectly understandable. We feel that the selection process that we have proposed is neutral and aims to maximize benefit for Quebec. It has many criteria that could favor smaller projects, like job creation per MW and how fast projects can be up and running.
Can you confirm or deny that HQ is in discussion with Bitmain?
We have met once with people from Bitmain. It was an introductory meeting of about twenty minutes. However, this was before the moratorium was put in place. At the moment, we are not working with any company and are not going forward with anything until the guidelines are set by the Régie de l'énergie. If our selection process is approved by the Régie, anything that was previously proposed to us by the 300+ companies that have contacted us will not be taken into account and these companies will have to officially submit new propositions through the selection process.
A Clearer Picture:
With Jonathan's answers to our questions, a clearer picture of HQ's plan to promote and sustain a Bitcoin-mining industry in Quebec can be seen. HQ's primary focus is revenue, but the utility is clearly creating a framework that is designed to maximize the economic benefit for the broader economy in Quebec as well, with a focus on job creation per MW and a measured approach to electricity availability within the province. While HQ does not plan on giving preference to domestic mining applicants, the utility is not purposely colluding with larger international entities against domestic miners. Instead, HQ has proposed criteria that they believe represent the best interests of HQ and the Quebec economy, and the success of any given application will be left up to the individual applicants to provide a proposal that fits HQ's vision. Ultimately, the Régie de l'énergie will have the final say on what happens with HQ's plan to grow a Bitcoin-mining industry in Quebec, but the province does appear to be deeply engaged in an ongoing discussion about the economic benefits of Bitcoin and blockchain technology.
Bitrates.com would like to thank Jonathan and Hydro Quebec for taking the time to respond to our questions.
Disclaimer: information contained herein is provided without considering your personal circumstances, therefore should not be construed as financial advice, investment recommendation or an offer of, or solicitation for, any transactions in cryptocurrencies.