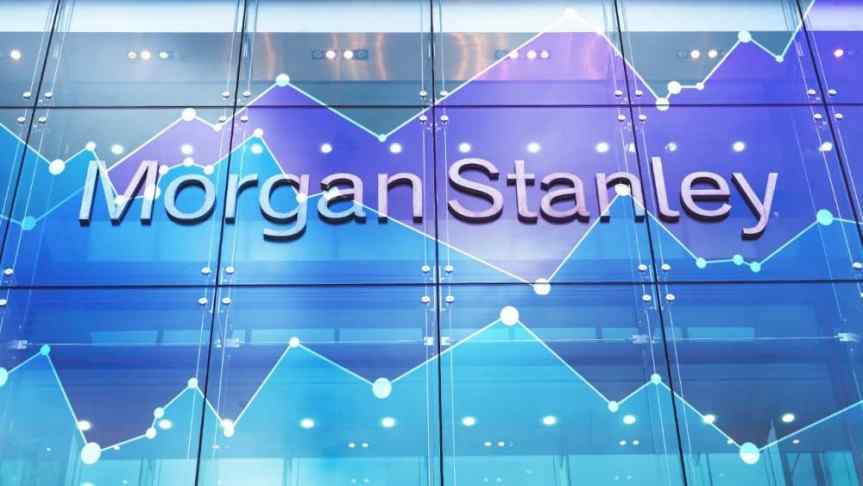 Morgan Stanley Insider Reveals Big Moves On Wall Street Towards Crypto Trading
May 2, 2018, 4:50AM

by
Chris Madill
Wall street moguls are fighting for their claim in the world of crypto, as revealed by a high-ranking insider at Morgan Stanley.
Wall Street is starting to look at crypto-markets as the new frontier for legitimate financial trading. With crypto starting to push through the barriers of the traditional financial world, big-name players are taking steps to try to stake their claim in the exciting world of crypto-trading.
In a recent interview with The ICO Journal, insiders at Morgan Stanley (MS) have revealed the firm's ambitious plans to add cryptocurrencies to their product collection. The MS insider is described as "[not] some bond desk wannabe for Morgan Stanley. This is a guy who would know" by The ICO Journal, they further claim they backed up the insider's claims by confirming with "three hedge fund sources on the west coast".
The insider paints a picture of a hard-hitting approach aimed at "reaching out to mid-tier money managers" who are likely to add crypto to their portfolios, and then closing deals as quickly as possible to secure Morgan Stanley's position against rival Goldman Sachs:
"...but you can bet that things are moving quickly and deals are being struck. And you can guess why."

"Goldman is taking a different track than we are and our directives seem to have them in our sights at the moment. If we are able to engage on a 1-1 basis, as opposed to through third parties (Circle et al.) then we ultimately lead in the space."
Goldman Sachs has indicated that it will also be setting up a trading desk for cryptocurrencies. The firm plans on having its platform up and running by the end of the 2018 summer. Additionally, to help introduce potential clients to cryptocurrencies and their respective markets, Goldman has hired Justin Schmidt as the Vice President and Head of Digital Asset Markets in Goldman's securities division. Schmidt holds computer science degrees from MIT and has worked at quantitative trading firms Seven Eight Capital LLC and Worldquant LLC.
Adoption Is Just Around The Corner
Morgan Stanley (MS) and Goldman Sachs aren't the only big-name players getting geared up for crypto. As noted by the insider at MS in his interview with ICO journal, almost every entity within the financial sector is starting to dip their toes in the crypto-market:
"Truth be told this is the next arms race. EVERYONE IS RUSHING INTO CRYPTOS. Everyone. There isn't a bank, a fund, a fund company, a former legend attempting to reclaim old glory, private equity, venture capital, lending, exchanges, consulting firms – everybody. It is the digital gold rush. And our firm wants to get there and pull as many levers as we can."
As reported on April 25th, NASDAQ CEO Adina Friedman told CNBC that the stock exchange would be considering offering a cryptocurrency exchange service, and unconfirmed reports have claimed that reliable sources have revealed the NASDAQ will be offering the exchange services by October 2018. Just across the border, the Toronto Stock Exchange (TSX) has also recently announced it will build a cryptocurrency brokerage due by Q2 2018. Both The NASDAQ and the TSX are among the world's three largest stock exchanges, alongside the New York Stock Exchange (NYSE)
With the tide turning on Wall Street and crypto rapidly becoming a mainstream investment option, many current crypto-investors are speculating a large increase in value for the asset class. In opposition, many of those who have "hodl'd" crypto since the early days of Bitcoin see the move towards institutionalized trading as undermining the very cornerstones of decentralization, personal freedom and unregulated financial exchange on which crypto was originally built.
Disclaimer: information contained herein is provided without considering your personal circumstances, therefore should not be construed as financial advice, investment recommendation or an offer of, or solicitation for, any transactions in cryptocurrencies.