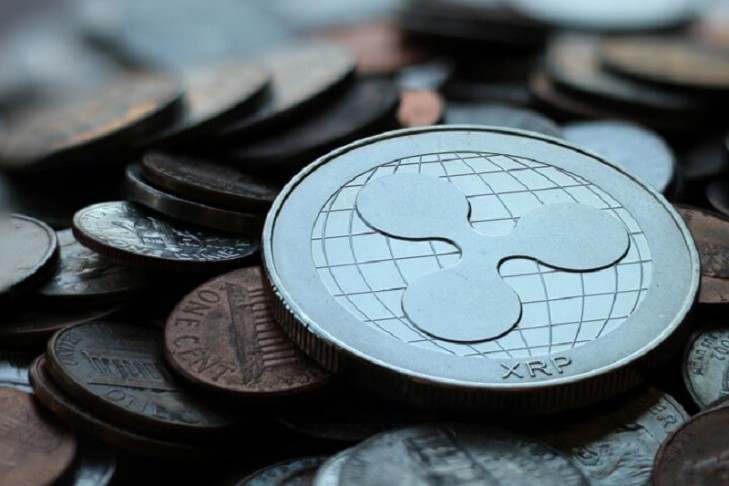 Ripple XRP Rallies 50% After Favorable Court Ruling, ETH, SOL, SNX, Jul. 17
Jul 17, 2023, 5:33PM

by
Kevin George
XRP leads the week higher after court case boost. ETH could see NFT competition from Google. SOL gets a 50% price increase. Synthetix adds gains.
XRP
The price of Ripple XRP was 58% higher over the last week after a court ruling said it was "not necessarily" a security.
In the latest ruling, a federal judge in New York said that the XRP token is "not necessarily a security on its face," and added that XRP was only deemed a security when Ripple sold it to institutional buyers years ago, but not to the public. Stuart Alderoty, a lawyer who has commented on the case, tweeted:
A huge win today – as a matter of law - XRP is not a security. Also a matter of law - sales on exchanges are not securities. Sales by executives are not securities. Other XRP distributions – to developers, to charities, to employees are not securities.
The Ripple team has been locked in a court battle with the Securities and Exchange Commission (SEC) since December 2021. The regulator claimed that XRP is a security and that executives had been involved in an unregistered sale of those securities.
A loss in the case would likely see large fines for the company and it has weighed on the price of XRP for more than two years. The latest comments could see the case come to a positive end for Ripple, which has also seen its growth stunted through a lack of development.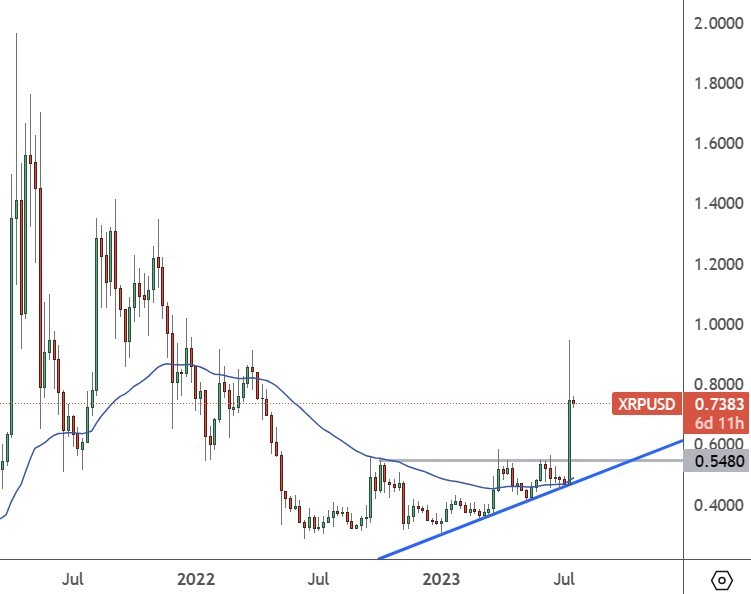 XRP has jumped above the resistance at $0.5500 and the road is now clear for potential further gains with resistance above the $1.00 level and the 2021 highs above $1.80.
ETH
Ethereum produced a return of 2.7% this week but the coin could be facing competition from the tech giant Google in the world of non-fungible tokens (NFTs).
Rival tech firm Meta was seen moving into NFTs in 2022 with the company seeking to use them in the Instagram app. The move didn't see a big change for the sale of digital assets, but it showed that Silicon Valley sees a future for the items.
Google Play announced that it would allow developers to incorporate digital assets such as non-fungible tokens (NFTs) into their apps and games in the online store. Developers that offer apps with the trading of tokenized assets will be required to state that there are blockchain elements in the product.
Joseph Mills, Google Play's Group Product Manager, wrote in a blog post that developers can now merge "traditional games with user-owned content" and boost "user loyalty through unique NFT rewards."
The Reddit social media site was one of the partners working with Google on the new policy after it achieved success with its own avatar model. Matt Williamson, Reddit said the Google guidelines are "aimed at creating a level playing field that promotes user trust, and responsible usage of blockchain technology."
Google stressed that "while tokenized assets are meant to build more enriched, immersive experiences, as an added user protection, developers may not promote or glamorize any potential earning from playing or trading activities."
This is in line with Google Plays' Real-Money Gambling, Games, and Contests policy, where apps that do not meet gambling eligibility requirements cannot offer items such as "loot boxes".
The arrival of companies like Meta and Google may eventually add competition to Ethereum's long-held dominance over NFT sales. The top 30 NFT collection sales on OpenSea over the last month were all Ethereum-based.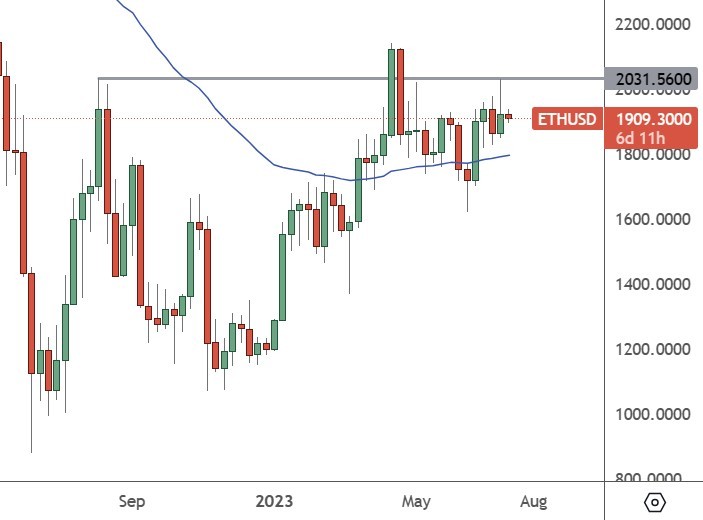 The price of ETH has resistance at the $2,031 level and tested it last week. The coin needs to get above that for further gains.
SOL
The price of Solana also surged last week after the project saw a move higher over the last month.
Analysts were talking of a potential rally in the coin after it climbed from the $15.00 level in July.
The resistance level at $27.00 and the moving average were both mentioned by Bitrates in the previous week and both levels were hit. SOL closed at the resistance level and still has to add gains this week but there is now potential for momentum to continue and the price to start targeting the $50 level.
The court ruling in XRP may also add some upward buying pressure in the altcoin market. Solana went through a rough 2022 after being one of the best-performing coins in the two years prior. Problems with the security of the blockchain and some technical bugs led to a change in fortune for the project. Solana had a record high in its market cap above $70 billion in 2021 but the valuation crumbled. Last week's move saw the project's value move back above $10 billion and the coin is currently ranked at number 8 among all crypto coins.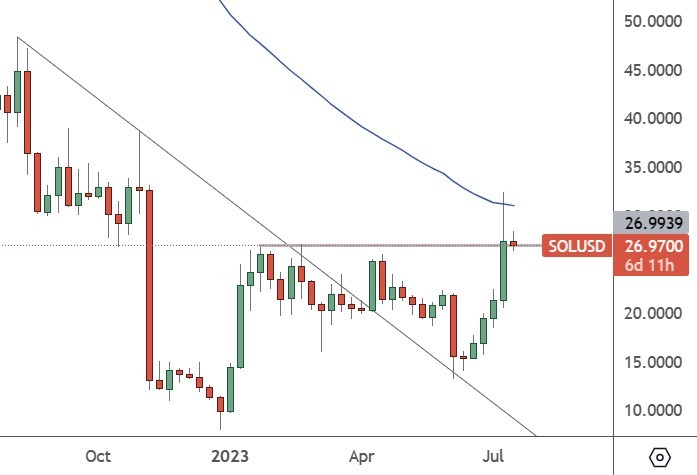 SOL trades at $27.00 and needs a move above $32 to add some real gains to the market cap.
SNX
Synthetix saw a bump higher in its price and there is also a potential for a breakout.
The latest rise for Synthetix came as it looked to expand its decentralized finance (DeFi) products with the introduction of a new derivatives trading platform called Infinex.
The new exchange will provide a trading interface for novice and experienced traders, with similar features to centralized exchanges (CEX).
Kain Warwick, the founder of Synthetix, said the project aims to resolve issues with its current offering. He added that the decentralized exchange eliminates the counterparty risk of exchanges like the failed FTX.
The launch of the new DEX is also expected to land with the release of Synthetix's V3.0 of its perpetual futures trading system, in the coming months.
By bringing the benefits of DEX exchanges with the features of centralized exchanges, Synthetix aims to establish itself as a leading player in DeFi.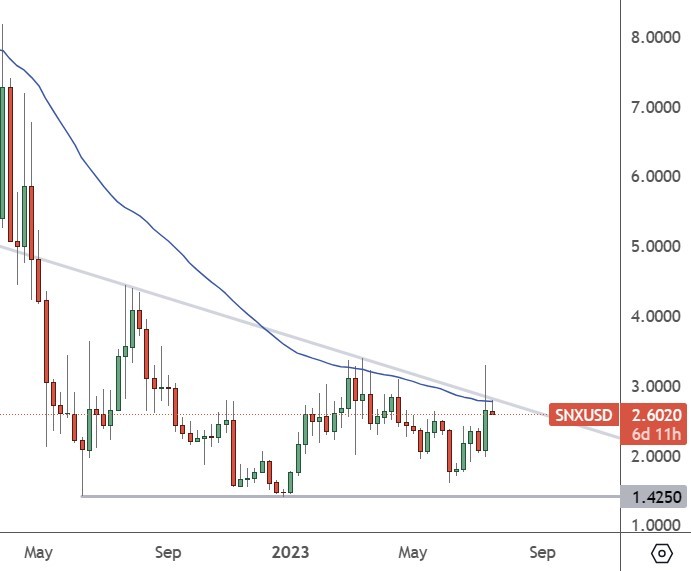 The downward trending resistance line offers a barrier to further gains in SNX and price needs to get above that to find further momentum.
Disclaimer: information contained herein is provided without considering your personal circumstances, therefore should not be construed as financial advice, investment recommendation or an offer of, or solicitation for, any transactions in cryptocurrencies.