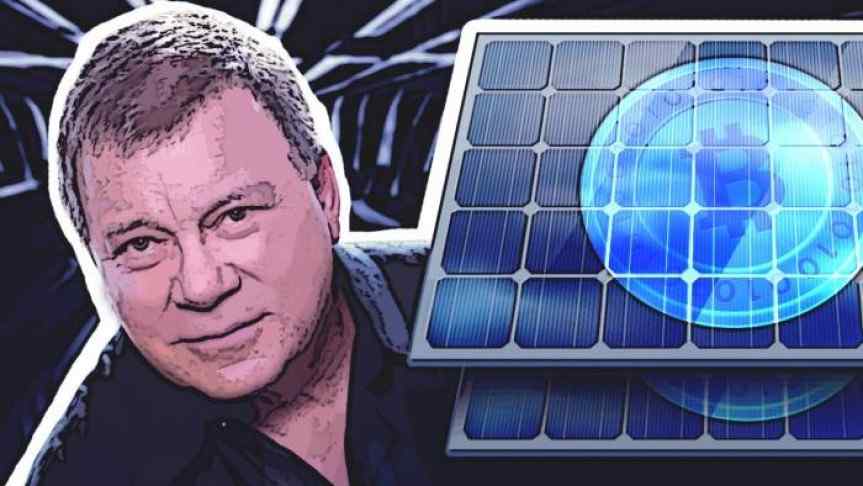 Stardate, 2018: Captain Kirk Enters the Cryptosphere in Effort to Save Earth
Jun 15, 2018, 9:36AM

by
Chris Madill
William Shatner is now advocating for Solar Alliance, a solar energy developer who plans on building a large crypto mining facility.
World famous actor and Sci-Fi legend, William Shatner, is now a bonafide member of the cryptosphere. The Star Trek idol has a new role as the spokesperson for Vancouver-based alternative energy developer, Solar Alliance.
In a June 13 press release, Solar Alliance outlined their upcoming plans to convert a recently acquired factory in Southern Illinois into a solar-powered crypto mining operation. Shatner, who became involved with the company after they installed solar panels at his personal residence, believes the project has the potential to bring meaningful change to the cryptosphere, and beyond,
As an advocate for solar energy I was intrigued by the potential for it to power cryptocurrency mining operations. They are energy intensive and utilizing solar arrays to power them makes social and economic sense. Cryptocurrencies can help prevent fraud, speed payment settlement, reduce identity theft and provide global access to capital. The combination of solar and cryptocurrency mining facilities represents meaningful change / William Shatner
The 165,000 sq/ft factory already has access to low cost electricity from the Murphysboro, Southern Illionois electrical grid, and Solar Alliance plans to supplement this supply with 3 megawatt solar arrays. Once the solar array construction is completed, space within the factory will be rented out to cryptocurrency mining operations who are seeking cheap power and ample space.
Cryptocurrency mining is often criticized by environmentalists for the power intensive mining operations required to produce new coins. Solutions like Solar Alliance's new solar powered mining facility may be able to provide a small portion of renewable energy, but, much larger efforts are needed in order to curb electricity usage if Bitcoin or other crypto mining is to keep up pace with the demand of adoption. In an effort to optimize the process, US technology giant Intel, has recently filed a patent for a hardware accelerator which promises to reduce the total energy consumption of Bitcoin mining by 35%. Other large marketcap cryptocurrencies, such as Ethereum, are trying to solve the mining-efficiency problem by changing the underlying algorithms used to create coins, moving toward a Proof-of-Stake (PoS) protocol that will eliminate the need for large "mining-farms" altogether.
Disclaimer: information contained herein is provided without considering your personal circumstances, therefore should not be construed as financial advice, investment recommendation or an offer of, or solicitation for, any transactions in cryptocurrencies.