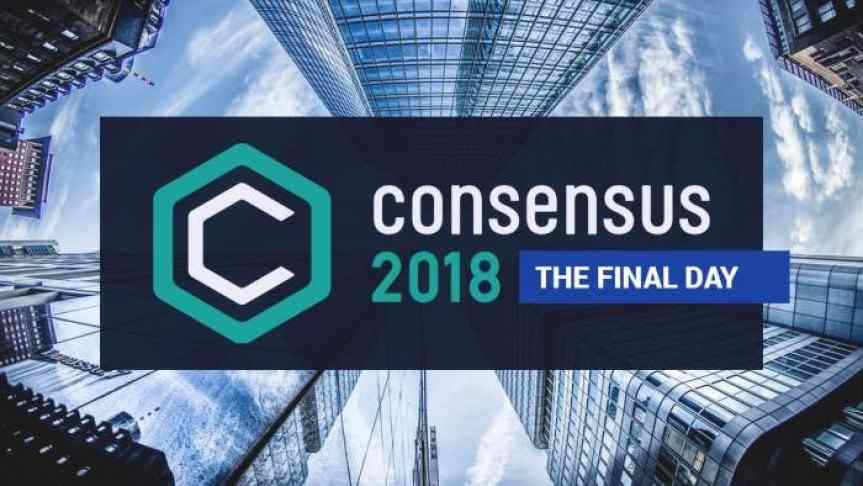 What You Need to Know About Consensus 2018: The Final Day
May 17, 2018, 2:30PM
Consensus 2018, the biggest blockchain conference of the year has come to an end. Here are the highlights of the final day of the event.
Consensus 2018, the biggest blockchain conference of the year has come to an end. Barry Silbert, CEO of the Digital Currency Group, announced via Twitter, that the attendee count totaled over 8500 people, meaning that the event raked in around $17 Million in ticket sales alone, and more than tripled last year's total attendance.
The Enterprise Ethereum (EEA) Alliance Delivers
Following on reports made a couple of weeks ago on Bitrates, the Enterprise Ethereum Alliance announced the release of the Enterprise Ethereum Client Specification 1.0 during Consensus 2018. The EEA hopes that their specification becomes the international standard for blockchain business applications. With this move, the EEA aims to improve trust and speed in business transactions, as well as helping develop more efficient business models on top of the Ethereum ecosystem. The executive director of the Enterprise Ethereum Alliance Ron Resnick declared regarding the release:
"The EEA's Enterprise Ethereum Specification is the result of 18 months of intense collaboration between leading enterprise, technology, and platform members within our technical committee. This EEA open-source, cross-platform framework will enable the mass adoption at a depth and breadth otherwise unachievable in individual corporate silos."
Microsoft Talks Privacy
Ankur Patel, lead program manager for the Identity Division at Microsoft, spoke during Consensus 2018 about how Microsoft is developing an open source project alongside the Decentralized Identity Foundation, with the aim to create a worldwide, decentralized identification system that could help users regain control of their personal data with the help of blockchain technologies. According to Patel:
"Each of us needs a digital identity we own, one which securely and privately stores all elements of our digital identity. This self-owned identity must be easy to use and give us complete control over how our identity data is accessed and used".
Such a tool could help Microsoft solve one of the biggest challenges the company faces: how to grant users control over their digital identities while maintaining interoperability with already existing services. According to Microsoft, further details about the project will be announced within the next three months.
Final Highlights
After three days filled with numerous important interventions by private and public players, Consensus 2018 has finally come to an end. You can check out the complete coverage of the event by Bitrates here. For a complete rundown on the final day of the event, the CoinDesk team posted a very interesting video recap, with all the relevant highlights. The very cool graphic recap of Consensus' day three by the guys at @VechainOfficial can be found here.
Disclaimer: information contained herein is provided without considering your personal circumstances, therefore should not be construed as financial advice, investment recommendation or an offer of, or solicitation for, any transactions in cryptocurrencies.