Market Analysis Writer

Kevin has over 10 years' experience trading FX, equities and commodity markets. He holds a master's degree in finance and writes research and analysis for various platforms.
READ FULL BIO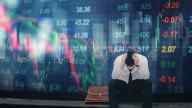 Is the Crypto Bloodbath Over? A Crucial Week Ahead, BTC, BCH, ETH
Another week in the red for the cryptocurrency market but is this the end times for digital assets or a whale-induced panic move?
Bitcoin
Nov 26, 2018 - 4 min, 54 sec read
All the post are loaded