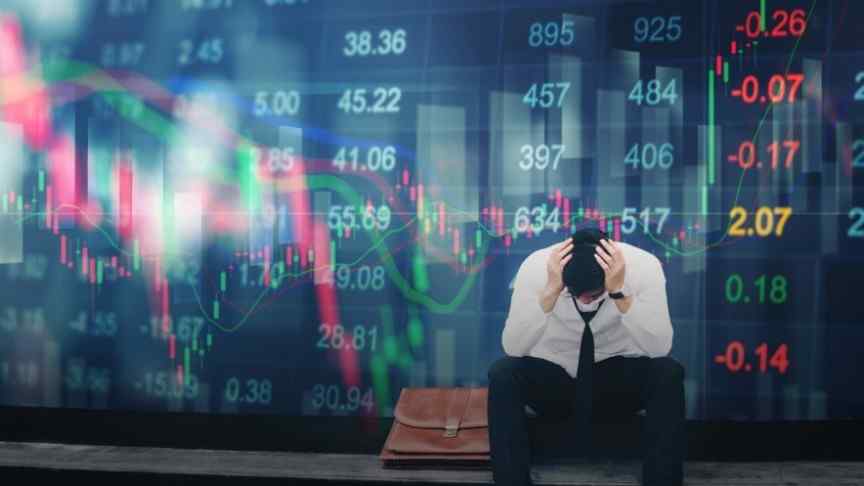 Is the Crypto Bloodbath Over? A Crucial Week Ahead, BTC, BCH, ETH
Nov 26, 2018, 4:04PM

by
Kevin George
Another week in the red for the cryptocurrency market but is this the end times for digital assets or a whale-induced panic move?
BTC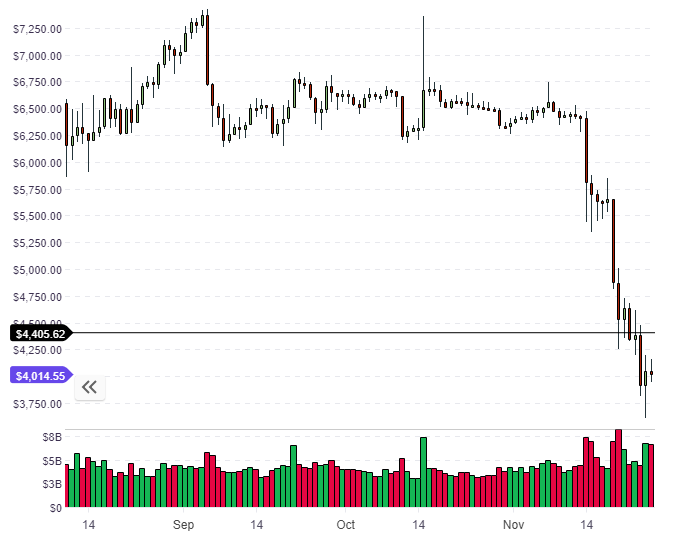 It was another bearish week in the cryptocurrency market as the second wave of sellers appeared to feed the capitulation from the $6,000 level in Bitcoin. BTC gave up the $5,000 level and has made a small bounce from a dip under $4,000. The level around $4,000 – 4,400 is now crucial for BTC before the monthly technical close on Friday. A small recovery rally in BTC could at least stabilize the market into the year-end closing.
Be fearful when others are greedy and greedy when others are fearful.

Warren Buffett
The quote above comes from Warren Buffett, who is known as one of the greatest investors ever. His approach to the markets has always been rooted in "value investing" and if he believed in a stock then a bout of short-term selling was seen as an opportunity to load up at a better price. As I mentioned in my article last week; if you still believe in the future of blockchain then these prices are a gift. Cryptocurrencies benefit from no holding costs that would be seen in gold storage or futures/FX contracts so if the latest sell-off has left traders disillusioned then maybe it's a chance to reassess your key holdings and take a break from following the markets intensely.
One issue that grabs my attention is that the majority is never right in the markets and the contrarian approach that the likes of Buffett use would make this a brutal capitulation that scares many out of the market. There is also the possibility that large traders have pushed BTC through $6,000 in order to load up at cheaper prices. The custody services wing, Fidelity Digital Asset Services, recently created by Fidelity Investments was seen as a sign that institutional money was close. The company's head, Tom Jessop commented,
I think we are starting to see an acceleration… I don't know what phase (innovator, early-adopter, early majority, etc.) we are in, but I think that with some of these recent announcements – our announcement, Bakkt's launch, Harvard, Stanford and MIT allocated into this asset class – we are now seen as this interesting and transformative asset class… So, we can expect more news heading into 2019 that raises the bar and helps growth.
Nothing has changed in the cryptocurrency market since Fidelity and Bakkt came to the table. A lack of new volume and no news catalyst meant that Bitcoin was vulnerable to negative news and all it has taken is a few negative comments by central bankers to capitulate BTC and bring the whole house down but we must ask ourselves the question: How hard is it for Wall Street to get a central banker or group of mainstream news outlets to release a negative stream of news?
Let the fearful run from the market if they wish. I'm digging a little deeper and getting greedy.
BCH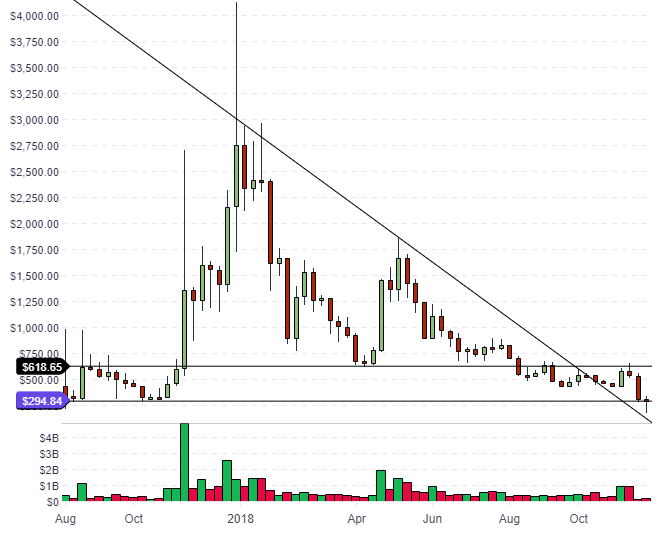 The price of Bitcoin Cash on the weekly is now seeking support at $300 and it looks technically better than some other coins. If the market can hold the $300 level by Friday, then it's possible it can move higher into the range towards $600 by year-end.
One thing to consider about the potential entry from institutional money is the following: What's the REAL value differential between BTC and BCH? Bitcoin has been the established cryptocurrency for nearly 10 years now and has been the go-to coin for investors who followed the bull run but how will professional investors view the technological differences and uses cases?
In the current financial system, gold is valued somewhere around $7.7 trillion, yet the value of the world's money supply is $90 trillion.
If Bitcoin was to become a store of value then it's possible that BCH could work in tandem as a transactional element and may be a better long-term investment. Now that the hard fork is over, we may see a recovery in BCH. Billionaire entrepreneur Calvin Ayre is asking Roger Ver to create a permanent split between his BCH "SV" and Ver's BCH "ABC" for a "win-win" solution. For now, we need to let the dust settle on BCH and look to see which coin gets support from key investors and exchanges as we approach year-end.
ETH/ETC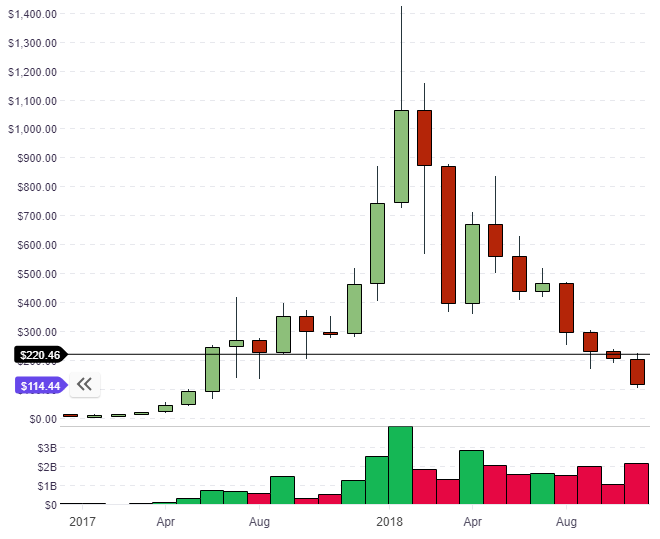 The market sell-off has been brutal for ETH and its ETC spin-off with both coins looking weak on the monthly chart.
Along the same lines as my BTC versus BCH comments, I've actually been purchasing some ETC recently for the same reasons. I'm asking what the real technological differences between projects and I'm using coins such as this a hedge against a financial panic bull run. In a panic rally or institutional rally, we may see a retail wave in its wake and the average retail investor will go by price and accessibility, rather than the real technology or use cases of one platform to the next.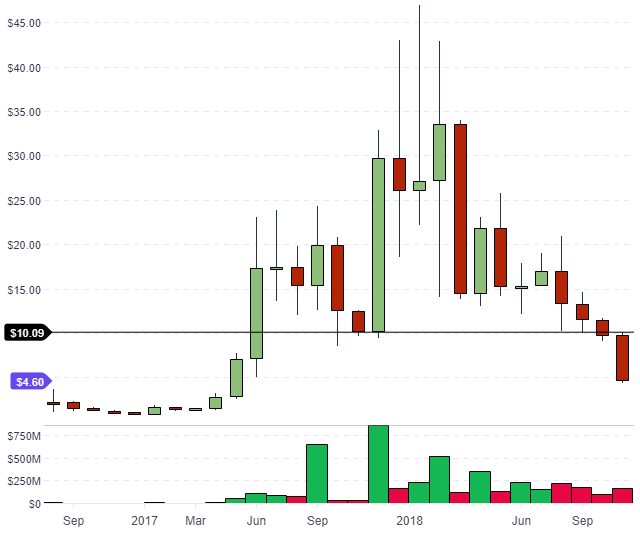 ETH currently trades at $115 with ETC trading at $4.70. ETH lost the support at $220-250 and ETC lost the key $10 level, with both coins seemingly too far away to make any attempt to hold on the monthly. The best outcome we can hope for in both of these coins is a higher monthy close to create a "doji" candle, which could set up a retake of the support levels on a bullish news catalyst.
Keep in mind that Fidelity is "onboarding" early clients into year-end before a roll-out in Q1. It's not hard to work out that those early institutional clients will be important players in Fidelity's other business units and they would benefit from the recent sell-off.
Disclaimer: information contained herein is provided without considering your personal circumstances, therefore should not be construed as financial advice, investment recommendation or an offer of, or solicitation for, any transactions in cryptocurrencies.