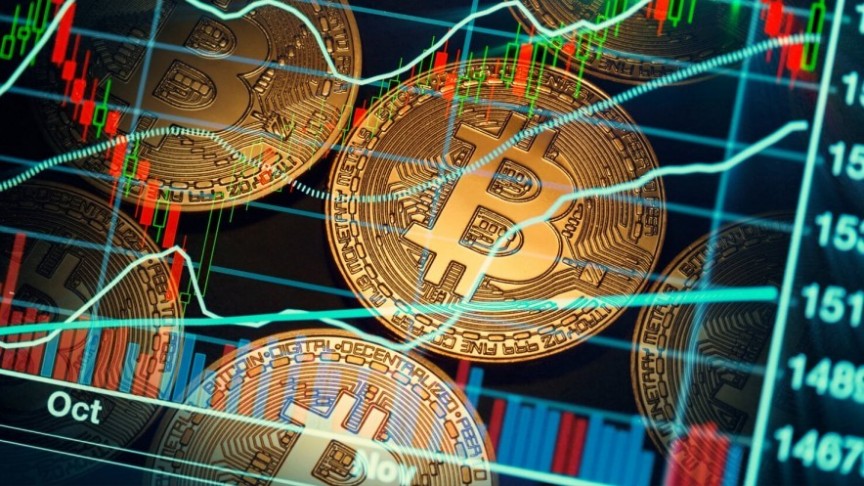 Plenty of Potential Catalysts Bring Cryptos to Blast Higher in Early Week Trading
Jul 18, 2018, 1:14PM

by
Kevin George
Bitcoin shoots up by $788 overnight while other coins blast higher with only four of the top 100 coins flashing red over the last 24 hours.
Bitcoin
Cryptocurrencies are higher across the board this week with only four of the top 100 coins flashing red for the last 24 hours of trading. The positive sentiment finally brought the much-needed volume catalyst that has been missing in recent weeks and Bitcoin was a key mover with gains of around 10%.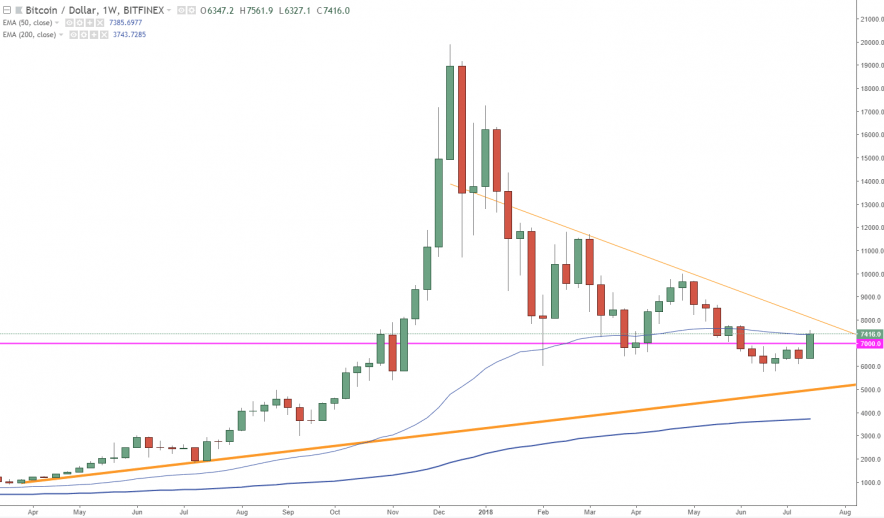 The weekly chart in Bitcoin highlights the importance of this move and gives us the potential for a strong bullish weekly signal that I have been talking of in recent articles across the cryptocurrency space. The recent basing setup now has the potential to break through overhead resistance and bring attention to cryptocurrencies again. Bitcoin still holds the uptrend from 2017 and we are now testing the 50 moving average with next resistance at $8,000 being the only barrier to a retest of $10,000. The horizontal line at $7,000 also indicates a key technical level on the monthly chart which would come into play over the next two weeks.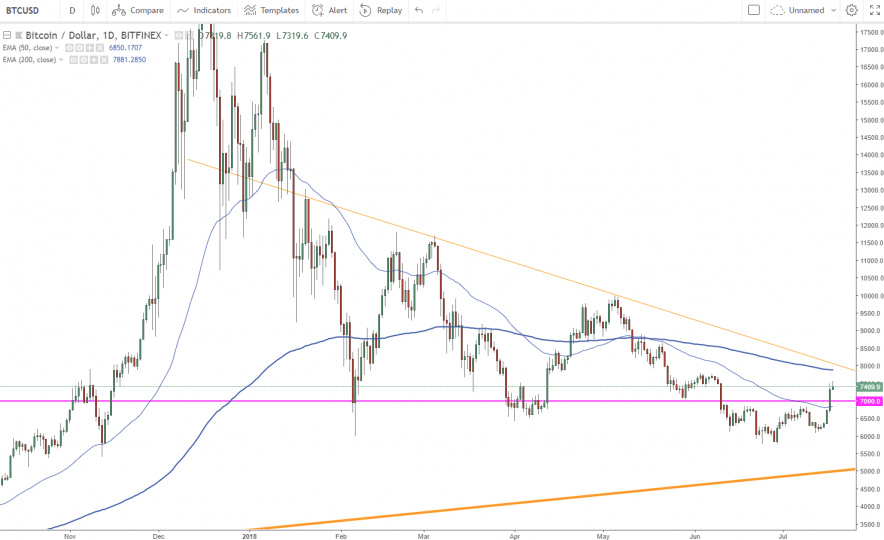 The daily chart on Bitcoin highlights the recent basing setup and a strong move through the 50 moving average. We are now looking at the 200 moving average and that $8,000 level.
Possible Catalysts
Although there was no particular catalyst for the move, it was becoming clear in recent sessions that the market was stuck in negative sentiment and ignoring a lot of positive news.
Blackrock, the world's largest asset manager, was reportedly considering a move into cryptocurrencies. This is a very early stage but it is the kind of news that can bring fresh attention and see investors taking advantage of Bitcoin's recent lows.
Mastercard had introduced a new patent to manage "fractional reserves of blockchain currency".
Goldman Sachs appointed the friend-of-crypto CEO, David Solomon, who believes the firm will "evolve its business" to deal with crypto. This might just be the move to establish crypto amongst the Wall Street community.
Japanese financial giant SBI holdings finally launched the world's first bank-backed crypto exchange
Two major messaging apps, Kik and Line announced the launch of their services. Kik introduced real spend options as its Kin token went live. And Line has confirmed it will launch a cryptocurrency exchange called BitBox.
Stellar took the headlines with its successful pursuit of first-ever Sharia certification for its distributed ledger protocol and now seems to target rapid expansion into the Middle East's banks and institutions.
In related Stellar news, Stronghold and IBM announced the creation of a joint venture with IBM, that will explore use cases new stablecoin dubbed "Stronghold USD" to be issued and transacted through the Stellar blockchain ecosystem
Coinbase announced it is considering listing five new tokens to its exchange, namely Stellar Lumens, Cardano, Basic Attention Tokens, Zcash, and 0x. These new listings came on the heels of releasing Custody, Coinbase's new institutional crypto storage service.
Perhaps the most confusing news is Coinbase's announcement on Monday that it has been granted approval to go through with a trio of acquisitions that would bring it that much closer to become one of the "first federally regulated venues for trading digital coins deemed to be securities". Just two days later, however, Coinbase retracted the statement and is now saying it actually was not granted said SEC approval, as reported by Bloomberg.
LTC
In my last article I mentioned the news that Litecoin had joined up with Token Pay to buy a controlling stake in a German bank. The news showed once more, the steps that cryptocurrency developers are making to improve the prospects of mass adoption. Litecoin's founder, Charlie Lee, took to Reddit to clarify the news.
Lee noted that the best-case scenario would see WEG Bank attempt to launch cryptocurrency products and services, writing:
Best case is that with this bank, we are able to create and deliver crypto solutions like debit cards, merchant processing, and other innovative solutions. However, even with a stake and influence at the bank, it's not guaranteed that this will succeed.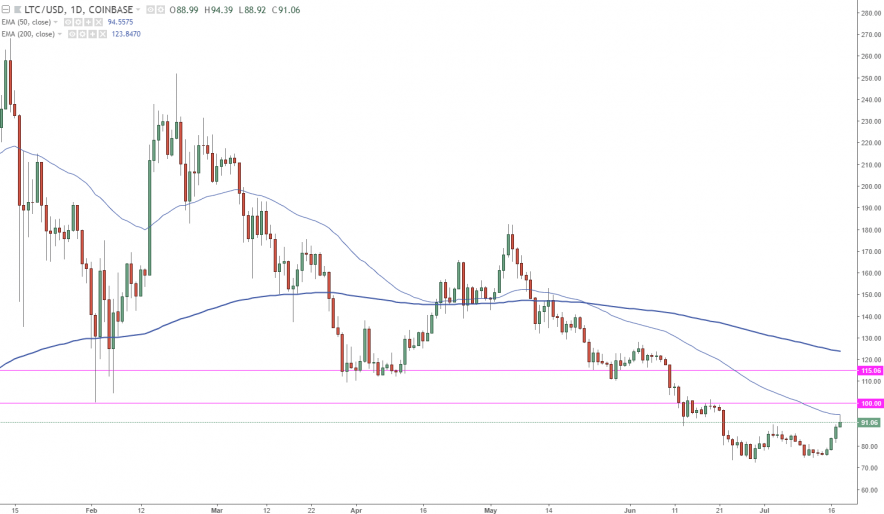 Litecoin has carved out a bottom on the daily chart in recent weeks and now eyeing some key resistance at the $100-120 levels that I noted earlier. The move higher this week still looks positive for the weekly chart if we can hold onto these gains or preferably, add a little more.
Stellar
One of the big movers in the top ten coins was in Stellar Lumens, which is up over 20% in the last 24 hours. The move was driven by news that IBM, the giant technology corporation, was backing a new stablecoin that will run on the Stellar blockchain. IBM have been a key player and an early mover into the blockchain, compared to its tech peers.
The company noted,
IBM will explore use cases with business networks that we have developed, as a user of the token. We see this as a way of bringing financial settlement into the transactional business network that we have been building.
Stablecoins are gaining a lot of attention recently and many see this as an important part in removing volatility from cryptocurrency and bringing a "tokenized world" closer to reality.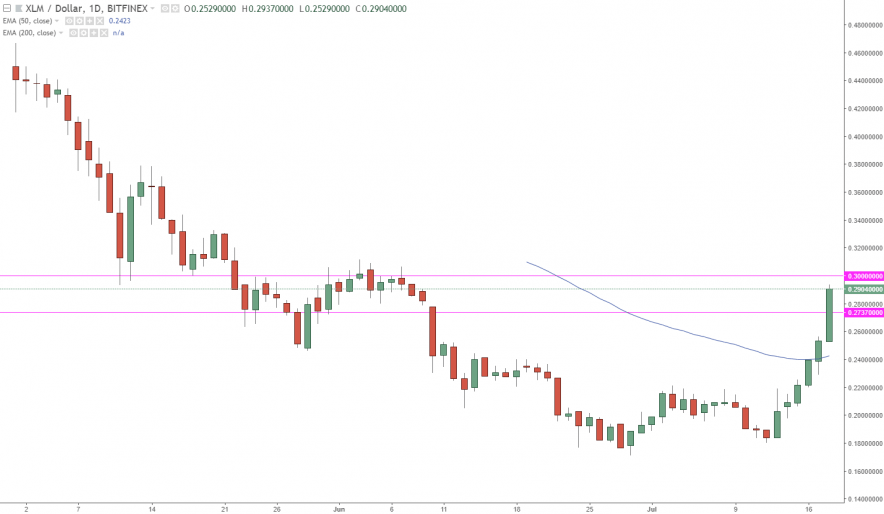 The daily chart on Stellar highlights the impressive move higher in recent sessions and it is possible that some early news was leaked on the IBM play as Lumens bucked the trend of some weaker coins last week. XLM has moved into a key technical zone and sees resistance at $0.3. On recent price action and the recent news release, it is highly likely we can clear that level and there is little resistance above.
Cardano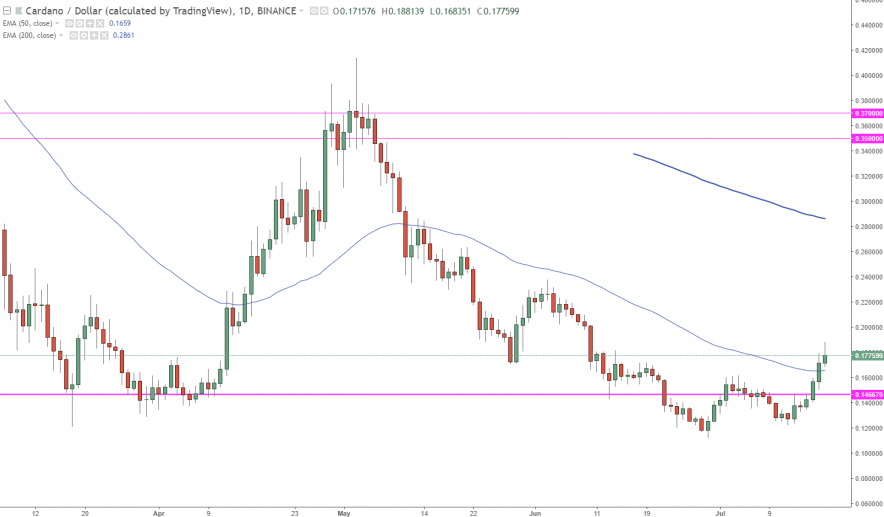 Cardano was another coin which saw a strong move in the last day with a move of over 15%. The bullish price action this week has helped us clear the key weekly support level on Cardano that was sitting around the $0.1466 level and this would be positive on a weekly close basis.
The next key resistance level in ADA would be around the $0.25 level. Price has pushed through the 50 moving average on the daily chart and some follow-through could see us test that resistance and possibly make a push to the 200 moving average at $0.28.
Disclaimer: information contained herein is provided without considering your personal circumstances, therefore should not be construed as financial advice, investment recommendation or an offer of, or solicitation for, any transactions in cryptocurrencies.