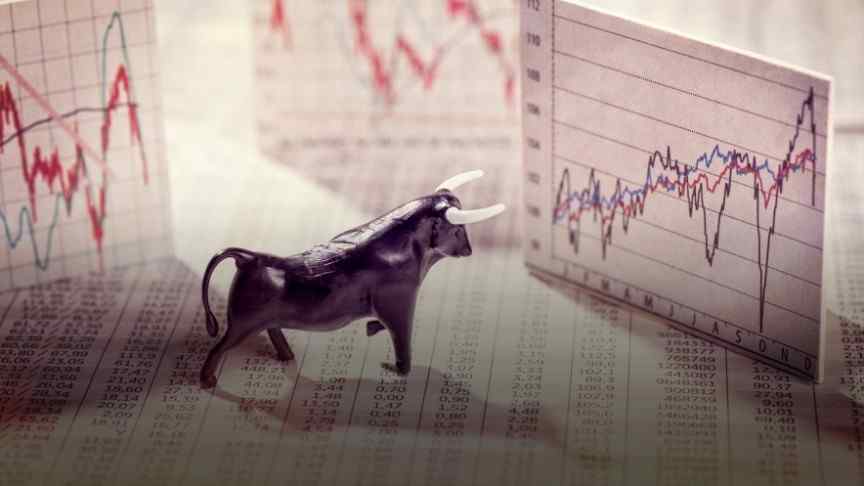 A Bitcoin Breakout Must Be Imminent, DOGE, KMD Analysis Oct. 27
Oct 27, 2018, 9:39AM

by
Kevin George
Bitcoin's trading range squeezes further as the triangle pattern runs out of room. A breakout must be imminent and an upside is likely.
BTC
Bitcoin has continued to trade in a tight range with the price squeezing into a $100 zone in the last two days. Bitcoin has been setting up inside a triangle formation over the last few months and with price squeezed so tight at the end of the triangle, a breakout in Bitcoin is imminent.
Tom Lee, Head of Research at Fundstrat Global Advisors, and a prominent crypto bull has also stated his belief that Bitcoin is ready to rally. Lee is predicting an upside break due to Bitcoin's support at the key $6,000 level. In an interview with Block Show, Lee said,
Bitcoin is preparing to break out. It has found support around the $6,000 level, which equals the breakeven for mining costs.
At the same time, Lee said he did not see an imminent financial crisis:
In my opinion, a financial crisis will be inevitable… There is a greater leverage today and the global central banks have less "wiggle" room because of the current low rates… I am not expecting an imminent crisis.
His comments on a crisis are set to be tested as global stocks have lost nearly $7 trillion since September and remain at a key crossroads over the next week. There are other risks looming in November as the EU and Italy are currently in dispute over the Mediterranean nation's budget. Italy proposed a budget which was above the EU's target for the first time ever. The EU has sent the budget back to be adjusted within 3-weeks, yet the Italians may make a statement which could rattle bond markets. Another important issue looming is that of China's Yuan.
The Yuan is now trading near 7 to the U.S. dollar; a level that has not been seen since the financial crisis in 2008. The Chinese currency has lost 7% of its value this year and comments from a People's Bank of China (PBOC) governor have suggested that they will defend this level.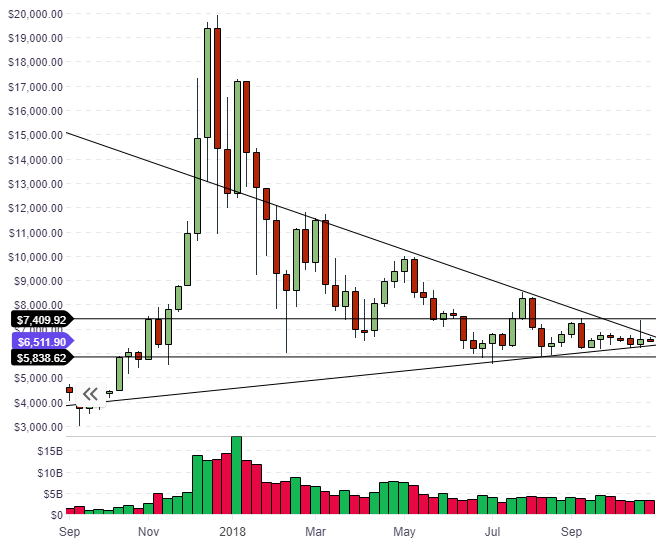 BTC is now stuck between the $6,000 and $7,500 levels. A break of either level should see a continued trend developing. Demand has been strong at the lower level and the old adage, "never short a dull market", comes to mind with all the global risks that are present.
DOGE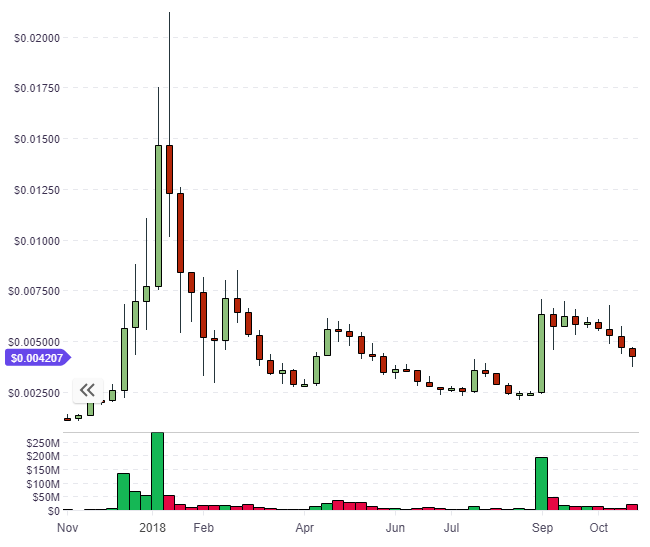 The price of DOGE has been disappointing since the news that the coin would be added to the Yahoo Finance trading platform. The strong rally in early September suggested that further gains were likely but as with all pairs in the cryptocurrency market, demand was not big enough following the move to continue higher. As with the price of XRP recently, DOGE has retraced 50% of the rally, which is often a good level to see support. DOGE can still rally from here if we see a breakout higher in Bitcoin and the general market. $0.0075 would be a key level and a brisk move to $0.0150 would be possible above there.
KMD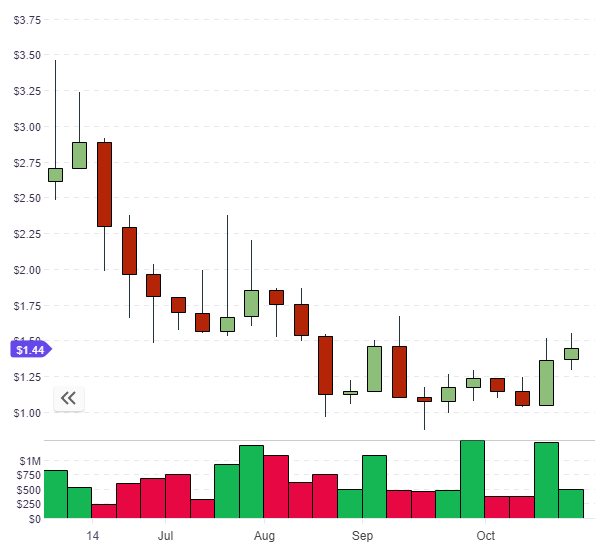 Komodo has rallied in the last two weeks suggesting that a bottom could be in at the $1.00 level. KMD will now seek to test resistance levels from here with the current price of $1.44 trying to break the $1.50 level. The levels of resistance seen above there are fairly obvious at $2 and $3 initially.
Komodo has a market cap of $155 million and is currently ranked 51 in the list of coins. KMD has 110 million coins in circulation.
Komodo is a ZCash fork that utilizes the zk-snark technology to offer private and anonymous transactions. The coin's founder stated in a declaration of independence that the intention was to,
...create a crypto solution that allows digital assets to freely move between different platforms, escaping the tyranny of the hardfork.
Komodo is currently updating a roadmap for 2018-19 as the project seeks to adopt the "Komodo 2.0" upgrade.
Amongst the 2.0 updates will be UXTO-based smart contracts, adjusted block rewards and multi-chain syncing which will allow 20k transactions (tx) per second, with public scaling test to demonstrate 1 million tx per second.
Disclaimer: information contained herein is provided without considering your personal circumstances, therefore should not be construed as financial advice, investment recommendation or an offer of, or solicitation for, any transactions in cryptocurrencies.