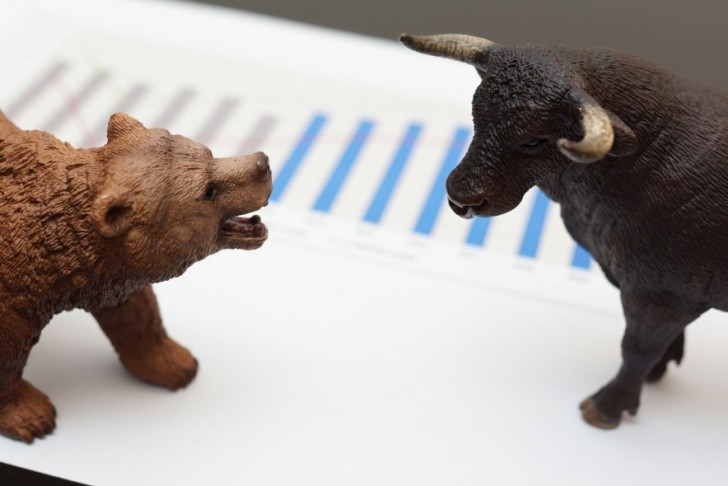 Bitcoin Blows the Bears Away in a Run to $9,200, HYP, ZIL, A16z, May 4
May 4, 2020, 7:23AM

by
Kevin George
BTC mounts a strong two-day rally to reach $9k. Top venture firm A16z has raised another $500 million crypto investment fund.
BTC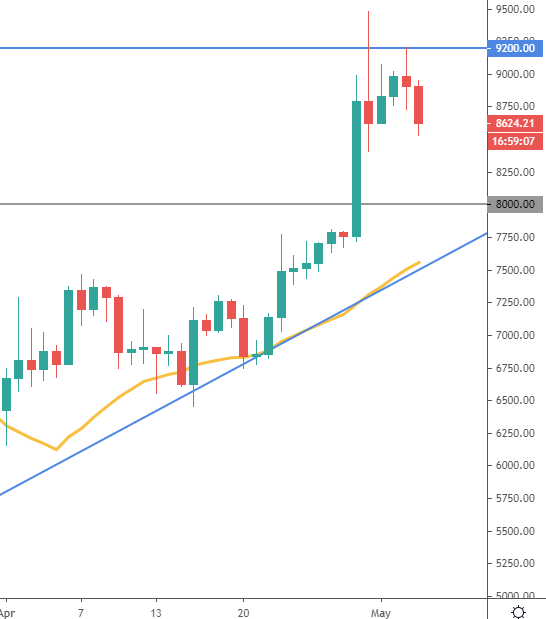 BTC built on its bullish close above the $7k mark to mount a strong rally and bulldoze the bears to reach highs over $9,000 on Thursday. Stock markets and gold were lower on the week, but BTC saw strong activity with a 17% gain on the week as investors don't want to be left out ahead of the May 12th halving event.
I said back in March that the big BTC sell-off was likely from forced selling of institutional funds and that prices could rise into the May halving. Bitcoin is taking a pause now and if it finds support, bullish traders will want to make a run for the psychologically important $10,000 level.
HYP
A coin that has done well since the mid-March lows is Hyperion (HYP) with a rally from $0.06 to $0.3200. The coin racked up a gain of 152% in the last week alone.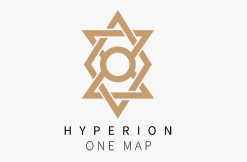 The project is based on a blockchain map application which the website states is,
… a decentralized map platform, (that) aims to achieve the "One Map" vision - to provide an unified view of global map data and service, and to make it universally accessible just like a public utility for 10B people.
Part of the benefit of the service will be its decentralized map search which will allow users to browse maps without their activity being tracked by the likes of Google. The company sasys, "Users can access accurate location and navigation service and enjoy secure and efficient location service without having to provide personal information,"
The rally in HYP has seen the coin move to 56th in the list of coins by market cap with a market value of $107 million. The coin was founded in August 2018 and is pushing further into all-time highs.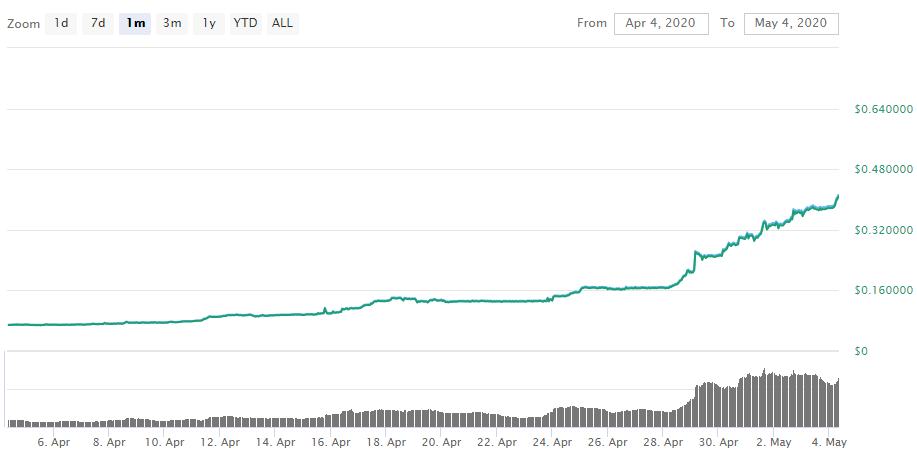 Trading volume in Hyperion is up from $20 million daily to $120 million.
ZIL
ZIL was 43% higher on the week as the coin tries to recover from a record low level of $0.0030 at the mid-March bearish drop. The price has now doubled and is testing strong resistance at the previous weekly lows. A move through there could open up a move to test the resistance at $0.01200.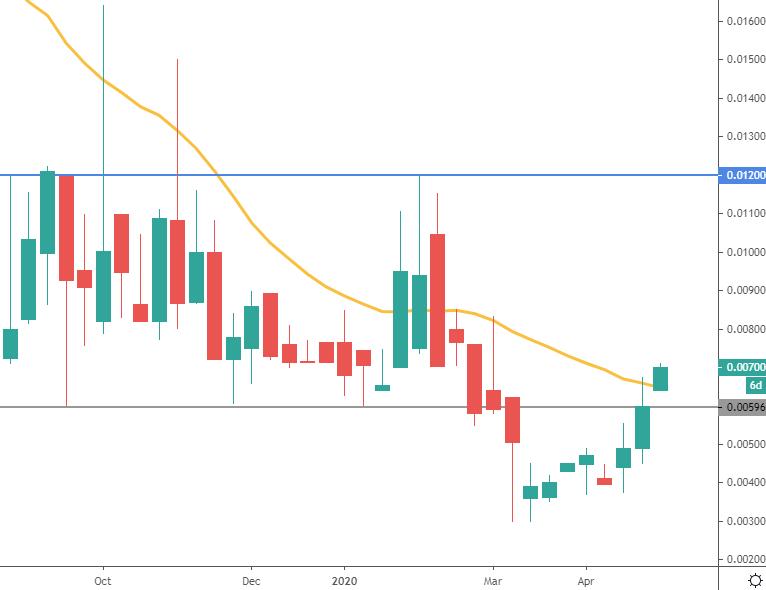 A recent development for Zilliqa is a "tipping bot" for Telegram called Zeeves. Zeeves functions like a wallet. So, it allows you to Send or Deposit ZIL. You can buy ZIL directly using credit/debit cards via the MoonPay service within the app. With the tipping feature, you can send a tip or setup a tip link to receive tips.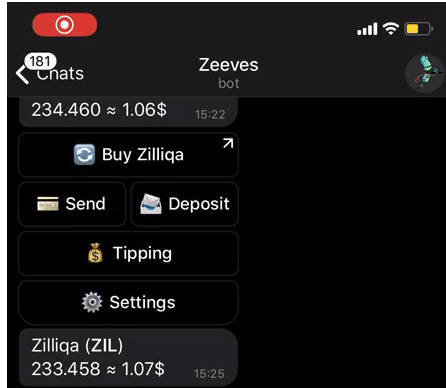 Telegram claims to have 200 million monthly users so that could be a huge boost to ZIL if the tipping system goes mainstream. The current market cap of ZIL is $62 million.
A16Z
Silicon Valley investment firm Andreesen Horowitz said it has raised $515 million for another crypto fund. The company's previously raised $300 million was invested directly in BTC and ETH, as well as in startups such as Coinbase and Compound.
The startup fund, which is famous in San Francisco for its early investment in companies like Twitter and Airbnb, outlined five areas that the new fund may focus on:
• Next-generation payments: "In contrast to services like Venmo or PayPal where a digital IOU is sent in place of actual money, here the recipient possesses the actual value without third-party dependencies once you click 'send.'"
• Modern store of value: "Gold has long played the role of a fiat substitute, but Bitcoin is a digital alternative that is gaining acceptance and adoption around the world."
• Decentralized finance: "DeFi is a new stack of financial services –– think lending, derivatives, insurance, trading, crowdfunding, and more –– built on top of blockchains that embraces the core values of the open internet.
• New ways for creators to monetize: "We think the next wave of internet business models will come from crypto. Rather than engaging audiences through centralized gatekeepers that charge high rents and create self-serving rules, creators can use token models that bypass gatekeepers and give their fans a direct stake in their success."
• Web 3: Storage networks where the economics are shared across the community, and deplatforming decisions are made by community members instead of corporate committees.
The store of value bullet point implies that some form of coin investment will be part of the fund, most likely in Bitcoin, but possibly other coins. The expansion of the new fund is another nod of approval from one of the biggest players in Silicon Valley. It suggests that, not only is blockchain the future, but that they support the empowering effects of the technology to reward users and reduce corporate bureaucracy.
Companies like A16z have big clout in the venture capital arena and will inspire a "follow-the-leader" movement, where other venture firms and private investors will try to piggyback their ideas in the same way that they follow a Warren Buffet.
Disclaimer: information contained herein is provided without considering your personal circumstances, therefore should not be construed as financial advice, investment recommendation or an offer of, or solicitation for, any transactions in cryptocurrencies.