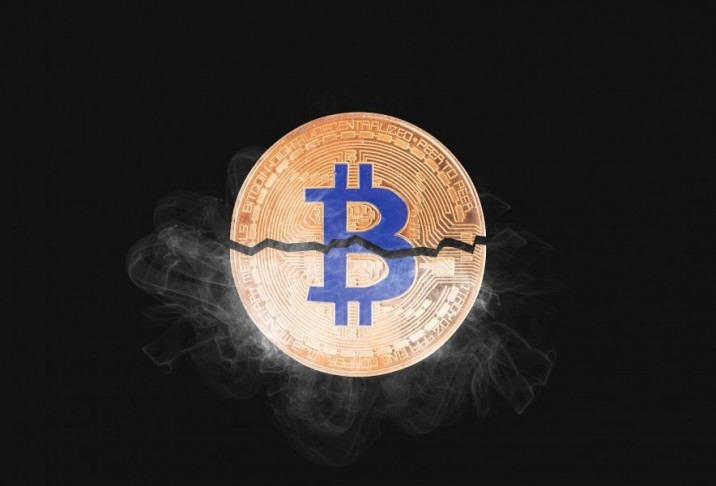 Bitcoin Leads Market Correction, TRX Founder Rumors Cause Gloom, NEO Jul. 29
Jul 29, 2019, 5:12PM

by
Kevin George
What goes up must come down, and Bitcoin is leading the market lower in a technical correction which may last another month in crypto.
BTC
Bitcoin posted a third bearish week in a row as the market continued to pull back from the recent highs. The move lower is simply a technical consolidation and the horizontal line marked on the chart below, under the $9,000 level would be a 50% retracement of the 2019 rally.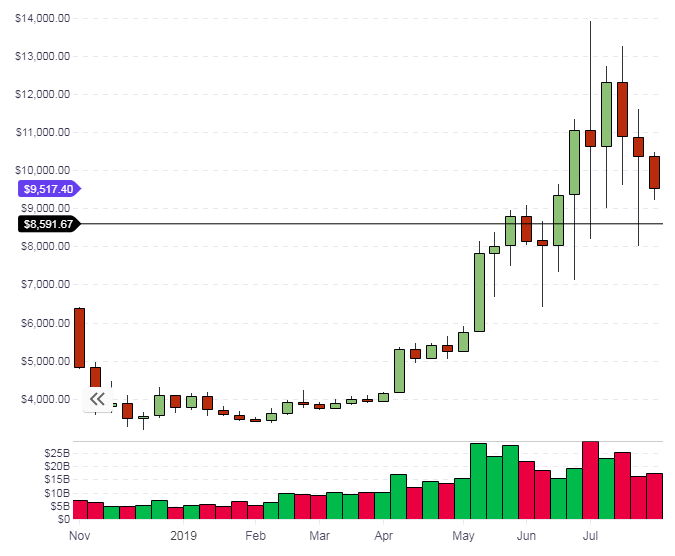 A further dip in BTC and altcoins would be my expectation, which would be in line with an expected high in the stock market near the end of August. The Federal Reserve meets this week to discuss the much-touted interest rate cuts and it is likely that policymakers will fuel another leg higher in stocks with some dovish sentiment. This would please President Trump and remove some of the fears that investors are dealing with. Once the high is in place we may see a retracement due to the many issues that are still surrounding the markets, such as Brexit, which is now set for October 31st, with the new Prime Minister Boris Johnson taking power and electing a pro-Brexit cabinet.
If there is a dip in the stock markets to year-end, this would provide another leg up for cryptocurrencies as the safe-haven flows move back in once again. This would make the 50 or 61% Fibonacci levels a good place to look for a buying opportunity and if the crypto market can rise into year-end it would provide a good plateau as things like Facebook's Libra come to the market and build a more mainstream involvement in digital currencies.
Bitcoin will also have another "halving" event in May 2020 where the block reward for mining will reduce by 50% to 6.25 BTC. This will be the third such event since Bitcoin's inception and the price may rally in anticipation due to outperformance in previous rallies. Halving will continue until the reward hits zero. This then eliminates new supply on the market.
The following chart from Circle/Galaxy Research shows price performance around the BTC halvings.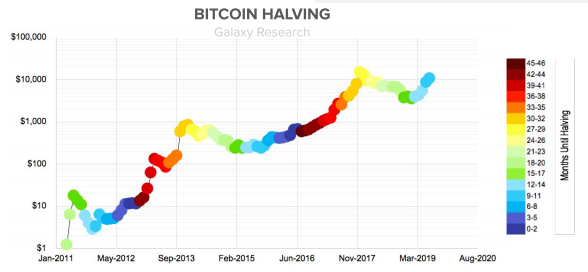 TRX
Tron was one of the worst-performing coins last week as rumors swirled around the project's founder Justin Sun. The negative sentiment started when Sun canceled a lunch meeting with U.S. investment billionaire Warren Buffet -- an event for which Sun paid $4.6 million at a charity auction. A statement from the Tron Foundation put the cancellation down to illness.
Following the cancellation, Chinese financial news outlet Caixin said that Tron's founder was actually detained in Beijing by authorities relating to illegal fundraising and gambling. Sun followed up that statement by tweeting that he was in fact recovering in San Francisco.
A further problem arose when Bittorrent's founder issued a public criticism of Sun regarding a scheduled payment for Tron's acquisition of the sharing platform. Bittorrent's creator Bram Cohen asked followers if Sun was "hard up for cash".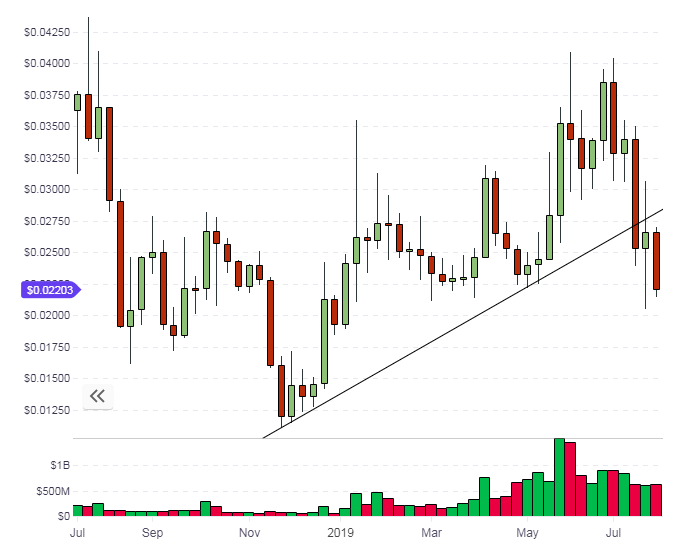 TRX investors didn't take the confusion lightly with the coin down 22% on the week. The weekly price chart showed that TRX had actually broken lower through a key support level so the negative news was always going to see further lows. The previous lows at $0.0125 cannot be ruled out. The $0.022 level will be key for support going forward. Tron currently holds the twelfth position in the list of coins by market cap.
NEO
The price of NEO has sold off more briskly than BTC with the market finding support at the key inflection point of the 61.8% Fibonacci level and the 2019 uptrend line. This will obviously be the level to watch in the weeks ahead to see if the price can find a base here.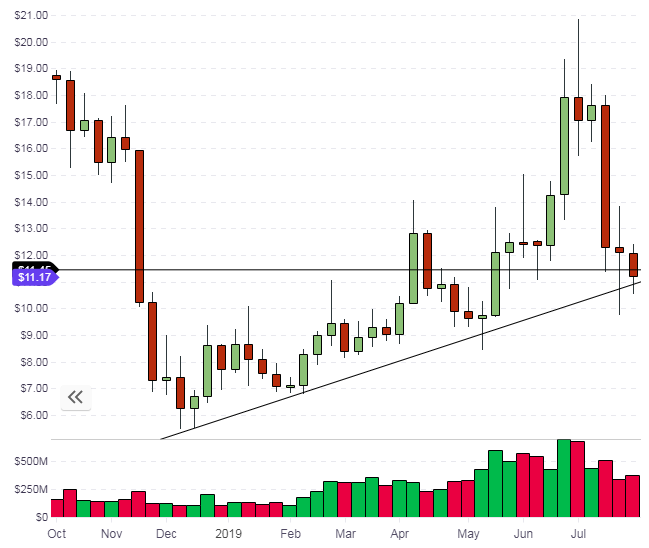 The rally in NEO was impressive with a move from around $6.50 to $21.00 so there was some keen demand for this coin. NEO now trades above $11.00 and holds the number 16 spot in the list of coins, with 70 million of the total 100 million coins currently in circulation.
NEO announced last week that it was accelerating its next-gen internet plans with its EcoBoost program. EcoBoost Partner recruitment has gained attention from some industry heavyweights in its 200 applications. NEO stated that,
After a thorough review, 50 projects have been chosen based on our shared visions and goals, including Bittrex, BiBox, BitMax, and other top exchanges; traffic-strong directories DappReview, and Dapp.com as well as user-rich wallets like Cobo, Math Wallet, and Bitkeep.
The aim of EcoBoost is to empower seed-stage projects, early-stage developer teams, and infrastructure projects with financial assistance, technical support, and marketing.
Partnering with other organizations in the industry to build projects on the NEO ecosystem will keep the coin relevant and ensure continued support from outside the current community of 2 million wallets.
The price action of NEO is a familiar sight in the crypto market with Bitcoin leading the pullback after some strong rallies. Choose your projects wisely and this could be a good buying opportunity over the next month.
Disclaimer: information contained herein is provided without considering your personal circumstances, therefore should not be construed as financial advice, investment recommendation or an offer of, or solicitation for, any transactions in cryptocurrencies.