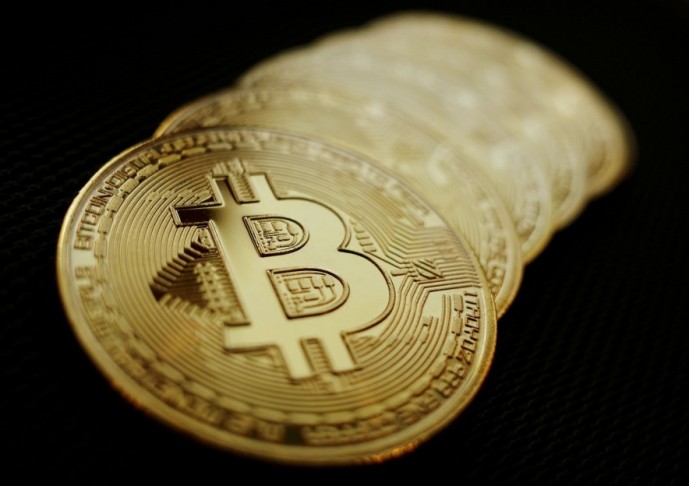 Bitcoin Leads the Crypto Recovery Bounce, COMP, MATIC, SAND, Jun. 27
Jun 27, 2022, 8:21PM

by
Kevin George
Bitcoin gains as bear market pressure eases. COMP surges 75% on DeFi news. Bentley and whales help MATIC to 64% gain. SAND wants to be Manhattan.
BTC
The price of Bitcoin was 8% higher this week as the cryptocurrency market attempted to mount a recovery.
Recent selling pressure has receded with a deal for BlockFi and hopes for an orderly fix to Three Arrows Capital. It is not all smooth sailing for BlockFi as hedge fund Morgan Creek was trying to block the recent bailout. Morgan Creek wants to raise $250 million for an equity offering after FTX's announcement that it would extend a $250 million credit line to BlockFi.
The crypto lender has been struggling to stay afloat and BlockFi's shareholders, which includes Morgan Creek, are looking to protect their investment.
"I've been making calls all day," Morgan Creek partner Mark Yusko said on a leaked transcript.
The leaked transcript also said that BlockFi's deal gave FTX an option to buy up BlockFi "at essentially zero price" and that would wipe out previous investors.
The Three Arrows Capital hedge fund at the center of the recent problems was also set to be served a default notice if it does not pay up on loans. Voyager has exposure to Three Arrows Capital of 15,250 bitcoin (nearly $310 million) and $350 million USD Coin (USDC).
The cryptocurrency market has stabilized for now and Ethereum outperformed BTC due to the forced selling that had occurred in the Ethereum derivative coins.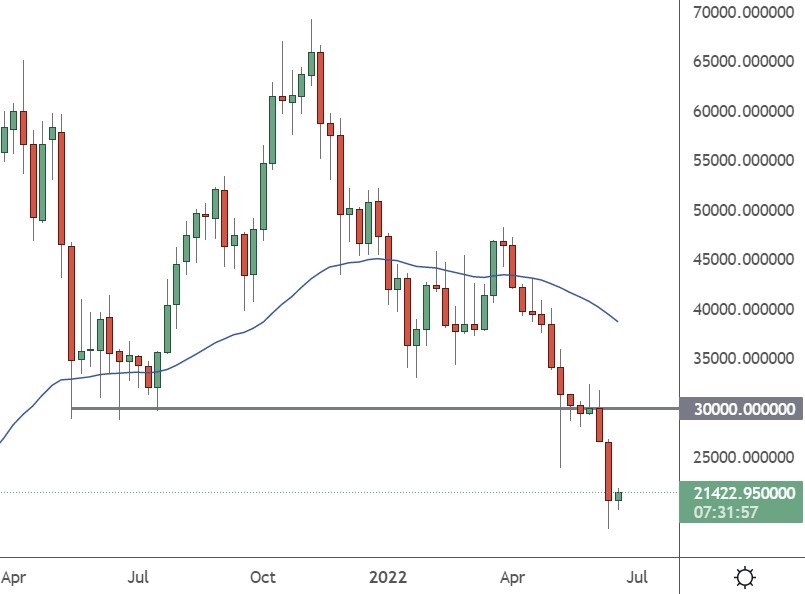 Bitcoin trades at $21,300 as the long path to recovery begins for the world's largest cryptocurrency. The first real line in the sand is at $30,000 for a larger recovery.
COMP
Compound Finance was the best-performing coin this week with a gain of 75% for the DeFi project.
Decentralized finance was one of the hardest-hit sectors in the recent downturn and we will soon see what appetite remains for the crypto lenders.
Crypto lender Celsius Network gave compound a boost after it repaid Compound $10 million worth of the DAI stablecoin. The payment will soothe insolvency fears at Celsius after the recent suspension of withdrawals, swaps, and transfers. Compound currently has $2.89bn of total value locked (TVL) on the chain and that is much lower than last year's highs at $12bn.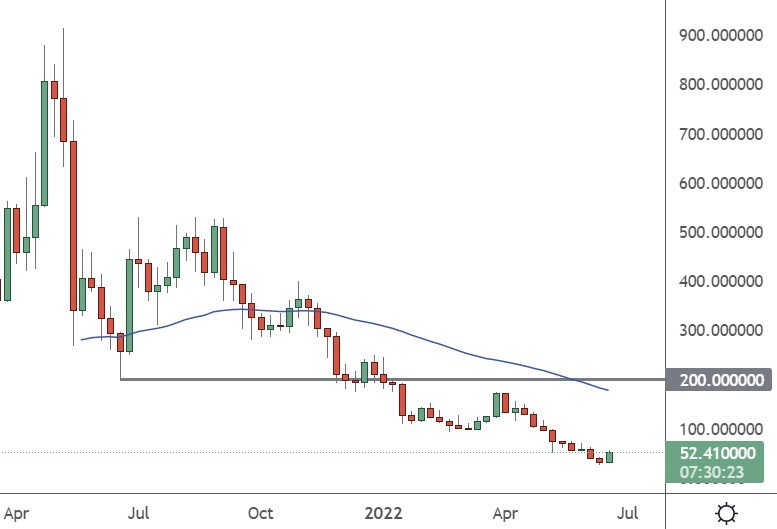 Compound has rallied above the $50 level and will attempt to recover but the price has cratered from the highs last year at $900 and that will not be easy to attain. Institutional investors were getting interested in DeFi but higher interest rates make bonds more appealing and May saw record demand for government bonds.
MATIC
Polygon's MATIC saw a strong rebound this week with gains of around 65%.
Polygon was helped by the news that Bentley Motors would be dropping a 'one-off' NFT on the Polygon chain. Bentley made a point of using Polygon because of its net zero commitments and that could show investors that corporates are positioning for using carbon-neutral blockchains in the future.
In a Twitter post, Bentley Motors said:
"Today, we announce our first venture into the NFT marketplace with a one-time NFT drop on the carbon-neutral Polygon network, scheduled for September 2022 and limited to just 208 pieces."
Polygon recently attained carbon-neutral status and has pledged to go carbon negative by the end of 2022. As a result, all Bentley NFTs will be entirely carbon-neutral.
"With a commitment to achieving end-to-end carbon neutrality by 2030, the same year when all Bentley vehicles will be fully battery electric, it was vital that Bentley's first venture into Web3 was in a sustainable way."
This could be the future of blockchain with energy-intensive blockchains drifting away.
There was a further boost for MATIC with news of accumulation from ETH 'whale' investors. ETH whales have added over $36 million worth of Polygon tokens in the space of 48 hours.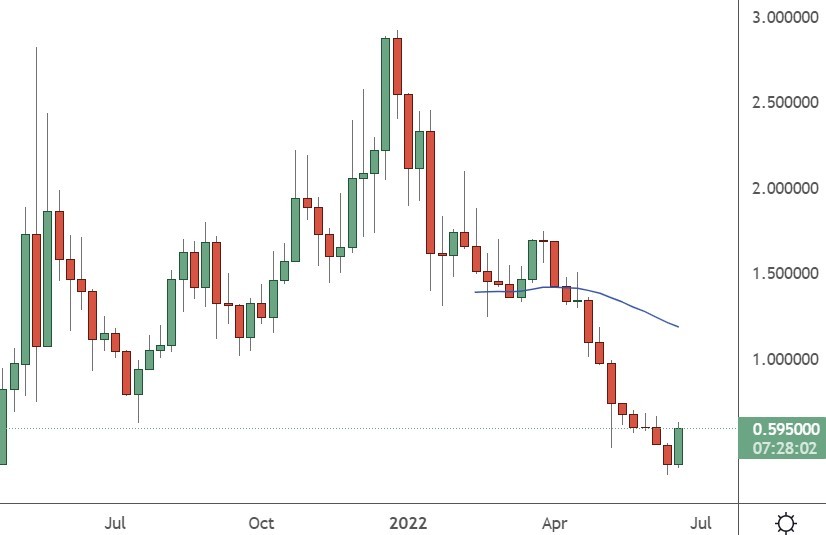 MATIC trades above $0.50 and will look for further catalysts to reach the $3.00 level again.
SAND
The Sandbox also produced gains of over 50% as investors position for further metaverse gains.
Founder of The Sandbox, Mathieu Nouzareth, said in a recent interview that he wants the project to be the Manhattan of the metaverse.
The Sandbox hasn't really been impacted, and the reason I think is because we are a game, and games are less impacted by a macroeconomic environment. People come because it's really a ton of fun, anyone can enjoy it.
He also shrugged off the recent bear market, saying:
"I've seen five of these [downturns]. But if you keep your head down and focus on building, in two, three years, we will see some massive, amazing companies that will emerge after this."
The Sandbox's CEO said the userbase on the virtual universe had not decreased. He believes that the right type of users will enter the market since they are not interested in a get-rich-quick scheme.
Explaining his vision for The Sandbox, the CEO said:
It isn't like 'Ready Player One,' a dystopian nightmare. We want to be the Manhattan of the metaverse, a concentration of exciting brands and artists — but our vision isn't to replace reality.
In separate research on the metaverse, McKinsey & Co. said that they expect the metaverse to generate up to $5 trillion by the year 2030.
The company's 'Value Creation in the Metaverse' report said that $120bn has already flowed into the virtual world space.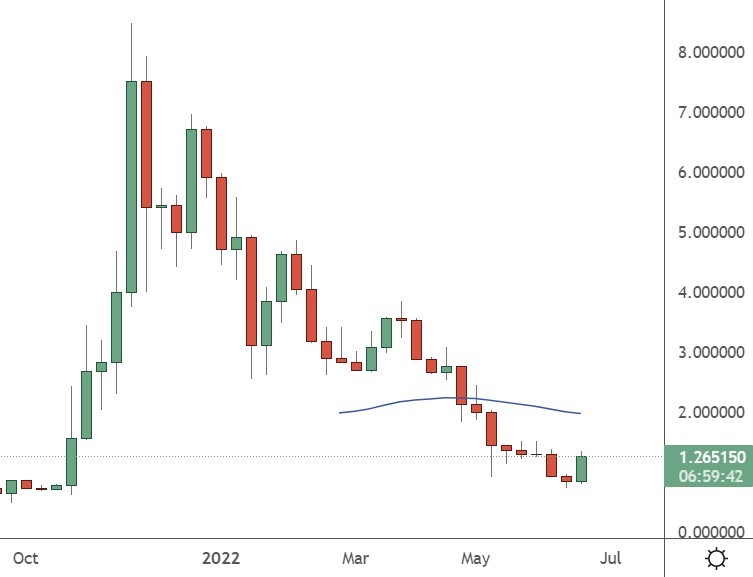 SAND currently trades around $1.25 after the recent rebound and investors could be getting in early for the run to $5 trillion revenues if McKinsey is correct.
Disclaimer: information contained herein is provided without considering your personal circumstances, therefore should not be construed as financial advice, investment recommendation or an offer of, or solicitation for, any transactions in cryptocurrencies.