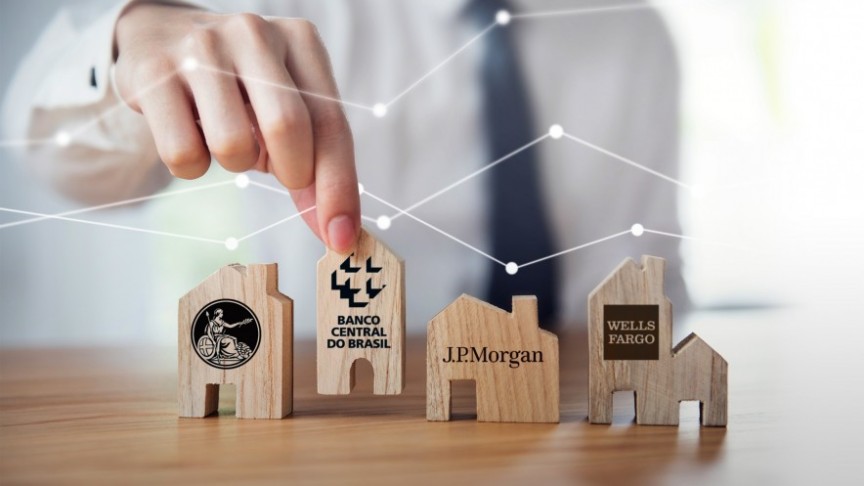 Blockchain Banking: Five Financial Institutions and Their Stance on Crypto
Mar 25, 2020, 11:54AM

by
Mike Dalton
Blockchain and cryptocurrency offer plenty of potentials. These five financial institutions have weighed in on the matter.
Banks and financial institutions can use blockchain in several ways. For one thing, cryptocurrency and blockchain-powered systems offer fast and inexpensive transactions, settlements, and payments. Blockchain is also useful for banks that want to handle client records, identities, and other data in a secure way.

However, some banks are hostile toward the idea. Many banks see cryptocurrency as a threat to their existence, or even as a danger to the economy at large. Others simply see it as a largely untested technology. Now, over the past several months, several big banks have weighed in on the matter and made their positions clear.
JP Morgan
JP Morgan published a 74-page report in February which outlines the bank's current stance on blockchain. The document makes it clear that it sees blockchain's greatest potential in payments, settlement/clearing, and collateral management. However, it notes that widespread adoption is limited by scalability and regulation.

The bank's own blockchain-related efforts are also underway. Insiders suggest that JP Morgan plans to merge its Quorum blockchain with ConsenSys, thereby combining two of the largest enterprise Ethereum projects into one. It also plans to introduce its JPM Coin stablecoin for internal use this year―another big step forward.
Wells Fargo
This February, Wells Fargo invested $5 million in the cryptocurrency analytics company Elliptic. The financial institution aims to fund Elliptic Discovery, which banks will use for regulatory compliance. Elliptic Discovery allows banks to monitor funds flowing in and out of cryptocurrency, thereby detecting illicit activity.

This is not the first time that Wells Fargo has taken an interest in crypto. Last September, the bank announced plans for an internal stablecoin called Wells Fargo Digital Cash. It also produced a proof-of-concept blockchain platform with the Australia and New Zealand Banking Group (ANZ) and SWIFT in 2016.
The Bank of England
The Bank of England is one of the latest national banks to comment on the impact of cryptocurrency. Deputy Governor Jon Cunliffe has argued that digital currencies could have "profound economic consequences." According to Cunliffe, cryptocurrency could encourage the mass movement of funds and weaken the credit supply.

Another Bank of England executive has expressed concerns. In a January speech, Christina Segal-Knowles discussed the bank's recent ruling on stablecoins. She affirmed that the bank intends to hold stablecoins to the same standards as other payment chains, which will avoid a "stablecoin-shaped hole" in regulations.
South Korea's DID Association
Several major banks in South Korea have joined an initiative that aims to manage customer information on the blockchain. The Initial DID Association currently consists of several banks, including Shinhan, Nonghyup (NH), KEB Hana, and Woori. Several payment processors and mobile carriers belong to the group as well.

The association will develop a mobile app that allows customers to securely store their identity information with blockchain technology. Customers can then use the ID system to prove their identity for online transactions and other activities―such as loan applications and university certificate applications.
Central Bank of Brazil
The Central Bank of Brazil plans to introduce a payments system called PIX. Though the platform won't use blockchain or cryptocurrency, commentators have noted that it has a similar appeal. In short, PIX offers peer-to-peer transactions and removes middlemen, thereby allowing users to make faster and less expensive payments.

Some commentators have also noted that cryptocurrency exchanges will be able to take advantage of the service, as it will allow them to move funds more easily. Leaders from blockchain companies such as Mercado Bitcoin and Stratum have commented favorably on the project, though they have no apparent plans to use it.
In Conclusion
These are just a few of the most recent blockchain-related events in banking. Projects like Ripple, Stellar, Corda, and IBM World Wire also have their sights set on blockchain banking. Though they were not covered in this article, these projects will almost certainly continue to be relevant as they continue to secure partnerships.
Furthermore, the standards set by banking are likely to have an impact on other industries as well. Online gambling, the travel industry, and the automotive industry are taking an interest in cryptocurrency and blockchain. Banks can give those industries a bridge to the crypto world or stifle that connection―only time will tell.
Disclaimer: information contained herein is provided without considering your personal circumstances, therefore should not be construed as financial advice, investment recommendation or an offer of, or solicitation for, any transactions in cryptocurrencies.