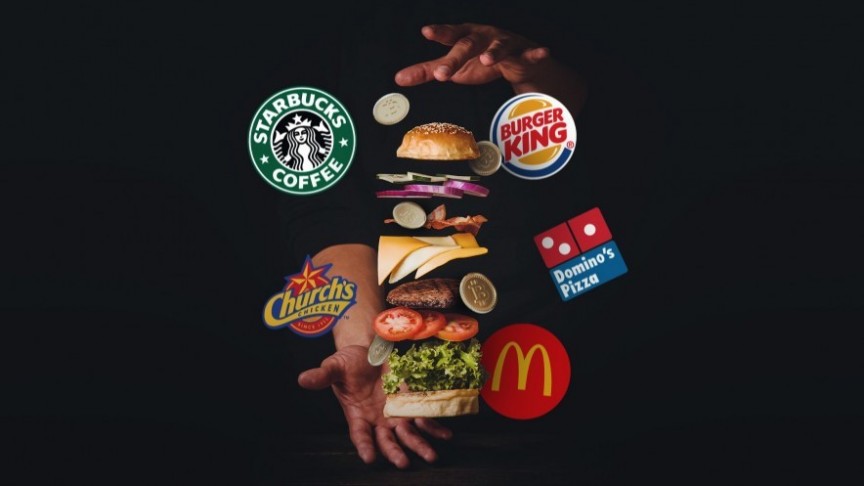 Burgers and Bitcoin: Five Fast Food Restaurants That Are Working With Crypto
Jan 29, 2020, 8:01AM

by
Mike Dalton
The food service industry is a prime target for crypto payments and blockchain tech. Which companies are heating things up?
Fast food restaurants and similar companies are all part of the foodservice industry—a sector of commerce that has a global value of $3.4 trillion and a constant flow of customers. The industry is a prime target for blockchain and cryptocurrency, as the technology can streamline payments and improve business practices.

However, adoption moves slowly. Currently, there are 15,000 foodservice locations that accept Bitcoin, and many of those are independent restaurants or small franchises. Very few fast-food chains have adopted crypto on a national or global scale—but a few highly recognizable chains are leading the way and using crypto en masse.
Burger King
In December 2019, Burger King Venezuela began to accept several cryptocurrencies as payment, including Bitcoin, Ethereum, Litecoin, Binance Coin, Dash, and Tether. The company partnered with Cryptobuyer, a Panama-based crypto gateway, to accept these coins at forty locations. Dash Core Group is leading the partnership as well.

This isn't the first time that Burger King has shown an interest in crypto. Burger King Germany introduced Bitcoin payments on its website in 2019, and some Netherlands locations began to accept the coin in 2016. Additionally, Burger King Russia distributed a custom cryptocurrency called "Whoppercoin" on Waves in 2017.
Starbucks
In August 2018, Bakkt announced plans to partner with Starbucks. The coffeehouse chain will become one of Bakkt's "flagship retailers" and will accept crypto through Bakkt's payment app. Though the nature of the partnership has been debated for some time, Bakkt has confirmed that it will unveil its payment app in early 2020.

It is unlikely that crypto will make up a large part of Starbucks' total revenue, but the partnership is a major milestone for Bakkt. Last year, Bakkt launched its futures trading platform, which is primarily targeted at institutional investors. By contrast, Bakkt's upcoming payments service will be aimed at general consumers.
McDonald's
McDonald's restaurants do not accept cryptocurrency, but its children's charity does accept crypto donations in some regions. Notably, the Upstate New York branch of Ronald McDonald House has accepted Bitcoin donations since 2014. Bitcoin.com's Bitcoin Store donated 10% of its November revenue to the regional charity in 2016.
McDonald's has a few other crypto ties as well. McDonald's Ireland recently entered a blockchain pilot designed to streamline its advertising activity. Meanwhile, McDonald's Thailand has adopted Omise's payment gateway—and though this is distinct from the OmiseGo blockchain, it is still a blockchain-adjacent partnership.
Domino's Pizza
In May 2019, the Singapore and Malaysian divisions of Domino's Pizza partnered with SingularityNET to track their supply chain with blockchain technology. This will not allow Domino's customers to make crypto payments; instead, Domino's itself will use SingularityNET's AGI crypto token to pay for AI and data services.
On another note, Domino's France has appealed to its customers with a crypto giveaway. In September 2019, the company offered a €100,000 prize as part of its 30th anniversary. The winner of the contest was allowed to claim the payout in cash or in Bitcoin. However, it's not clear which prize the winner ultimately chose.
Church's Chicken
In December 2018, Church's Chicken began to accept Dash as payment at its Venezuela locations. The restaurant chain worked with Dash Venezuela and the Dash Core Group to introduce the altcoin as a payment option. For a limited time, customers who paid with Dash were given a free side of fries as part of a promotional effort.

Incidentally, KFC briefly tested Dash in its Venezuelan locations at roughly the same time, but the chain ultimately decided not to adopt the cryptocurrency. KFC also ran a "Bitcoin bucket" promotion in Canada for a short time. Now that years have passed, it seems unlikely that KFC will follow Church's lead and accept crypto on a regular basis.
Widespread Acceptance?
Though a few fast-food chains have shown a real interest in crypto, some companies are more cynical. Wendy's jokingly offered to sell one burger for one Bitcoin ($16,000) in 2017. Chuck E. Cheese has compared Bitcoin to its own "fake currency," and Jack in the Box even predicted that Bitcoin was "about to go bust" in a 2018 TV ad.
Perhaps restaurants will one day accept Bitcoin more widely. Until then, it's possible to spend crypto on fast food through Bitrefill and Gyft, which allow you to redeem Bitcoin for restaurant gift cards. Plus, crypto debit cards allow you to convert your crypto to cash wherever you spend money—so there are plenty of options for everyone.
Disclaimer: information contained herein is provided without considering your personal circumstances, therefore should not be construed as financial advice, investment recommendation or an offer of, or solicitation for, any transactions in cryptocurrencies.