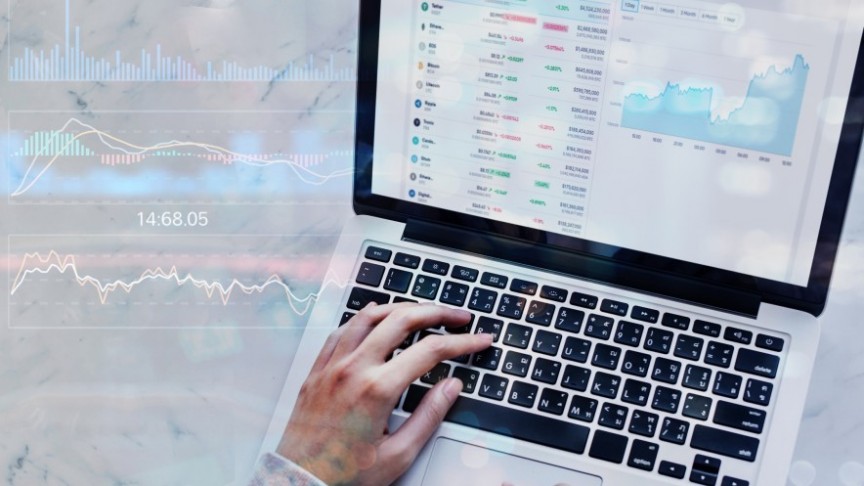 Cardano, XRP, EOS, ETC and ZCash Market Update for Monday, July 23
Jul 23, 2018, 10:44AM

by
Kevin George
Cryptocurrency market update and technical price analysis for Cardano (this week's leading cryptocurrency), XRP, EOS, ETC and ZCash
CARDANO
Cardano was one of the strongest cryptocurrencies in the top 20, with a gain of over 20% for the week. Price started at $0.14 and closed for the week at $0.17.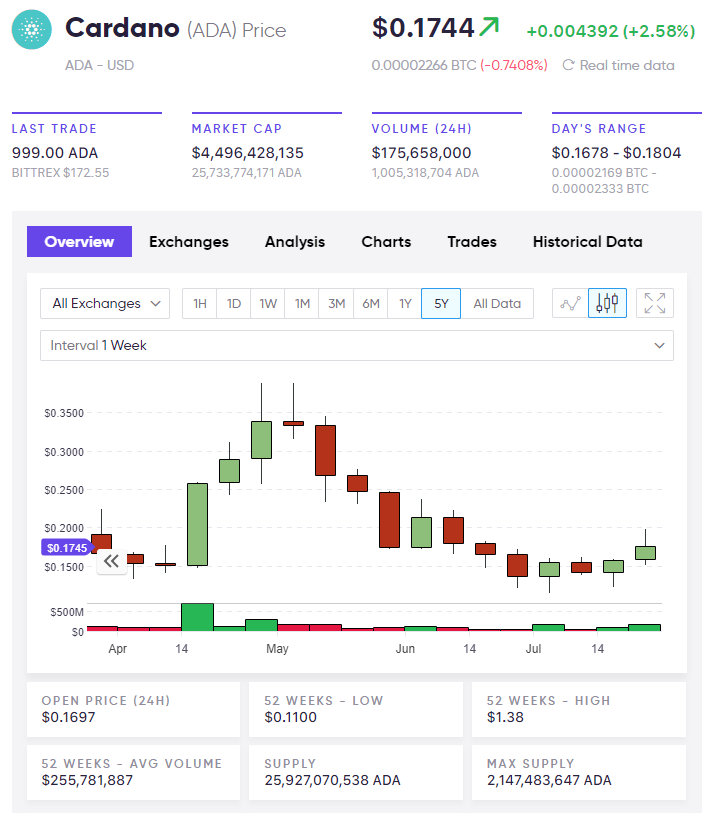 The next level of resistance in Cardano lies near $0.22 and a close higher would open up larger resistance at $0.35 which is also a monthly resistance level. With the strong close for last week, I would expect to see further gains this week.
Cardano currently holds the number eight spot in the list of coins by market capitalization and the Cardano project has tried to create a coin that embodies the "best qualities of the leading cryptocurrencies", by replicating Bitcoin's store of value, Litecoin's transaction speed, the smart contract capability of Ethereum and the settlement power of Ripple's XRP. This would be an interesting coin to have on your watchlist for the weeks ahead.
ETHEREUM CLASSIC
I noted disappointment in my previous article with Ethereum's inability to hold onto its gains for the week with the price stalling at a key level.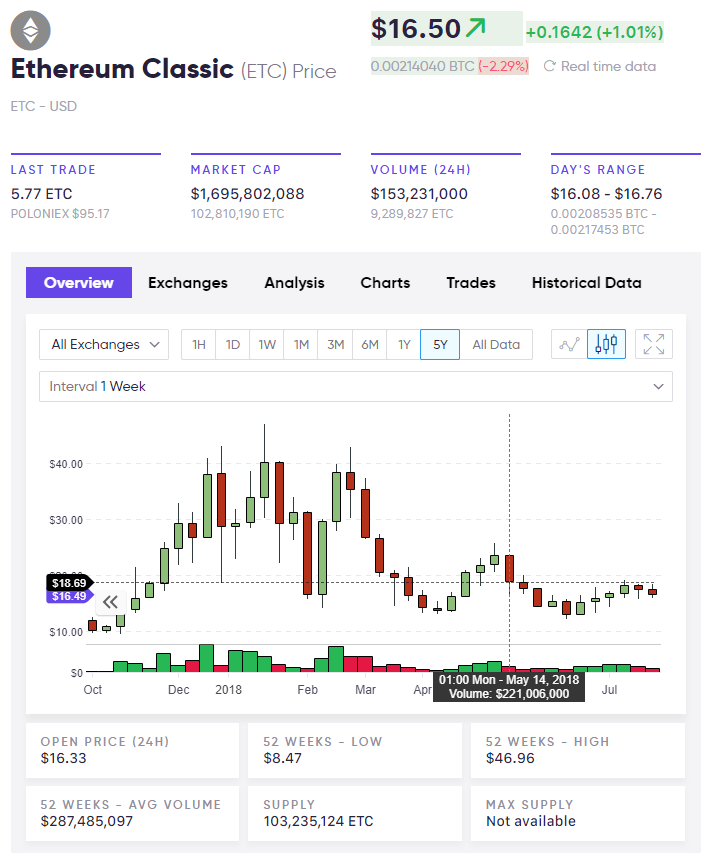 Ethereum Classic had a poor perfromance in the last two weeks with bearish price action and a failure to see any gain on what was a positive week in the cryptocurrency space. Price is higher on Monday with a gain of around 1% and it's still possible to turn the negative setup around. June was a good month for ETC and if the last two weeks are to be a pause, then we would need to see a positive close this week. This is in line with the key week for Ethereum, where the price needs to push through the stubborn $485 level.
Resistance in ETC lies around the $18 level and a close above that could see us test $25.
XRP
Ripple's cryptocurrency, XRP, is also up 1% for Monday, however I didn't like the weekly close in Ripple, which gave up its gains on the week and couldn't break through the $0.50 level.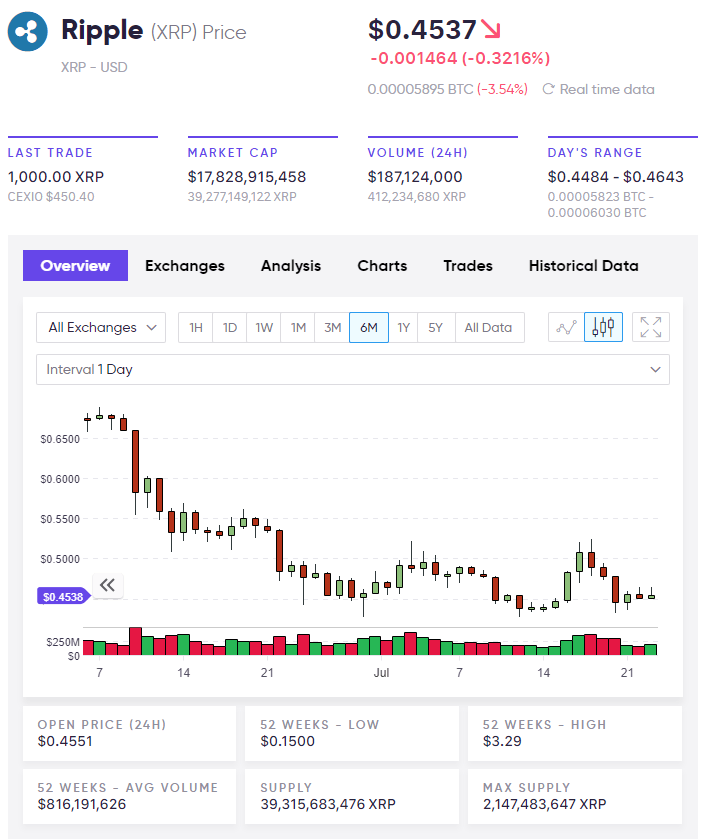 We would need to see a bullish catalyst in Ripple to break the negative drift lower that has been happening since May. Beyond the $0.50 level is resistance at $0.70. If we fall however, there is not much in the way of support down to $0.20, which is why we need some bullish news for Ripple to break the cycle.
EOS
EOS had a positive week, however the price failed to close above the $8.00 level. We are trading higher on Monday at $8.10 and it would be important to close higher on the week, preferably around $8.70 or higher to signal further gains.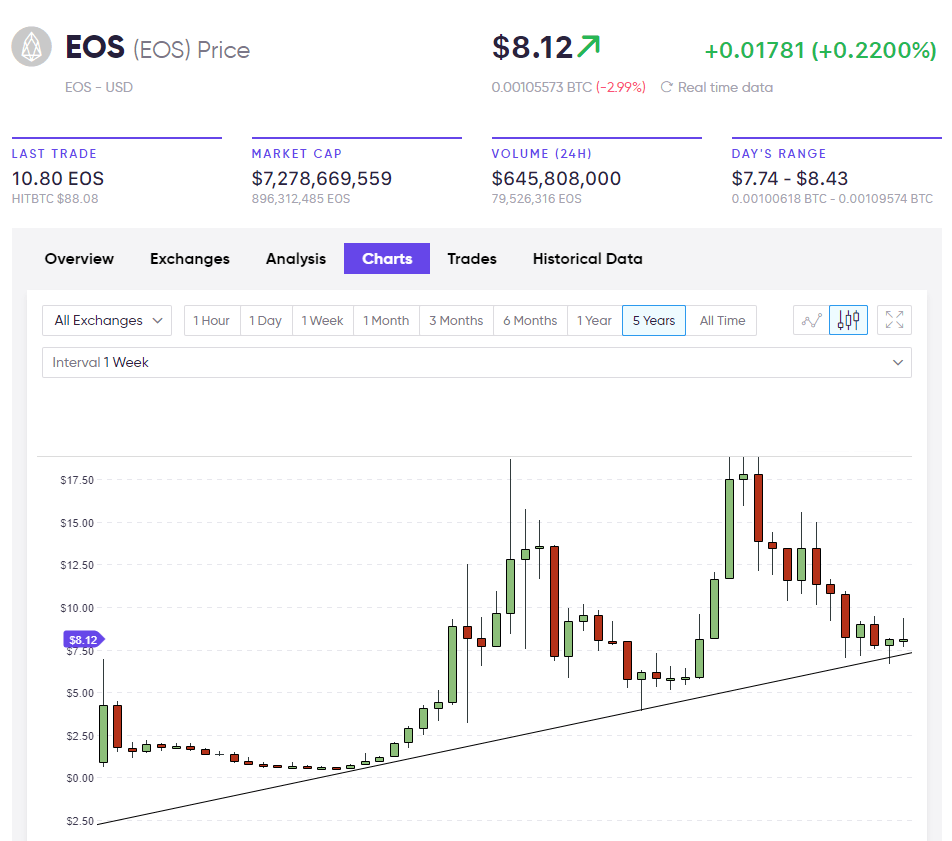 The price of EOS is still holding a key uptrend from late 2017 and it's vital that we get a strong week to keep this uptrend in place. Last week's close wasn't ideal with the $8.70 level proving stubborn, however we will watch how this week unfolds to guide the next path for EOS.
In EOS news, Galaxy Digital founder, Mike Novogratz, stated that EOS would be doing 50,000 transactions per second in a few months. He also commented that,
EOS's critics say it's not decentralized enough and that's a very fair debate, back and forth, that you can participate in…EOS is the first blockchain where commercial applications can be built and experimented with. Lots of people find that very appealing.
In positive news for the overall cryptocurrency space, Novogratz went on to mention that a "herd of institutional money" would be coming into the digital coin space,
I think institutional investors are slowly coming to the realization that blockchain will be Internet or Web 3.0 and they'll want to participate just like they want to participate in the Web.
Novogratz is a former hedge fund manager who was an early entrant to cryptocurrency and he is well respected throughout the cryptocurrency community with investors taking a keen interest in his regular key note speaking appearances and financial television interviews.
ZCASH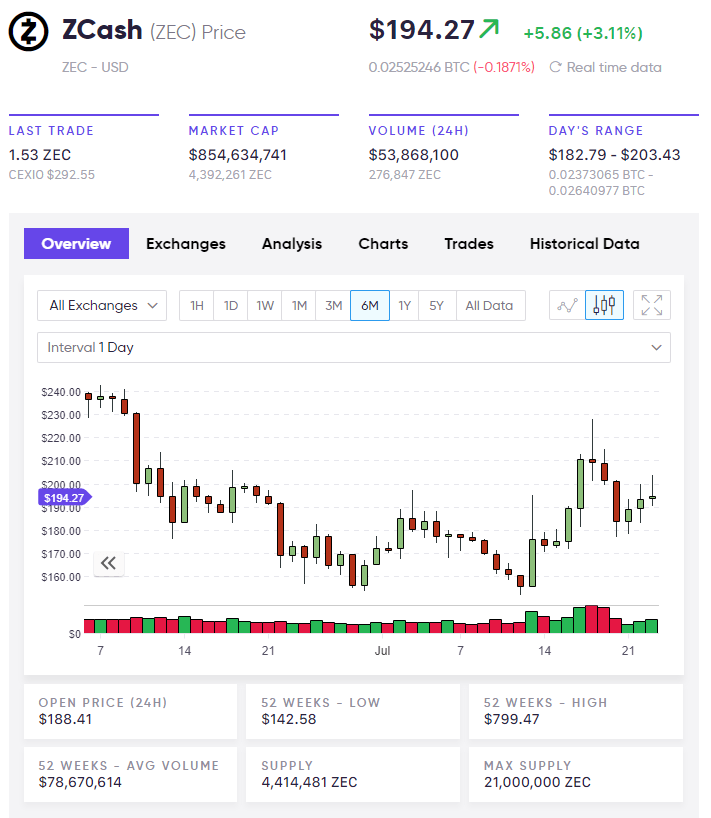 The price of ZEC was another decent performer last week with a gain of around 8-9%. This was important for ZEC as we had been pushing below the lows of April and have since created a potential double bottom setup on the weekly chart. The price action for last week now sets the stage for a push towards the $200 level on ZEC and it's likely we will see that play out this week, with price up near 1% on the day at $191.34.
If ZCash can close higher through the $200 level, there is no real resistance until the $300 level or the highs of early May when the coin rallied on news of being added to the Winklevoss twins' Gemini exchange.
Disclaimer: information contained herein is provided without considering your personal circumstances, therefore should not be construed as financial advice, investment recommendation or an offer of, or solicitation for, any transactions in cryptocurrencies.