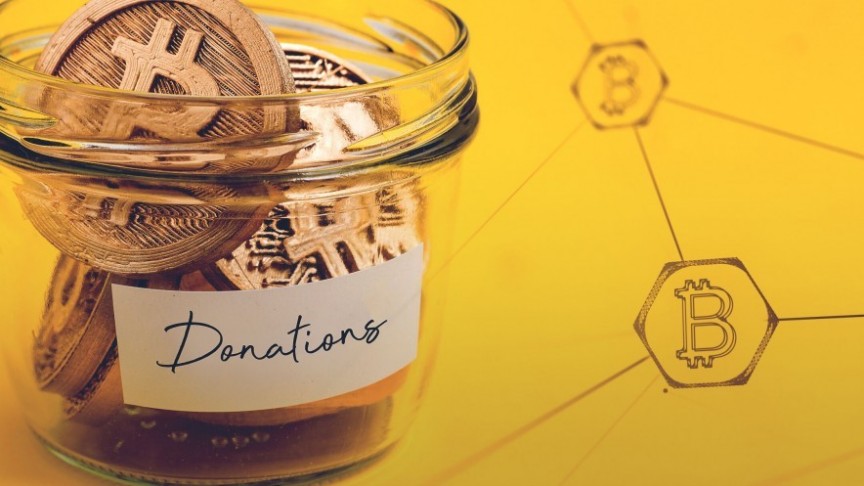 Crypto for a Cause: Five Charity Groups Handling Bitcoin Donations
Jan 24, 2020, 9:52PM

by
Mike Dalton
Cryptocurrency offers a new way to transfer money to those in need. Which charities and relief groups are making that happen?
Recently, the cost of charity has become a target of criticism. On one extreme, corruption means that some charities, countries, and governments keep donations for themselves. At the same time, charity groups face legitimate overhead: they must pay processing fees, salaries, and other costs, which can become quite expensive.

Cryptocurrency provides a potential solution. Crypto transactions are fast and carry low fees, and blockchain ledgers are usually auditable. The result is that charities can move funds easily, while donors can make sure that they are donating to a legitimate cause. These five charities are working with crypto in mind.
UNICEF
UNICEF began to accept Bitcoin and Ethereum donations last October. It will ensure that donated funds remain as cryptocurrency from start to finish, and it will spend funds quickly to avoid price volatility. UNICEF will primarily spend funds on goods that can be quickly distributed, such as food, water, and mosquito nets.

UNICEF has undertaken other blockchain initiatives as well. Notably, it is funding blockchain companies through its Innovation Fund, and it has run hackathons to teach blockchain skills. UNICEF Australia, meanwhile, has allowed users to donate money through web mining, freely generating the crypto that they donate.
Binance Charity
Binance Charity, also known as the Blockchain Charity Foundation, is a charity run by one of the world's largest crypto exchanges. The project's recent efforts largely focus on distributing food, health supplies, and other goods within Africa. Additionally, it provided aid in the Bahamas in the aftermath of Hurricane Dorian in September.

So far, Binance Charity has raised 541 BTC (about $4.5 million) for over 100,000 beneficiaries. It has also worked with other charities, such as Mercy Corps, and with blockchain projects such as TRON and Zcoin. Binance Charity aims to provide a transparent record of donations, though some critics have observed shortcomings.
BitGive
BitGive was founded in 2013, making it the first-ever Bitcoin charity. Over the past several years, the organization has raised funds for disaster relief, housing construction projects, disability support, and more. BitGive has also worked with several non-profit organizations, including the Water Project, Save the Children, and Medic Mobile.

Over the past seven years, BitGive has handled nearly $100,000 worth of cryptocurrency donations, and it has spent less than 1% of the money it has raised on fees. It also offers a platform called GiveTrack, which non-profit groups can use to run crypto fundraisers. The same site also lists the charity's ongoing donation campaigns.
The Giving Block
The Giving Block primarily offers a platform that other charity groups can use to accept cryptocurrency donations. The project was founded in 2018, with the goal of increasing the number of organizations that are capable of receiving Bitcoin, and has succeeded in partnering with over 100 different projects.

Its companion site, Bitcoin Tuesday, provides a directory of non-profit organizations that accept Bitcoin through the platform. Notable sites include the Rainforest Foundation, the Human Rights Foundation, Save the Children, and YMCA. Brave has also worked with the site to advertise some of these charities in its web browser.
GiveCrypto
GiveCrypto is a charity effort launched by Coinbase CEO Brian Armstrong in 2018. The project initially focused on fighting financial instability in Venezuela, but it has donated money to recipients in other countries as well. Unlike some charities, donors do not choose which cause to donate to―project ambassadors make that decision.

The charity is using its industry connections to save money: to ensure that 100% of user donations go to recipients, GiveCrypto's operational costs are being covered by founding members. The project has distributed $303,000 to beneficiaries to date, and it plans to distribute another $1.5 million in the near future.
Other Considerations
Cryptocurrency holds plenty of promise, but it comes with complications. Price volatility, transaction fees, and the cost of fiat conversion mean that crypto can carry real costs for charities. On top of this, a new U.S. tax clarification indicates that it will be difficult for some donors to make large crypto donations in the future.

Nevertheless, the trend toward crypto charity is positive. In addition to the groups listed in this article, other projects and companies have undertaken charity efforts, including Fidelity, Ripple, and the Pineapple Fund. The result is that hundreds of millions of dollars worth of crypto have been handled by charities―and that is likely just the beginning.
Disclaimer: information contained herein is provided without considering your personal circumstances, therefore should not be construed as financial advice, investment recommendation or an offer of, or solicitation for, any transactions in cryptocurrencies.