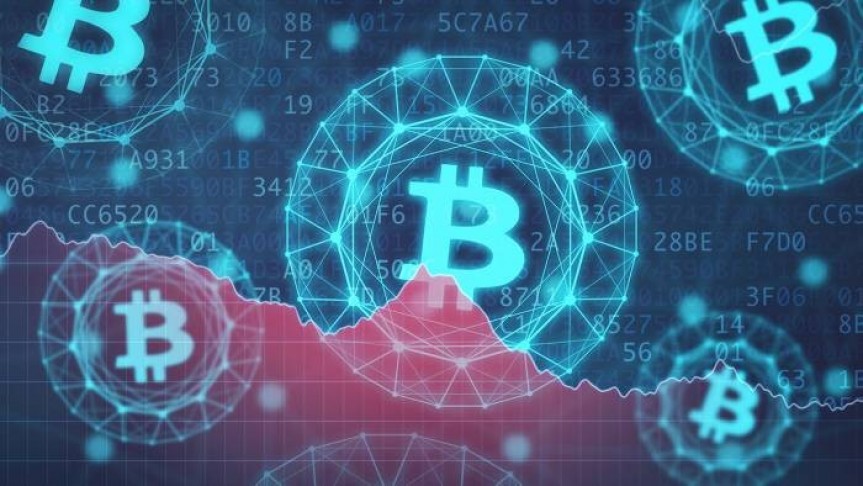 Cryptocurrency Market Prices Are Locked to Bitcoin, When Will it End?
Jun 24, 2018, 10:12AM

by
Shira Lando
There has been a strong correlation between the prices of altcoins and Bitcoin. This dominance could end as more people look towards cryptos.
An observant follower of the cryptocurrency market would most likely reach the conclusion that the price of most coins is correlated to the movements of Bitcoin. Bitcoin's price increases or decreases and almost every other altcoin soon follows suit.
The community is divided about whether the aforementioned linkage is proven or not. Many see a clear correlation, while others argue that the price relationship between Bitcoin and altcoins is inverse. An incremental correlation strength matrix can be found here. Below, we will explore the Bitcoin standard, the deliberate pumping of altcoins, and Bitcoin as the base of every trading pair on exchanges, as well as concrete reasons that might explain this effect.
Regardless of its extent, the influence Bitcoin has on the market is arguably in decline. As cryptocurrencies and tokens that fuel blockchain projects gain adoption, newcomers are gaining a greater comprehension of the technology and can distinguish between different applications of it. Cryptocurrencies like Ethereum and Ripple seem to be growing in magnitude, which could change the "status quo" in which there is one dominant asset. For now, here are the reasons for why Bitcoin is still the pack leader.
Why altcoins follow Bitcoin?
The Bitcoin standard
Undoubtedly, Bitcoin is the holy grail of cryptocurrencies. Its strong proponents go further to completely question the need for altcoins' existence. Based on this belief, no altcoin can ever surpass Bitcoin in price or public adoption. Because digital currencies are widely driven by sentiment, Bitcoin is seen as the equivalent to gold and acts like aan index that determines the price of every altcoin in the market.
As the dominant digital asset, Bitcoin has a special gravity that, similar to a planetary system, attracts every smaller element (altcoin) that orbits around it. Altcoins' prices must, therefore, always follow the rises or drops of Bitcoin.
The pumpers and the traditional speculators
The vast majority of all investors have very limited knowledge about the technical details of cryptocurrencies and struggle to tell them apart from utility tokens. As they try to follow the hype, most of them look into Bitcoin, while at the same time investing in several altcoins. When Bitcoin's price surges, market whales see this as an opportunity to pump an altcoin's price, that could attract gullible investors trying to benefit from quick gains. Only a few lucky ones usually see profits from these short-term price swings, that short their positions before the whales dump their holdings. In most cases, an altcoin fate is to return to its initial or lower price.
While the pumpers might include even an altcoin's team members that aim to scam investors, speculators are another group of people that are exclusively driven by profit. They are mostly interested in spotting trends for short-term gains by analyzing chart patterns. Similar to trading any other financial product, they usually focus on technical analysis.
Bitcoin - The basic cryptocurrency on trading pairs
The most tangible explanation for the Bitcoin-altcoin tie is that most crypto exchanges offer altcoin trading for Bitcoin (and Ethereum). Only a few exchanges offer the ability to buy the most popular cryptocurrencies for fiat money.
Thus, we could say that Bitcoin is the basic cryptocurrency. Equal to what the US dollar means in the traditional Forex market, every crypto trading pair is tied to Bitcoin. Hence, when investors see an uptrend and want to jump on the bandwagon they have to exchange their fiat currencies for Bitcoin that will later be traded for another cryptocurrency. As a result, Bitcoin's price and trade volumes increase, followed by the altcoins.
Similarly, when FUD is spread through news channels across the community, people quickly trade their altcoins for Bitcoin, and consequently liquidate their assets for fiat currencies. This forces the whole market to plummet with altcoins experiencing the most rapid changes.
Therefore, this additional usability Bitcoin has until now lays it as the most dominant cryptocurrency. Generally, the altcoin market is directly dependent on Bitcoin, meaning that even if all users went to invest in altcoins, they would still have to do it via Bitcoin.
Bitcoin's dominance might come to an end
There are those who believe that Bitcoin's dominance will not remain as it is for long. Some digital currencies will soon start to move independently, or even take over Bitcoin. A proponent of this theory is Ripple's CEO Brad Garlinghouse, who believes that this price correlation to Bitcoin is due to the speculative nature of the crypto industry.
In a recent interview, he said that the still-nascent market will undergo a correction period, in which the vast majority of cryptocurrencies will vanish. He expects the ties with Bitcoin's price movements to disappear as soon as people start to understand the different use cases and become familiar with alternative digital assets. Indicatively, Bitcoin's dominance has now reached historic lows as we can be seen in the chart below.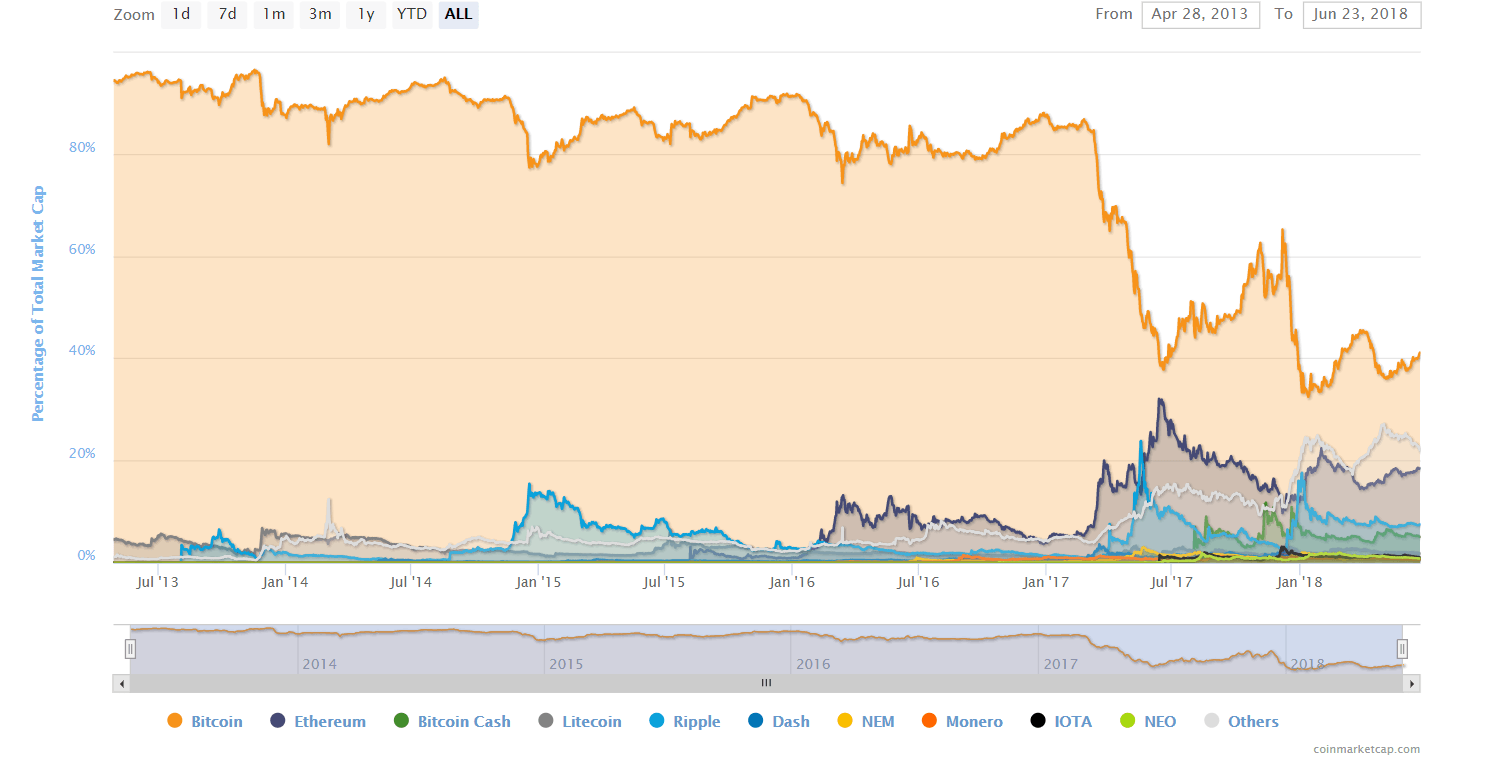 Assuming that Bitcoin's dominance will indeed come to an end, Ethereum and Ripple seem to be the best candidates to set the new standard. While Bitcoin's status as the digital gold seems to be firmly established, Vitalik Buterin has created a far more advanced blockchain. Ethereum's smart contracts have unlimited use cases and its implementation is explored in almost every industry. Unlike Bitcoin, it allows the creation of decentralized applications on top of its blockchain. Ethereum sees a constantly increasing public adoption and has more distinctive features than any other cryptocurrency. From trading at $10 in early 2017, it almost reached $1400 last January and is currently trading at $469.
Ripple might be the first blockchain to enjoy mass adoption. Specifically designed for processing low-cost and lightning fast remittance, Ripple could grow as fast as to replace Bitcoin completely if reputable banks adopt its technology. Its quick settlement times can revolutionize the banking system, as cross-border payments are currently a timely process that Ripple has the potential to disrupt.
Despite its originality, Bitcoin does seem limited compared to the novelties and usability that Ripple and Ethereum can offer. Nevertheless, Bitcoin's dominance will most likely prevail for as long as the community keeps considering it as the "gold" of digital assets.
Disclaimer: information contained herein is provided without considering your personal circumstances, therefore should not be construed as financial advice, investment recommendation or an offer of, or solicitation for, any transactions in cryptocurrencies.