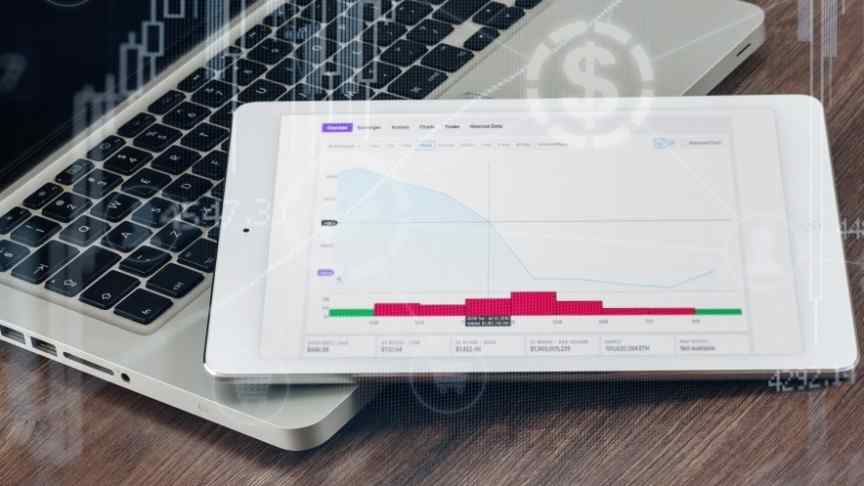 DASH Adopted in Venezuela Crisis, ETH, OMG and LISK Seeking Lows Aug. 25
Aug 25, 2018, 8:59AM

by
Kevin George
The increasing use of DASH in Venzuela's crisis-hit economy provides another roadmap for potential crypto adoption in a failing fiat system.
DASH
Dash has been getting some attention recently, with reports that it has been seeing strong adoption in crisis-hit Venezuela. DASH CEO Ryan Tailor even stated that the South American nation was now its number two market, surpassing even China and Russia.
Venezuela has been gripped by a long and painful economic collapse. Once the richest South American nation, Venezuela is now amongst the poorest countries in the world as hyperinflation and a drop in the country's oil production have taken their toll. President Nicolas Maduro has tried to tackle the crisis by issuing a national cryptocurrency, the Petro, which is backed by Venezuela's oil reserves. More recently the government announced the country's new Bolivar currency would be devalued by 94% and pegged to the Petro, which has thus far only added to the chaos.
Cryptocurrency market watchers should read more about the Venezuela situation as it may offer some insight as to how mass adoption may occur in the midst of a financial crisis. We've already seen crypto volumes surge in Cyprus and Turkey during their own crises but those countries were able to take measures that calmed the situation and avoided a full-blown collapse. The situation in Venezuela also suggests that cryptocurrencies and a government currency may be able to co-exist, at first. However, it's possible that President Maduro could ban third-party currencies to protect the value and dominance of the country's own Petro coin.
Maduro's Petro has its critics. President Trump has applied further sanctions to add to those already imposed by the US to stop American corporations from investing in the Petro. These moves are likely guided by the desire to keep the dollar's stranglehold on currency trade. A successful experiment in cryptocurrency could inspire other South American nations to adopt their own digital currency and would reduce the dollar's influence on commodity trading.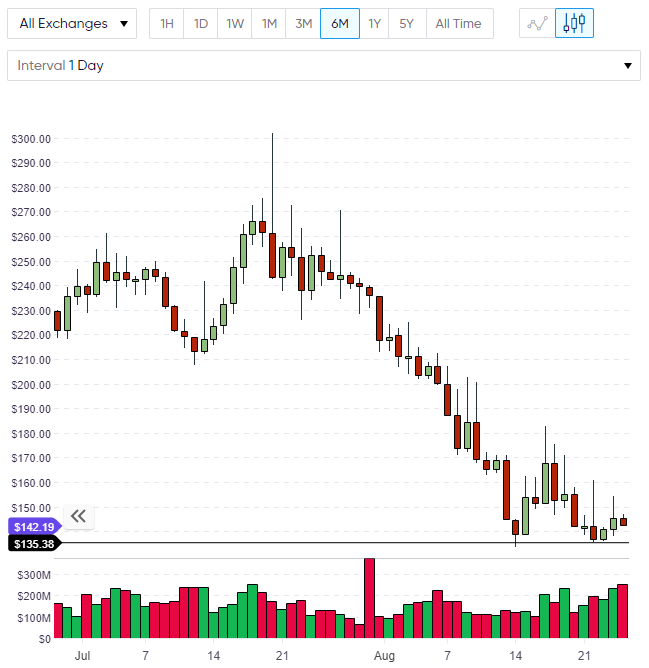 DASH currently trades at $142 after a small decline on the week, however we did see a two week bounce from a retest of the mid-August lows and it's possible we could see a further rally in DASH if we can hold onto this support level. Key resistance is at $170-80 and a weekly close above that level would likely see DASH making a move for the $200 level once more.
ETH
Ethereum is slightly lower on the week but is holding above the lows of last week. Traders seem unsure about the next path for cryptocurrencies after the latest Bitcoin ETF rejections by the SEC and we may consolidate until we get a further news catalyst. We are approaching the monthly close on August 31 and the monthly charts will be important to look at following the recent volatility so I will discuss them later next week.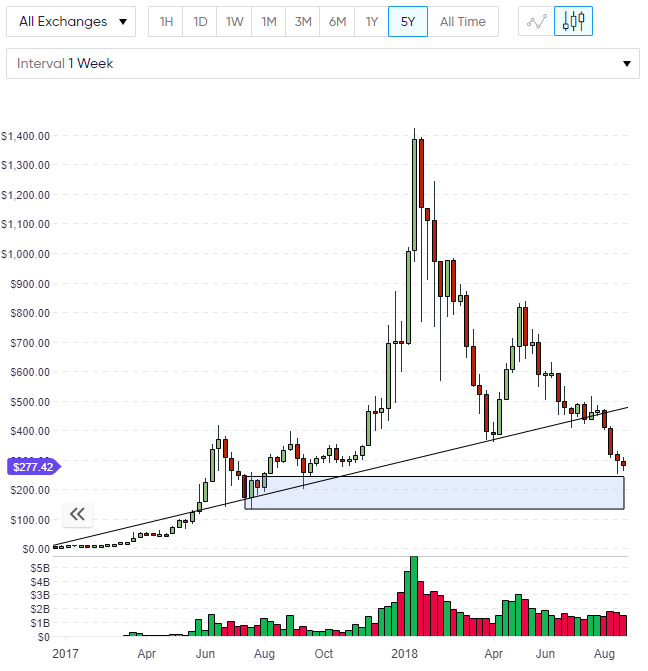 Ethereum needs to see some buyers appear or we risk extending this drift lower into the rectangle of support levels noted in the chart. A test of $200 would be expected if we broke the $250 level and ETH could even breach that if the sentiment is weak. As with all of the largest cryptocurrencies, ETH looks to be probing for a low before we see a rally develop. This may be a relief rally or a stronger move higher but we will need a news catalyst to get real follow-through.
Ethereum's core developers held their regular Youtube meeting yesterday to discuss progress ahead of the upcoming Constantinople hard fork.
OMG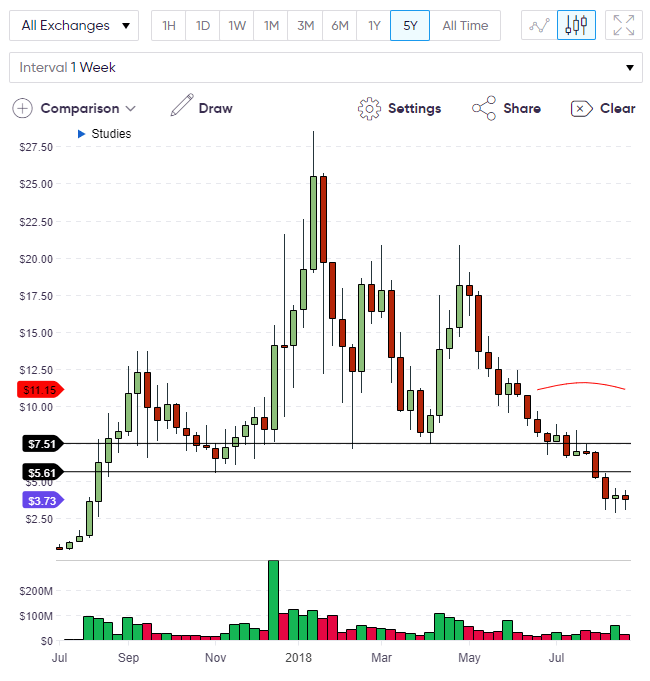 The price of OmiseGo has seen a small range over the last two weeks after crashing through the key support level of November 2017. The drop through support around $5.60 has OMG trading at $3.73. The bullish bar last week gives hope of a move higher, however, we may see price test the low again. There is no support level nearby so it would be best to trade any bottom with caution and a close above the $5.60 level again would be needed to repair the damage from the recent sell-off.
OmiseGo is a decentralized scaling solution for the Ethereum network that seeks to "bank the unbanked". Following the release of the OMG token, developers are working on wallet technology. The Plasma architecture used by OMG allows for high transactions at low cost and this is vital to their plans for financial inclusion across the globe.
LSK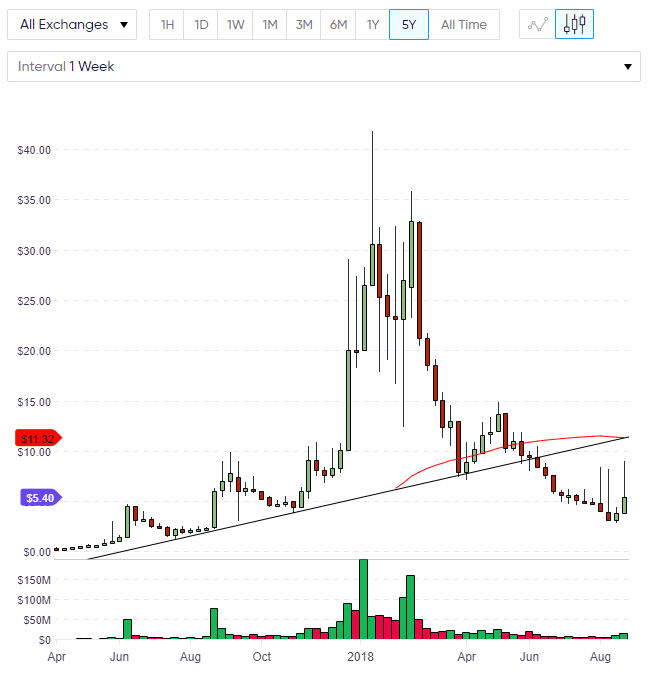 The price of Lisk has the potential to rally after a two-week bounce is setting up for a close above the $5.00 mark. The volume is still low on LSK but a decent rally back to $7.50 or $10 could draw attention for further buyers to appear. Resistance is strong above the $10.00 level with the trendline from 2017 resting on the 50 moving average. This would be the obstacle to further double-digit levels on LSK.
Lisk has been boosted after an announcement of the migration of Lisk Core 1.0 to the Mainnet. This was previously scheduled for the week ahead after the development team stated in early August that,
The migration of Lisk Core 1.0 to Mainnet will happen when we reach block height 6,901,027 at the end of round 68327. We expect this block height to arrive on Wednesday, August 29, no sooner than 11:00 AM CEST.
Disclaimer: information contained herein is provided without considering your personal circumstances, therefore should not be construed as financial advice, investment recommendation or an offer of, or solicitation for, any transactions in cryptocurrencies.