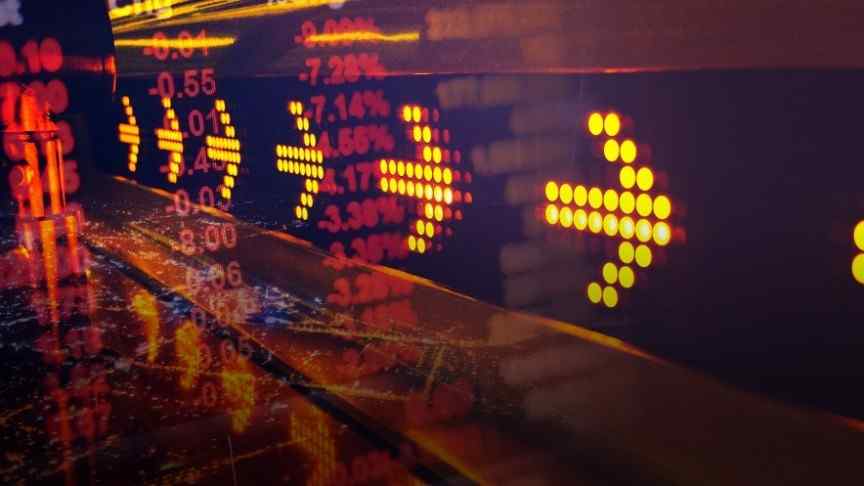 Calm Before the Storm in Cryptocurrencies: BTC, EOS, XRP and XMR Sep. 29
Sep 29, 2018, 7:29PM

by
Kevin George
Cryptocurrency markets are calm this week but many coins are holding key support levels as volatility is squeezed. They may blast higher.
BTC
Bitcoin has seen another quiet week but the number one cryptocurrency is still holding key support at the $6,000 level for the fourth-straight month. This gives us hope that the next direction will be up and this is simply the calm before the storm in Bitcoin and the general market. The likelihood of a move in Bitcoin has been noted by technical analysts who follow volatility indicators. One of those is the "rolling 30-day annualized volatility" measure, which is at its lowest level in over a year.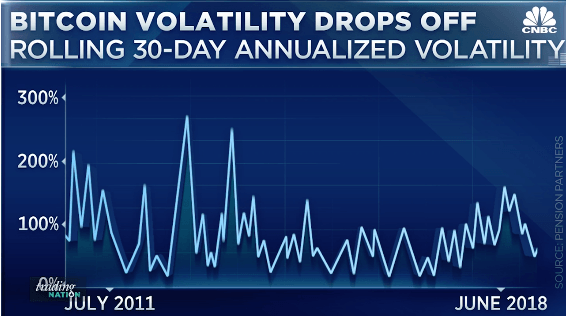 Markets can often be squeezed into a very tight range before they blast out of the range and make their next move for a sustained trend. Bitcoin has been squeezed into a very tight price range and it should be noted that the last time volatility was this low twelve months ago, it was ahead of the multi-week rally that blew Bitcoin to $20,000 and onto the financial front pages. October is setting up to be an interesting month ahead for the cryptocurrency markets.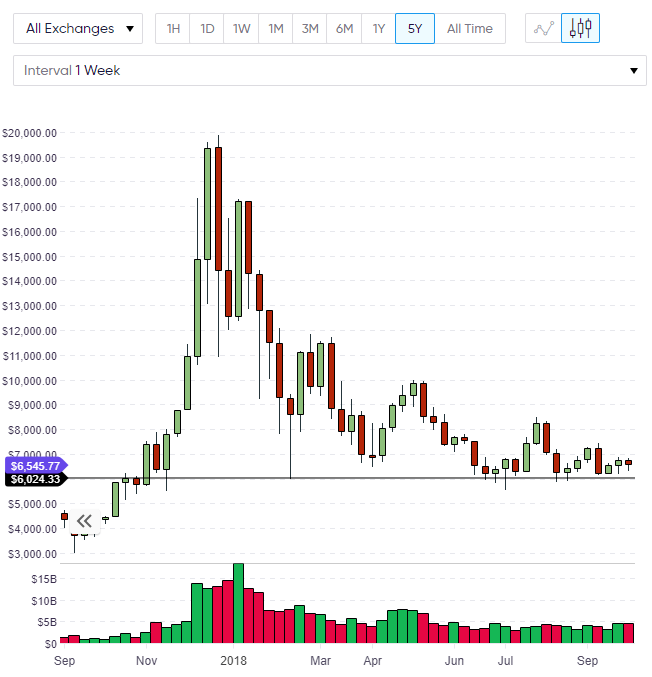 The previous levels of resistance are still the same in Bitcoin with the $7,250 level being the first obstacle and $8,500 being key resistance ahead of the psychological $10,000 mark, which we have not traded above since early March. A big move in October could set up for a multi-month bottom in Bitcoin and we are simply awaiting a news catalyst for the move.
EOS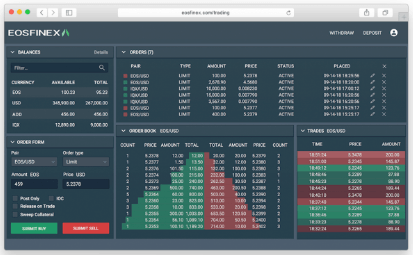 The cryptocurrency exchange Bitfinex has announced a partnership with EOS to create a new on-chain decentralized exchange. The project named EOSfinex was launched at Blockchain Live in London this week. The platform is currently in beta mode and aims to create a peer-to-peer network which will be completely trustless. The platform looks to be targeting high-volume traders and the decentralized nature gives users "total control of their own funds". EOSfinex will be fully live in January of 2019.
Bifinex CEO J.L. van der Velde commented on the platform,
We are excited to leverage EOS.IO to further advance the field of high performance and trustless on-chain exchange. Block.one continues to display an unwavering dedication to improving blockchain scalability through the EOS.IO platform and it is our hope that this collaboration will allow significant advancement for all decentralised exchange(s).

EOS Price Index

EOS is another coin that is holding key support as we close out September. On the weekly chart we see the price is currently trading at $5.67 and looks set to hold the key $5.00 level. Monthly support is around the current trading level and the setup in EOS gives hope that it can mount a fresh rally in October.
XRP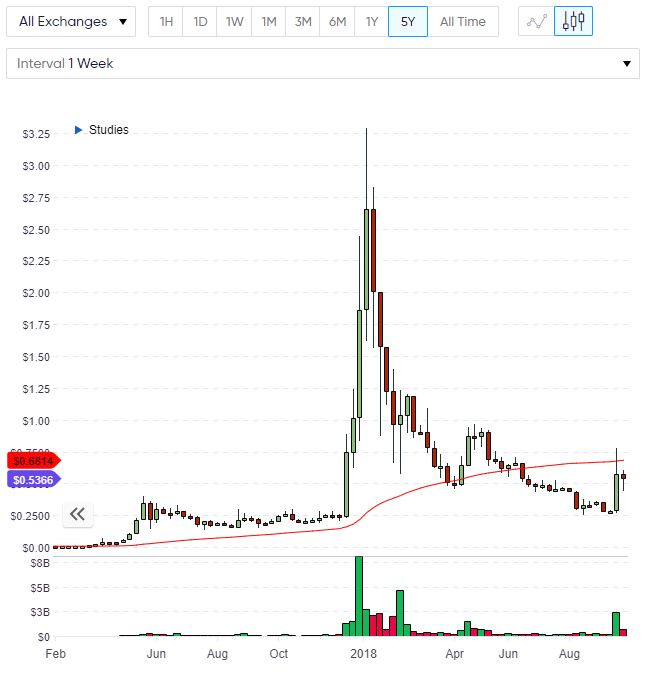 XRP has not seen real follow-through from last week's xRapid-driven gains but the price is nearing last week's close around the $0.55 level. The price bounced off the 50 moving average last week and we should see a rally to test that resistance again. XRP is, therefore, another coin that looks ready for a bullish month in October. Investors will be digesting the xRapid product and how it will affect XRP's market cap, which currently sits at $21 billion. The pause in XRP and a Thursday rally in Ethereum has kept Ether in the second spot for now with a value of $23 billion. The international transfer market is worth trillions of dollars and if XRP can gain some of that market share in fees then it could significantly alter XRP's valuation.
XMR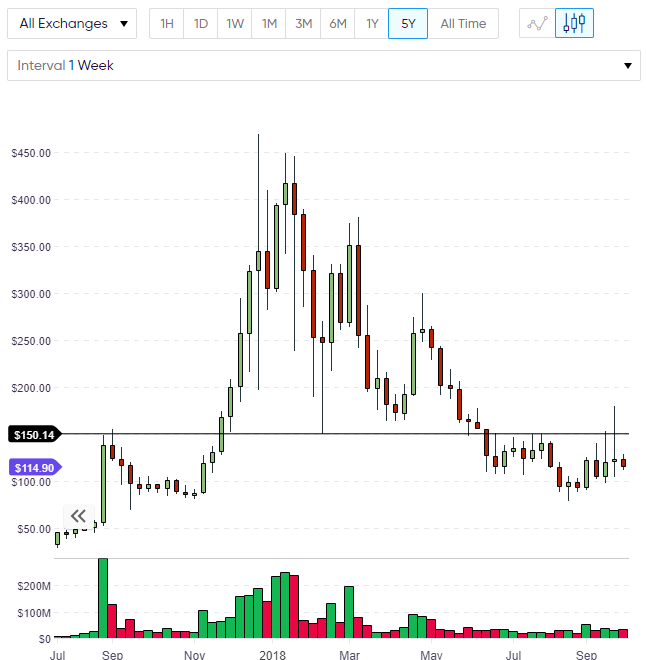 The price of Monero is struggling to gain traction and it is looking like the $150 level may lead to a further sell-off in XMR. This could be changed with a move above the $150 level in October if the overall market rallies but Monero is being dragged lower by a previous forking of the original coin. XMR has been weak since a hard fork in April which split Monero into separate coins: Monero Classic and Monero Original. The split happened due to philosophical differences between Monero developers.
Disclaimer: information contained herein is provided without considering your personal circumstances, therefore should not be construed as financial advice, investment recommendation or an offer of, or solicitation for, any transactions in cryptocurrencies.