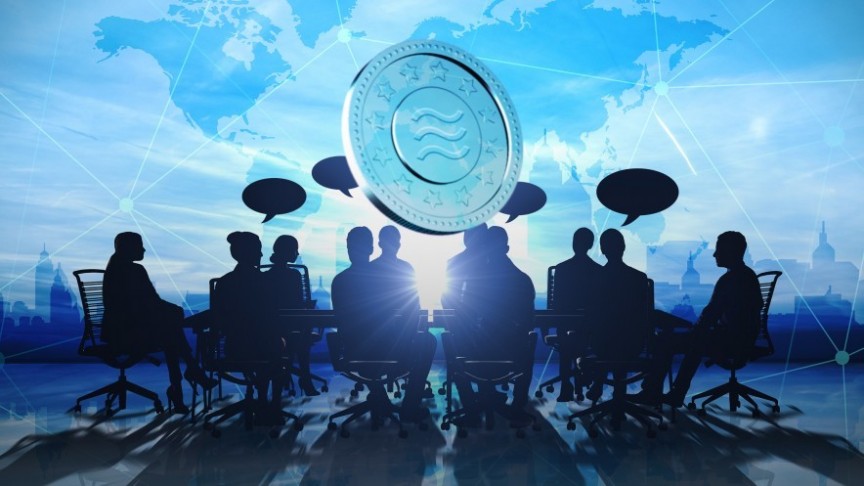 Facebook's Libra Cryptocurrency: What Are Blockchain Leaders Saying About It?
Oct 4, 2019, 12:17PM

by
Mike Dalton
Facebook's upcoming cryptocurrency, Libra, has been attracting lots of attention. What do leaders from the crypto world have to say about it?
Facebook's Libra cryptocurrency is in a tough position: although it has gained initial support from some of the biggest corporations in the world, and although it carries potential mainstream appeal, it has also received a lot of backlash. Most recently, France and Germany decided to block Libra on the grounds that private entities shouldn't have monetary power.
Meanwhile, the crypto community has taken issue with Libra's disregard for its core values. Unlike Bitcoin, Libra will be centrally controlled by the Libra Association, meaning that users' financial freedom may be limited. Libra will also require users to identify themselves, which will eliminate privacy. As such, many crypto figures have taken a stance on these matters―here's what they have to say.
Vitalik Buterin of Ethereum
This week, Ethereum co-creator Vitalik Buterin weighed in on France and Germany's decision to ban Libra. In an interview with Globes, Buterin argued that Libra is a "wake up call to governments" who have previously failed to update their national currency for the digital era. "We are therefore now seeing a lot of interest in creating a sovereign digital currency," Buterin stated.
Buterin's statements elsewhere have been somewhat positive as well: at this year's Ethereal Summit, Buterin suggested "extending an open hand" to Libra, even though it is more centralized than he would like. At the same event, Consensys CEO Joseph Lubin suggested that Libra and Ethereum might become interoperable and that Libra could onboard new users to Ethereum.
Charles Hoskinson of Cardano
Charles Hoskinson is the founder of Cardano and its parent company, IOHK. Much like Buterin, Hoskinson sees Libra as a challenge to traditional finance, and he has called Libra a "Sputnik moment" for regulators. "It's a global awakening, and it's telling global politicians that [the] financial order they're used to is ending," Hoskinson told Financial Fox at the end of July.
Hoskinson is also confident that Cardano will win out over Libra, largely on the basis that Cardano is highly relevant in developing countries. As Hoskinson notes, Cardano and IOHK have found great success in Georgia, which does not have restrictive crypto regulations. "These are relationship-based markets," he concluded. "Facebook doesn't have those relationships."
Changpeng Zhao of Binance
Changpeng Zhao is the CEO of Binance, one of the largest crypto exchanges, and it might not be a surprise that he supports Libra. Zhao has taken a pragmatic position: if there is demand for Libra, Binance should list it. "It's most likely that Libra will get a large number of users, no matter how much people hate it," he told Coindesk in July. "Don't complain about adoption."
Binance does see Libra as a competitor, though: last month, it announced plans for Venus, which will be an "independent and autonomous, regional version of Libra," according to Binance's Chinese announcement. Libra itself will act as a dollar-pegged stablecoin, but Binance itself is also on a mission to provide its own stablecoins for countries all around the world.
Riccardo Spagni of Monero
Riccardo Spagni is one of Monero's lead developers, and since Monero is a privacy coin, Spagni is naturally opposed to Libra's intrusive nature. In June, Spagni highlighted Libra's lack of privacy and took issue with David Marcus' implied association between privacy and crime. Later, Spagni expanded on these concerns during an interview with the Decrypting Crypto podcast.
Spagni has also commented on Libra's centralized nature: he has noted that initially centralized projects can surrender control to their community, arguing that Bitcoin was originally centralized before it was decoupled from its creator. However, Spagni believes Facebook has no plans to follow suit: "Libra is clearly not intended to decouple [from Facebook] ever," he concluded.
Brad Garlinghouse of Ripple
Brad Garlinghouse, the CEO of Ripple, has mixed feelings about Libra. In a July interview with Fortune, Garlinghouse expressed fears that Libra will cause lawmakers to introduce stricter crypto regulations. He doesn't want Ripple to get "caught in the crossfire" or "lumped into one big bucket," he said―and Ripple itself has published an open letter to the same effect.
However, as CoinTelegraph has noted, Garlinghouse has also had good things to say about Libra. In fact, the hype around Libra may have caused financial institutions to sign up for Ripple's cross-border payment services. Despite Garlinghouse's attempts to distance Ripple from Libra, both projects partially share a target market―mainstream finance―making them natural competitors.
Is Libra Winning Anyone Over?
Though there is widespread resistance to Libra within the crypto community, some of crypto's biggest leaders aren't as hostile as you might expect. Many seem to believe that Libra isn't actually a threat, but rather a rival, or even an ally. Some critics oppose Libra on principle, while proponents are more enthusiastic―most leaders have a fairly balanced view on the matter.
Of course, this cautious support will come to nothing if Libra is killed by regulations. France and Germany's recent resistance, combined with past scrutiny from American regulators, may be the start of a deadly trend for Libra. That said, the Libra Association is working under favorable regulations in Switzerland, so Libra's legal situation may not be as bleak as it seems.
Disclaimer: information contained herein is provided without considering your personal circumstances, therefore should not be construed as financial advice, investment recommendation or an offer of, or solicitation for, any transactions in cryptocurrencies.