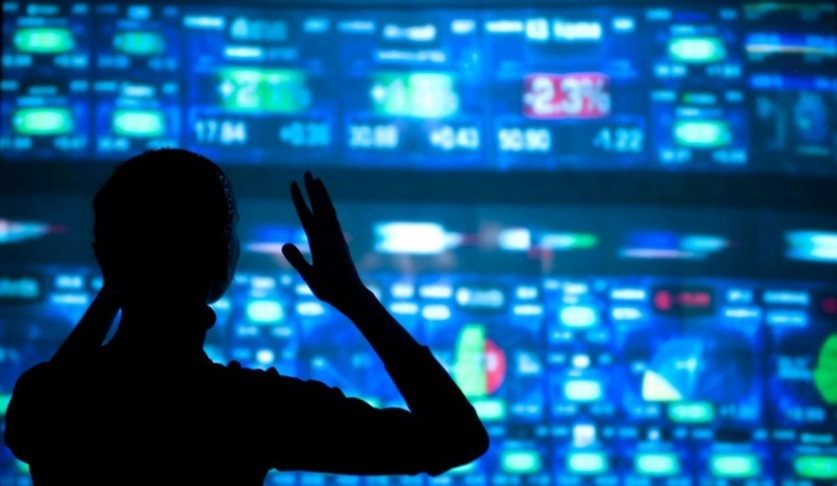 Mixed Fortunes for Crypto Market as Global Stocks Fall, ETH, LTC, WAVES, DCR, Feb. 24
Feb 24, 2020, 5:04PM

by
Kevin George
Ethereum and Litecoin are hovering at key levels as Bitcoin struggles at the $10,000 level. WAVES and DCR post double digit gains foer the week.
The major cryptocurrencies slipped on Monday as global stock markets sold off over fears that the Coronavirus was spreading outside of China.
Gold rallied to a new seven-year high around $1680 but this didn't translate into gains for Bitcoin with the world's largest cryptocurrency dropping by close to 1%. BTC is still failing to hold onto recent gains above the key $10,000 level and now trades at $9,777.
ETH
Ethereum was 0.35% lower on Monday but was still 6.56% up on the week with a market value just shy of $30 billion. Ethereum's developers have been talking recently about the coming ETH 2.0 upgrade. The next version of Ethereum will include a move to Proof-of-Stake (PoS) security from Proof-of-Work (PoW) and higher transaction throughput. The new upgrade is scheduled for July 2020.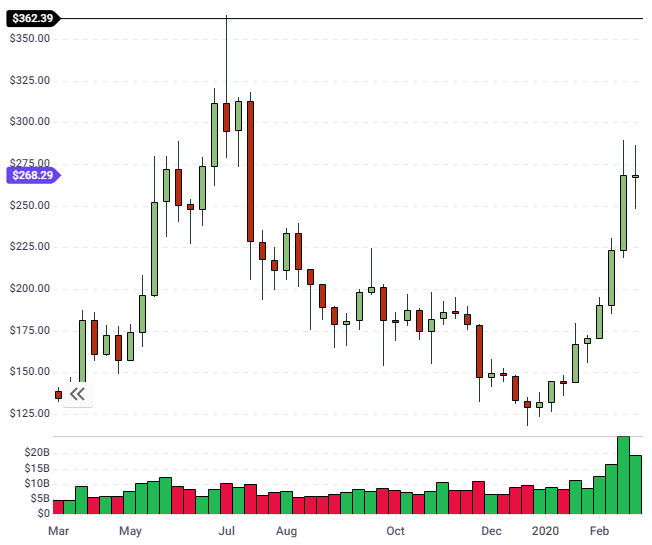 The price of ETH was higher on the week and continues a strong advance for the year. The resistance level for the world's second-largest crypto is at the $362 area. This was a key low for 2018 and it stopped coin's run in 2019. The market would have to get through resistance at $300 before testing the higher level once more.
LTC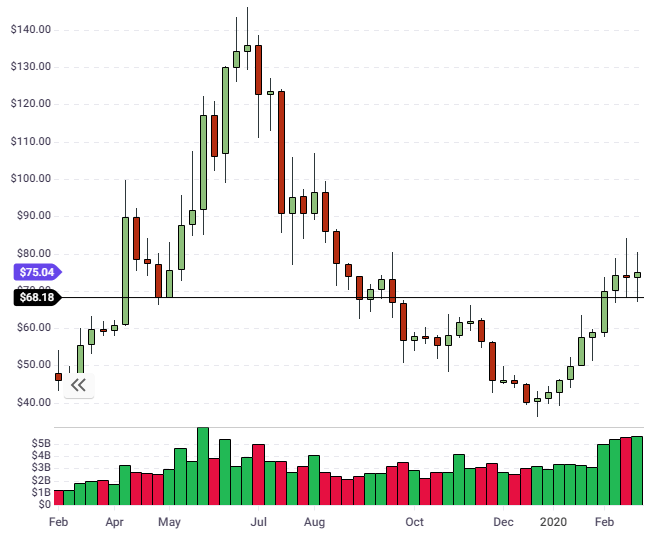 Litecoin is trading above a key support level from 2019 and this gives some hope that the market can continue its advance to the $100 level again. LTC was one of the hottest cryptocurrencies last year and led the market higher in early 2019 with a big advance, but this move ran out of steam in July and the market collapsed again to lows under $40 in December. Price has now rallied back to the $75.00 mark.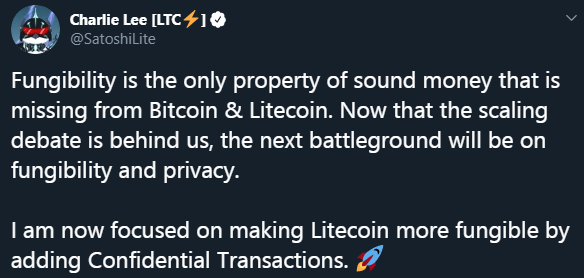 The move has been helped by recent comments from the coin's founder Charlie Lee, who was seeking to add a privacy feature to LTC after stating that,
…the next battleground will be on fungibility and privacy.
LTC needs to trade above the $68.00 support level to see a continuation of the uptrend.
WAVES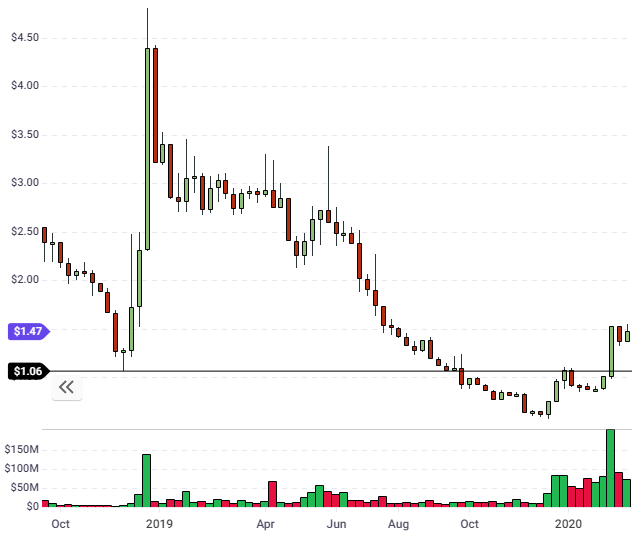 Waves was hovering near the $1.50 level after failing to get through that level two weeks ago. WAVES has been on a strong run this year with a move from $0.600 to $1.50. Price has staged a rally through the resistance at $1.00 and now has the potential to move to the $2.50 level if bulls can continue to show strength.
The coin's recent move sees it at number 48 on the list of coins with a market cap of $143 million. WAVES is an open-source platform and development toolset for web 3.0 applications. The project is trying to entice developers and companies to build decentralized apps (dApps) on the network. Another feature of the platform is to bring companies and investors together to raise capital through smart contract issuance.
The Waves Exchange is a decentralized platform for buying, selling, and staking a range of cryptocurrencies. Staking $10,000 USDN can earn a passive income of 11.63% and this is much more valuable than the returns available in banks.
DCR
Decred was 15% higher on the week and trading around the $22.00 level. Decred is an autonomous currency which has sought to solve the issues in blockchain governance. DCR runs a consensus model that ensures stakeholders make the rules for the coin's development. DCR runs a hybrid between the PoW and PoS models and other features include smart contracts and cross-chain atomic swaps.
Decred's shareholders voted a year ago to build a Decentralized Exchange (Dex) and this is scheduled to be completed by the third quarter of 2020. Most trading is conducted through centralized exchanges, where users entrust all funds to the exchange operator. Decred notes that,
This creates high-value targets for hackers and scammers, resulting in the theft of at least USD 1 billion worth of cryptocurrencies in just the first 5 months of 2018.
In a DEX, trades will be conducted between individuals with no risk to funds and they are also free from trading commissions. A secure exchange could bring additional liquidity to the DCR network.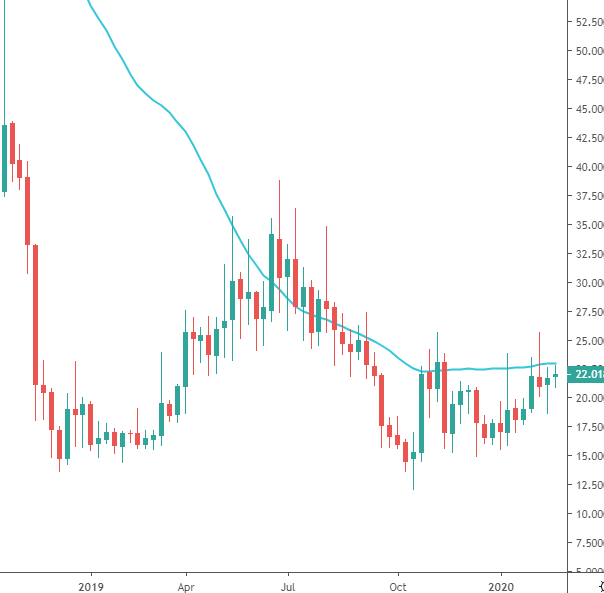 The price of DCR is now knocking on the door of the 50 moving average and a move above there could open up a path to the levels in the $30s that provided resistance in 2019. The project has a market cap of $238 million with only 10.7 million coins in circulation.
For the general cryptocurrency market, Bitcoin's ability to trade above the $10,000 level is still key. The fall in global stocks has removed some trading activity from cryptocurrencies but this trend may reverse if BTC can reclaim its crown as a safe haven for investors if the stock markets continue to fall. Markets will be watching the spread of the Coronavirus very closely to gauge the impact on global supply chains and economies.
Disclaimer: information contained herein is provided without considering your personal circumstances, therefore should not be construed as financial advice, investment recommendation or an offer of, or solicitation for, any transactions in cryptocurrencies.