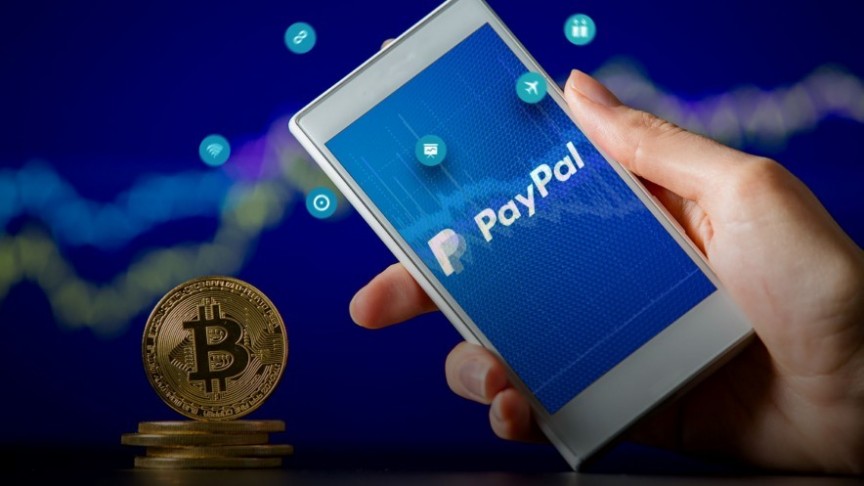 PayPal's Upcoming Crypto Features: Everything That We Know So Far
Aug 7, 2020, 12:09AM

by
Mike Dalton
PayPal is planning to introduce crypto buying and selling. Will it launch the service by the end of the summer?
PayPal is planning to introduce Bitcoin buying and selling, according to various inside sources. Though PayPal has not officially confirmed the news to the public, the company's rumored plans seem to be a near certainty.
Here's what we know about PayPal's crypto plans so far.
The First Rumors
In early June, Coindesk learned from three inside sources that PayPal and its subsidiary Venmo intend to introduce crypto features. This will allow 325 million users to buy crypto from an integrated exchange and store those funds in their PayPal account.
One anonymous source says:
My understanding is that they are going to allow [buying and selling] of crypto directly from PayPal and Venmo. They are going to have some sort of a built-in wallet functionality so you can store it there.
Coindesk's sources also suggested that multiple exchanges are involved in the plan, including Coinbase and BitGo. However, in light of more recent information, it seems likely that those connections are purely speculative.
The original report also suggested that PayPal would launch crypto trading within three months of its publication, implying a September launch date at the latest.
PayPal gave credit to the rumors on July 15, when it told EU regulators that it was "monitoring the evolution of the crypto-asset space"―implying that it is working on a cryptocurrency service of some sort.
Paxos Partnership Is Likely
Coindesk followed up on its original report on July 20, when two of its sources revealed that PayPal is planning to work with the Paxos crypto exchange.
If this report is true, PayPal's plans are likely tied to the launch of Paxos' new Crypto Brokerage service, which went live on July 15. The new service allows companies to integrate crypto trading with their own products and deliver it to the general public.
Paxos explained in a recent press release:
For [end users], crypto assets are simply additional currencies available within a familiar app experience. Our solution helps make the experience seamless... consumers can access crypto through the brands and applications they trust.
Apart from PayPal, other companies are already signing up. Revolut US, another digital payments company, has announced plans to make use of the service. Revolut already offers crypto features in Europe; this allows it to offer crypto to American customers.
PayPal has not yet confirmed that it is working with Paxos; however, sources suggest that the company will make an announcement by the end of the week.
Effects on the Market
Though PayPal's plans are generating a lot of attention and could attract new investors, it is questionable whether that will drive up Bitcoin prices.
According to some estimates, PayPal could create demand for up to $1.15 billion worth of Bitcoin. Though "that figure alone is impressive," Forbes contributor Christopher Brookins writes, the additional demand would be almost unnoticeable given that Bitcoin's total market cap is $175 billion.
Furthermore, early hype has had little effect on prices. Despite widespread predictions that the news could push Bitcoin prices up to $12,000, Bitcoin prices have hovered between $8000 and $10,000 without much variation.
A more definite announcement could boost prices, but that is by no means certain.
Earlier PayPal Activity
PayPal has been exploring crypto even prior to the latest announcements.
In April, PayPal published a job posting that sought to hire a blockchain and AML specialist. An employee in that role would help it meet regulations around "know your customer regulations" and anti-crime rules, an essential need of any finance company.
PayPal was also involved in Facebook's Libra cryptocurrency project. Though it ultimately left the project's consortium in October 2019, Libra is still led by David Marcus, a former PayPal president now serving as Facebook's head of blockchain.
On a lesser note, the company has integrated with Braintree to allow merchants to accept Bitcoin. It also filed a patent in 2018 that described a way to speed up crypto payments, though that patent does not seem to be used in any actual products.
PayPal has also backed third-party projects: it has invested in blockchain startups such as Cambridge Blockchain, TRM Labs, and IDKeep.
Payment Companies Meet Crypto
PayPal's upcoming product will be the most visible crypto service provided by any major payment company. That said, many minor debit card providers already work with Visa and Mastercard. These services allow investors to spend crypto as if it were cash.
These services provide great convenience. However, payment companies arguably undermine cryptocurrency's goals due to the fact that they maintain custody over user funds. That is, companies can block transactions and suspend their users.
Bitcoin users who want maximum control over their funds should rely on non-custodial wallets (such as Bitcoin Core or Electrum) rather than custodial companies.
Disclaimer: information contained herein is provided without considering your personal circumstances, therefore should not be construed as financial advice, investment recommendation or an offer of, or solicitation for, any transactions in cryptocurrencies.