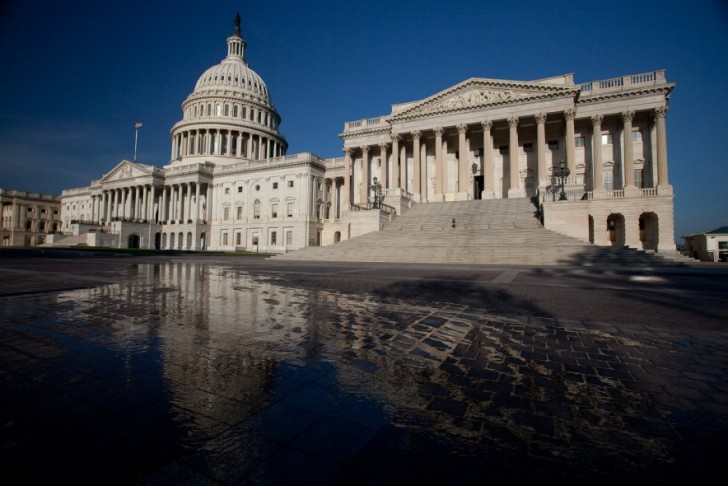 The U.S. Senate Has Passed Its Crypto Tax Bill: How Will It Affect the Industry?
Aug 13, 2021, 3:26PM

by
Mike Dalton
A new U.S. bill could affect competition within the crypto industry.
The U.S. Senate has passed a new bill that could reshape how cryptocurrency businesses are taxed. The bill primarily affects cryptocurrency brokers who sell crypto to investors, but it could have far-reaching effects. Here's what you should know.
Background On the Bill
On August 1, the U.S. Senate published a bill that would require crypto brokers to report information about transactions, including prices when crypto was bought and sold. It would also require those companies to report transactions above $10,000 to the IRS.
The bill attracted controversy due to its broad definition of "broker," which includes "any person who (for consideration) is responsible for regularly providing any service effectuating transfers of digital assets on behalf of another person."
Division over the scope of that term led a group of Senators to introduce two competing proposals. The first proposal comes from Senators Ron Wyden, Cynthia Lummis, and Pat Toomey. This proposal's definition of "broker" excludes mining firms, staking node operators, and development firms―all of which handle cryptocurrencies but do not typically sell cryptocurrency to customers.
The second bill, headed by Senators Rob Portman, Mark Warner, and Kyrsten Sinema, applies more broadly and only excludes miners from the bill's new rules.
Crypto Leaders Opposed the Bill
Brian Armstrong, the CEO of the major exchange Coinbase, has called the Portman bill "disastrous." He argues that the bill effectively gives the Senate the ability to decide which types of blockchain technologies are "winners and losers."
1/ There are a few key moments that define our future. One is happening now in the Senate w/ the infrastructure bill. At the 11th hour @MarkWarner has proposed an amendment that would decide which foundational technologies are OK and which are not in crypto. This is disastrous.

— Brian Armstrong (@brian_armstrong) August 6, 2021
Most notably, the bill requires proof-of-stake node operators to comply with tax rules while granting an exception to staking node operators. That rule could give disadvantages to up-and-coming blockchains like Ethereum 2.0.
Armstrong also warned that the proposal could restrict crypto development in the U.S. and force innovation to other countries like China. "Imagine if we had missed out on the internet, and the largest internet companies had been built overseas," he wrote.
His statements attracted many comments on Twitter, including a reply from Tesla CEO Elon Musk. Musk agreed, adding that "there is no crisis that compels hasty legislation."
Agreed, this is not the time to pick technology winners or losers in cryptocurrency technology. There is no crisis that compels hasty legislation.

— Elon Musk (@elonmusk) August 6, 2021
Twitter and Square CEO Jack Dorsey also offered Senate a "workable simplification." Dorsey suggests restricting the definition of "brokerage" to fiat-to-crypto exchanges. He argued that forcing reporting rules on developers and miners is an "impossible ask" that will restrict blockchain development in the United States.
The definition proposed by Dorsey means that the bill would likely classify his own payments company, Square, as a cryptocurrency broker.
Elsewhere, Denelle Dixon, CEO of the Stellar Development Foundation, expressed support for the Wyden proposal and argued against the Portman proposal:
Defining...a Stellar network node or validator as a broker simply doesn't make sense. Validators don't have customers, don't execute trades, and lack reportable information.
Jake Chervinsky, a member of the DeFi cryptocurrency platform Compound, has also condemned the Portman bill. He called the definition of the bill "wildly overbroad," arguing it applies to almost everyone in the cryptocurrency industry.
The Bill Has Passed: What Happens Next?
Despite opposition from the crypto industry, the Portman bill has passed. On Tuesday, August 10, the Senate rejected the Wyden proposal with a vote of 69-30. The Portman bill now must go through the House before it is made into law.
Even if the bill becomes law, some experts suggest that it will not immediately impact the crypto industry. Jason Deane of Quantum Economics recently told Coindesk that the law may not take effect until 2023. Furthermore, it is unlikely that the law will force any major crypto companies to shut down, as established businesses in the U.S. are likely to have extensive regulatory compliance teams to begin with.
Nevertheless, it is possible that the crypto industry's concerns will prove to be correct. The Portman bill could make competition between crypto companies much more difficult. It could also drive some innovation out of the U.S. if existing companies choose to relocate to more crypto-friendly countries as their base of operations.
Concerns around the law may cause some individual investors to leave the cryptocurrency market in the short term, possibly affecting crypto prices.
Disclaimer: information contained herein is provided without considering your personal circumstances, therefore should not be construed as financial advice, investment recommendation or an offer of, or solicitation for, any transactions in cryptocurrencies.