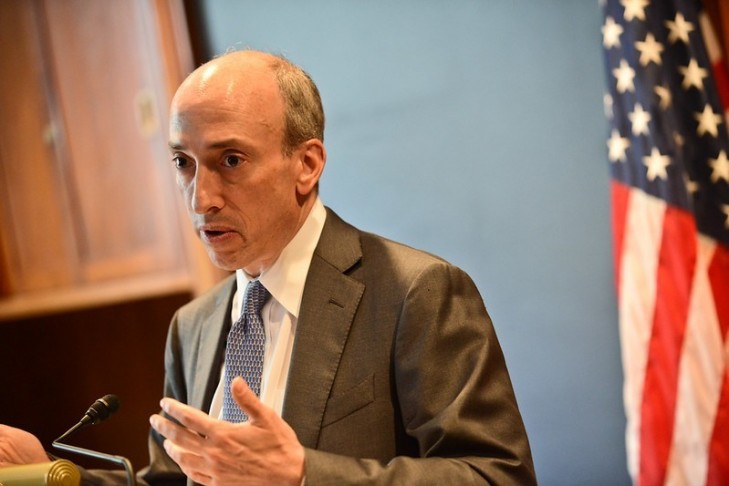 Who Is Gary Gensler? All About Crypto's Most Controversial Regulator
Jul 7, 2023, 2:17AM

by
Mike Dalton
Gary Gensler is the head of the U.S. SEC. Here's why he's one of the most controversial figures in crypto today.
In recent years, the U.S. Securities and Exchange Commission (SEC) has targeted numerous cryptocurrency companies, projects, and individuals. The SEC is currently headed by Gary Gensler, who serves as the agency's chair.
Who Is Gary Gensler?
Gensler began his career with an 18-year position as a Goldman Sachs investment banker in 1979. Since then, he has served at various U.S. government agencies and has worked as an MIT economics professor, at times lecturing on blockchain.
Gensler's experience in those areas led him to be appointed as SEC chair in 2021 under U.S. President Joe Biden. Today, he is responsible for much of the agency's focus on cryptocurrency alongside its oversight of traditional securities.
In addition to regulating crypto directly, Gensler has challenged the crypto sector through his personal statements. Gensler has repeatedly suggested that most cryptocurrencies can be classified as securities. He has even bluntly stated: "we don't need more digital currency" and suggested that U.S. dollars and digital investments fill the same role as cryptocurrency. Furthermore, he has told investors not to believe crypto companies that say that they lacked fair notice of their legal violations.
Many crypto investors accordingly see Gensler as a heavy-handed regulator, and his harsh stance has attracted opposition. The crypto community has attempted to highlight Gensler's past endorsement of Algorand (ALGO) as a conflict of interest, while Binance has alleged that Gensler had close ties to its CEO, Changpeng Zhao.
Negative sentiment has even extended to politics, as Republican lawmakers have introduced a bill to remove Gensler from the SEC and abolish his position.
How Gensler's SEC Has Impacted Crypto
Under Gensler, the SEC has taken action against numerous cryptocurrency projects and companies that are otherwise operational and reputable.
Since early 2021, Gensler's SEC has initiated about 50 actions related to crypto assets and cyber-enforcement. Some of those actions do not concern allegations of fraud and largely concern those companies' failure to register with the regulator.
Notably, the SEC forced Kraken and Nexo to discontinue U.S. access to their staking and interest services in part due to how those services handled user cryptocurrency holdings; the two companies were fined $30 million and $45 million respectively. The SEC also imposed fines on LBRY and Bloom Protocol, two crypto projects that remain active to some degree (though it greatly reduced LBRY's fine as the firm is defunct despite continued independent development).
The SEC is also engaged in a court battle with Ripple that began under Gensler's predecessor, Jay Clayton. That controversial case alleges that Ripple and its executives engaged in an unregistered securities offering of the XRP token. The XRP token is still in circulation and is currently the sixth-largest coin by market cap.
Apart from those specific cases, the SEC has repeatedly rejected spot Bitcoin exchange-traded funds (ETFs). It has done so on the grounds that these investments and their proposed rule changes do not provide sharing agreements that can prevent market manipulation. The latest batch of spot Bitcoin ETF applicants are now attempting to meet SEC requirements after hints that they too could be inadequate.
Gensler's SEC has also advanced changes to the definition of "exchange" that could broadly affect crypto industry projects without centralized operations.
Most importantly, Gensler's SEC targeted the two largest crypto exchanges — Binance and Coinbase — in far-reaching lawsuits in June 2023. While those lawsuits are far from over, they have already had an impact. Binance.US' banking partners broke ties with the exchange, causing it to briefly and partially stop handling the U.S. dollar.
The Coinbase and Binance cases also identify several tokens as securities. This has led Robinhood, Bakkt, and Revolut to delist SOL, ADA, and MATIC.
Why Gensler Might Not Be a Threat to Crypto
To Gensler's credit, the SEC has taken action against several cryptocurrency companies, products, and individuals that are apparently engaged in fraud.
Of the roughly 50 actions that the SEC has taken since February 2021, the vast majority involve fraud allegations. Though some allegedly fraudulent projects remain operational, several projects targeted by the SEC — such as FTX and Terra — have not only been charged with fraud but have collapsed entirely.
Gensler's agency has also taken action against other types of wrongdoing, such as insider trading and celebrity endorsers who fail to disclose their contracts.
Other members of the SEC may also be capable of keeping the SEC's power in check. Two SEC Commissioners — Hester Peirce and Mark Uyeda — have repeatedly voiced dissent toward certain cryptocurrency-related decisions made by their own agency.
Plus, Gensler himself has spoken favorably about cryptocurrency. In 2021, he said that he is "technology neutral" regarding cryptocurrency and said that crypto needs regulations to gain adoption. He emphasized that the SEC's goal is to protect investors.
Overall, Gensler's SEC may not be as unfriendly toward cryptocurrency as it seems. Though the agency's actions may have prevented investors from taking advantage of many opportunities, it has likely protected investors from financial harm as well.
Disclaimer: information contained herein is provided without considering your personal circumstances, therefore should not be construed as financial advice, investment recommendation or an offer of, or solicitation for, any transactions in cryptocurrencies.