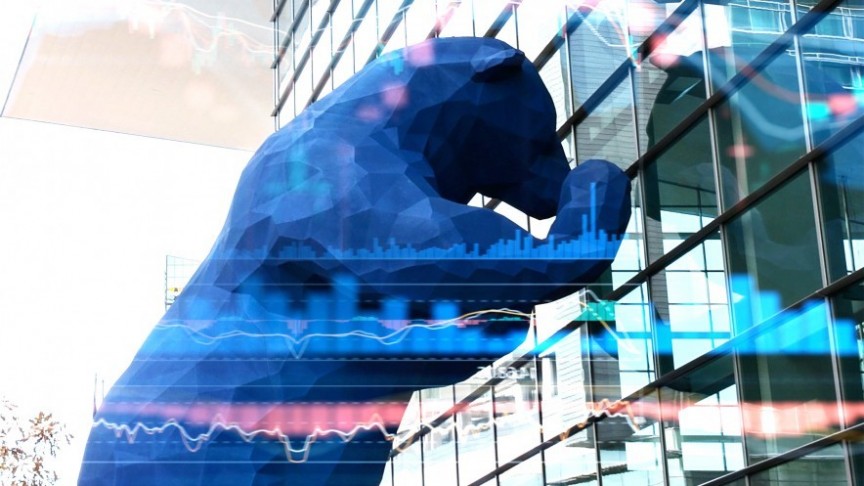 Why This Crypto Bear Market Is Not All It Seems, TRX, ETH, EOS, XLM Dec 10
Dec 10, 2018, 4:06PM

by
Kevin George
Cryptocurrency markets see a rise in OTC trading as exchanges move in to the space. Tron's founder offers migration to EOS and ETH developers.
The cryptocurrency bear market has continued with BTC hitting a new 2018 low in the past week. The negative price action in Bitcoin is still weighing on the overall market, yet not all is as it seems in this downtrend.
A recent research report from the TABB Group showed that Over-The-Counter (OTC) trading is occurring at three times the size of the exchanges. TABB's Senior Analyst Monica Summerville also noted:
The word on the street is that a significant amount of additional institutional money is being amassed, sitting on the sidelines, held back by a lack of greater regulatory clarity, institutional grade data and enterprise-ready infrastructure, waiting for the right conditions to enter the market, expected to begin happening this year.
OTC trading is prevalent in financial markets such as stocks and currencies. Institutional players who make large-scale transactions can trade between a buyer and a seller, eliminating the need for an exchange purchase which would affect market prices. So, what does this mean? It means that a lot of trading is occurring behind closed doors, which is not represented as demand on price charts. Institutional players are sneaking into crypto through the back door at lower prices as retail investors get spooked and dump.
The emergence of OTC trading in crypto has also led to Coinbase and Binance jumping on the bandwagon to catch up with Poloniex. Binance invested $3 million of its venture fund into Koi Trading; a U.S.-based OTC trading desk that specializes in non-retail crypto exchange.
Meanwhile, Coinbase quietly rolled out its own offering, with the head OTC trader at the firm telling CNBC, "We wanted to make sure we had all the boxes checked before we went public."
CNBC also noted that the "soft launch" began with a small network of clients, mostly asset management firms.
So, the beginning of the institutional wave is already here and it's happening very quietly. Once these players are on-board at bargain prices, expect to see a game-changing headline about regulation or something similar that lights the blue touch paper. This flurry of activity is not happening by accident.
Another Coinbase development was a blog post by the firm that said the firm "continues to explore" the addition of further coins and listed 31 coins and tokens that are on their radar. I mentioned in previous Bitrates articles that Coinbase would likely move forward quickly with new listings to keep pace with other exchanges. Big names on the list included Ripple's XRP and Stellar's XLM.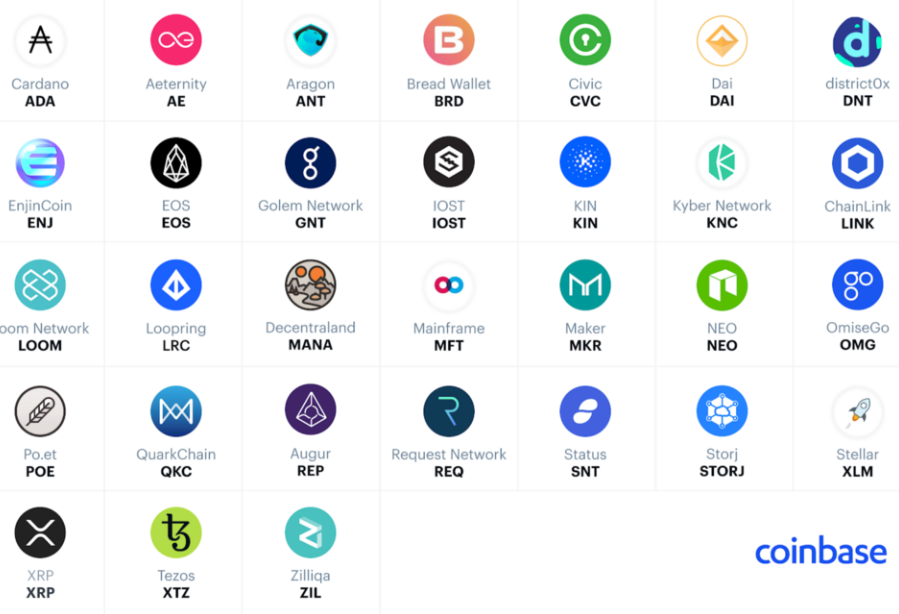 TRX
In last week's article, I noted that Tron had launched a $100 million fund aimed at gaming. The rally and "market floor" was shortlived and TRX has pulled back slightly.
Another piece of news on Tron this week saw founder Justin Sun stating that his foundation will build a fund to "rescue" ETH and EOS developers from the "the collapse" of their platforms. Sun's cheeky offer came with the pre-condition that developers migrate their dApps to the Tron network.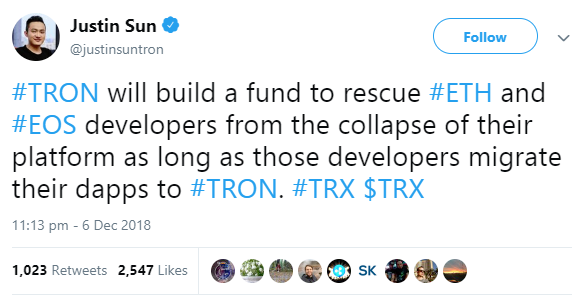 EOS New York responded to Sun, stating on their Twitter account:
We think we will be just fine given the billion dollars in VC funding for #EOS and #EOSIO projects that is locked and loaded around the world at Galaxy, SVK Crypto, Tomorrow, etc. Appreciate the offer, though. Best of luck, Justin.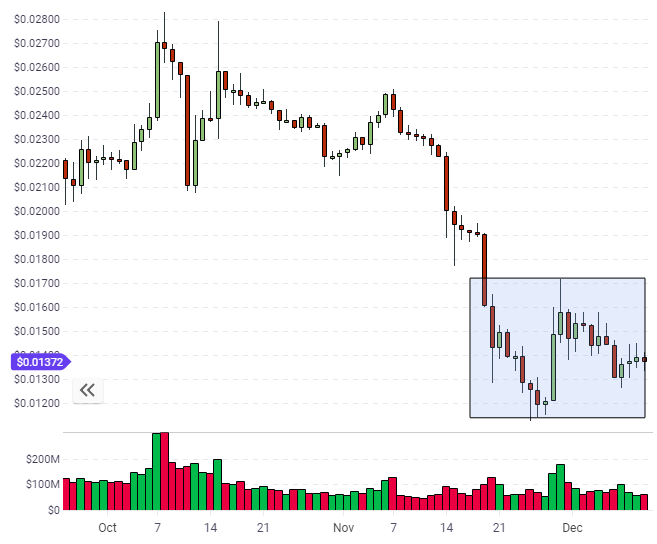 TRX has pulled back into its recent normal range and the price rectangle will decide its next path.
ETH
Meanwhile, Ethereum developers have reached an agreement for the proposed activation of Constantinople. The block 7,080,000 has been chosen as the activation point at which the developers can upgrade to the new code. According to estimates, the changes should go live January 14-18. Constantinople was originally scheduled for November and will bring design changes that are aimed at streamlining the ETH platform's code.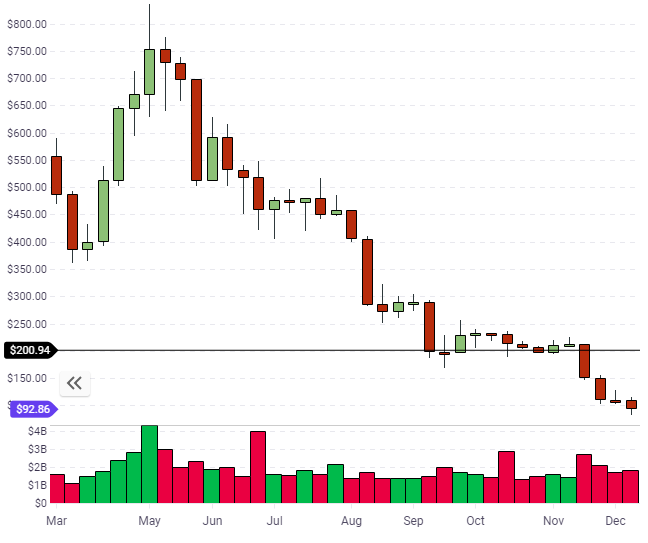 ETH's "platform" has certainly collapsed, as Justin Sun noted. The last month of price action has been heavily in the red after the $200 support level gave way. $100 is the obvious marker to begin rebuilding the damage.
EOS
The price of EOS has also faltered with the $5.00 level giving way and cascading down to $2.00. The price has seen a small bounce, which may be linked to the EOS New York rebuttal of Justin Sun's offer, which will have reminded some investors of the deep pockets backing EOS. Despite this boost, it will take some serious new trading volume and a sentiment change to repair EOS and ETH in the near-term.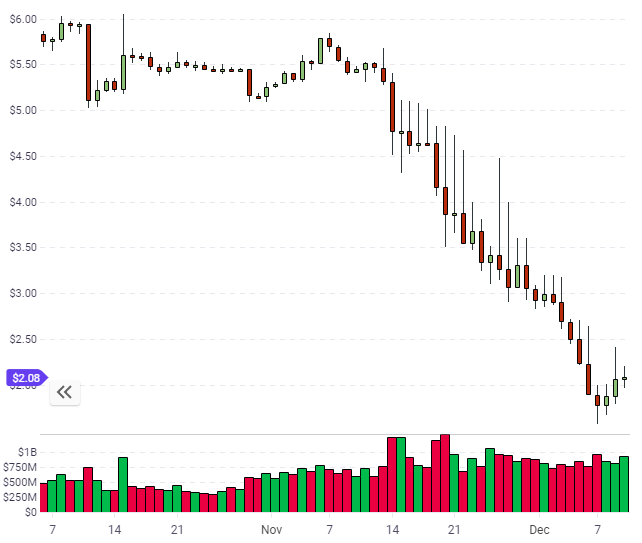 Hopes of a floor in the cryptocurrency market last week were dashed as BTC saw a new 2018 low and dragged the general market lower again. Despite the gloom, there is clear evidence that institutional players are moving in through the OTC market and service providers have been moving to provide custody and OTC services.
There is clear capitulation in the crypto market but those who are selling need to look at the current developments and realize that they are selling to asset managers and institutions. This relatively hidden development could signal brighter days ahead and investors should keep in mind the previous expectations of a full Q1 2019 rollout from Fidelity. Stock markets often see losses from "position squaring" in December before buyers emerge in January once more. This may also be a reason for the December selling in crypto markets.
Disclaimer: information contained herein is provided without considering your personal circumstances, therefore should not be construed as financial advice, investment recommendation or an offer of, or solicitation for, any transactions in cryptocurrencies.