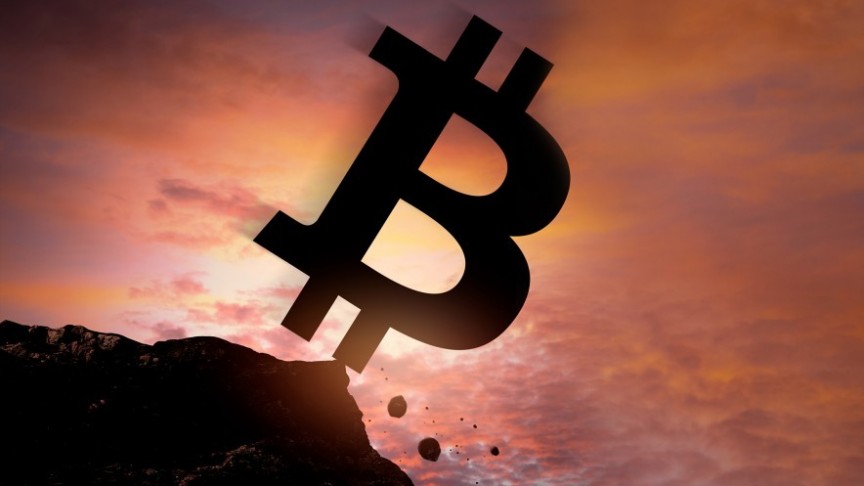 6% Losses Hit BTC while Institutional Money Chases Regulation, ETH, LTC, NEO : Aug 8
Aug 8, 2018, 11:12AM

by
Kevin George
Another Bitcoin ETF failure sees the cryptocurrency market hit with losses of 6% in Bitcoin and 10% across the rest of the market
BTC
In my last article, I noted that
Bitcoin is facing an important week ahead after failing to rally over the weekend and setting up a bearish formation on the weekly chart.
My worst fears came true with a hard sell-off across the cryptocurrency market on Tuesday with most altcoins posting a loss of 10% over the last day. Bitcoin is now trading 6% lower since Tuesday's open and the rally has been put on hold for now.
The fall in Bitcoin came after the US Securities and Exchange Commission (SEC) delayed another ETF decision this time with the Van Eck SolidX Bitcoin Trust, which, if approved, would be listed on the Chicago Board of Exchange (CBOE) and would be geared towards institutional investors with the index valued at 25 Bitcoin.
An interesting point to note is that the March decision by the SEC to refuse the first Winklevoss ETF, led to a 30% loss in Bitcoin. A 6% sell-off seems less substantial, in comparison, and might maybe be an indication that investors see the refusal as a short-term obstacle, to be surpassed sooner rather than later.
In other institutional market news, Wall Street titan, Goldman Sachs is rumored to be working on ideas to offer custodian services to cryptocurrency funds. Investors were buoyed by the recent appointment of a new CEO, David Salomon, who is reportedly more open to a digital currency future than most on Wall Street. This is another in a list of big names that have popped up in recent news and it would come as no surprise if an ETF eventually goes to a traditional finance name, who is likely to be lobbying the SEC behind the scenes.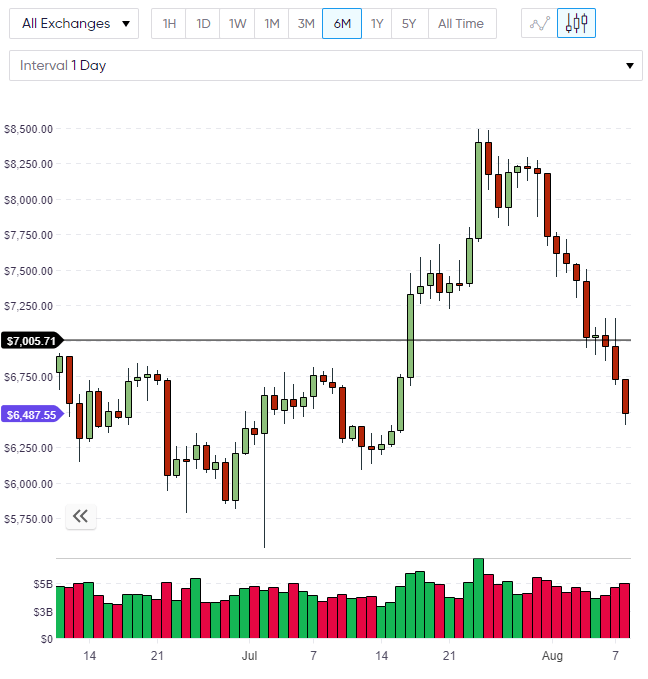 The path ahead for Bitcoin this week is a quest to find a low if investors overreact to the current drop. I was disappointed to lose the monthly support level at $7,000. The next area of support is around $6,000, with the June lows around $5,800 being critical to hold the upside path.
LTC
In my Monday article, I noted that LTC looked weak after failing to hold onto gains. This was happening in many coins and it looked like we were going to head lower, fostering further negative sentiment in Bitcoin. I mentioned the support level in LTC at $50.00 being a target for further losses and we have seen a drop of 10% since Monday with the market currently trading at $65.79.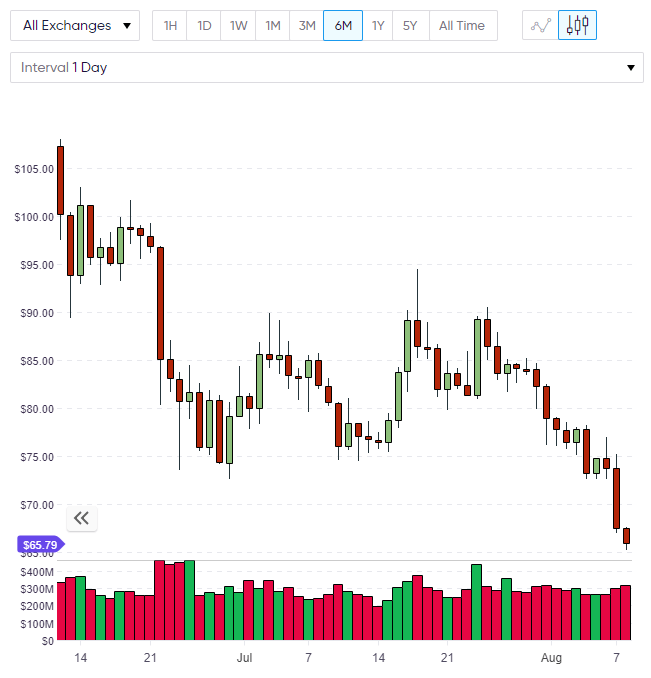 The daily price action in LTC has seen strong selling through the previous support levels and the likelihood of a bounce doesn't look imminent. Bear in mind that many investors only react when they read the negative headlines and it's possible that we could see further pressure on the week, with the $50.00 still possible within two weeks. I've noted many coins that were hovering at support levels in recent weeks and failing to hold onto any rallies despite Bitcoin's strength. I stated that this makes them vulnerable to another leg down in Bitcoin and we are seeing this playing out. The regulation picture is clearer in BTC, whilst the market can't seem to price the big picture in many other coins.
ETH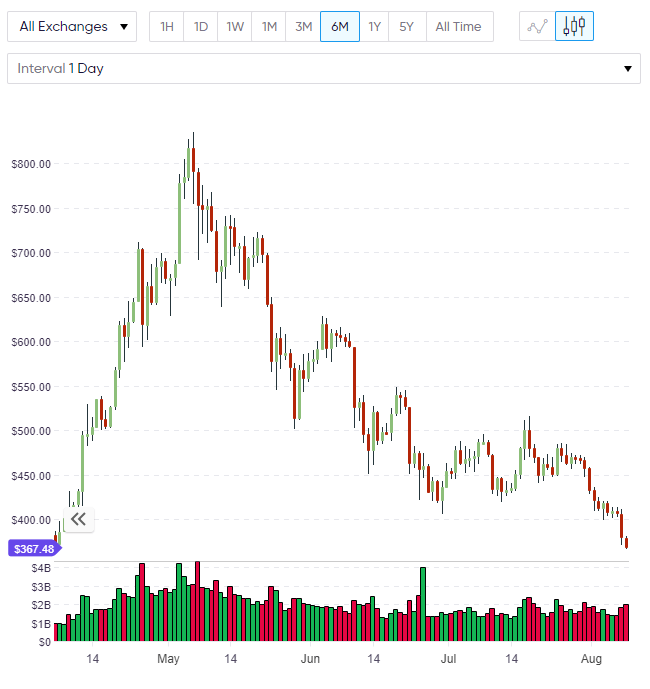 NEO
On a slightly more upbeat note, I will mention the price of NEO and relate it to the altcoin market in general. The price action in the cryptocurrency market has been predictable in the last weeks as Bitcoin out-performed the overall market hoping for an ETF or regulation. This was a sign of hope that institutional involvement was imminent. The move in altcoins was pulled up by Bitcoin but lacked the ability to hold gains and then we see them moving harder to the downside.
Before the recent rally in Bitcoin, we did see some interesting developments across the altcoin space with projects such as IOTA teaming up with Volkswagen and Stellar seeing a further tie-up with IBM. Despite these developments, there was a lack of follow-through in the coins because it's still early in the process and the overall market lacks the wave of big investors or retail money that can power these coins higher.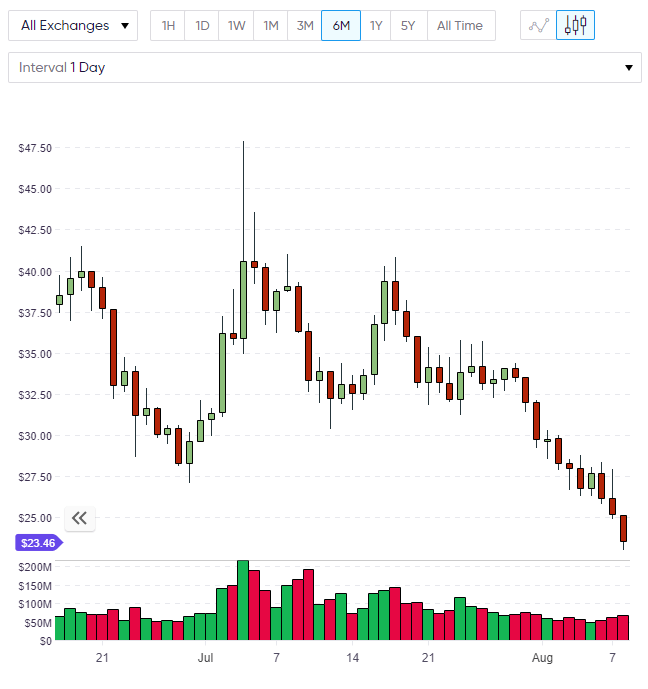 So, the price of NEO has been hit hard with a loss of around 13% and aiming for the $20.00 support level that was noted previously. Although this isn't ideal for current investors, it means that you should apply some fundamental analysis to these altcoins and work out which technologies might be winners in the future. The NEO 3.0 software upgrade is just around the corner and these lower levels could provide a better buying opportunity.
The market lacks volume because thin volume is spread among altcoins with an inability to support the down moves, whilst the institutional money or big investors are chasing the dream of Bitcoin regulation. Some patience is required for investors right now as we have been given a glimpse of a bull rally when the SEC finally gives the green light to an ETF. The resulting flow of institutional money could bring a lot more attention to the cryptocurrency space because the mood amongst non-investors is one of fear and confusion.
Until we strong moves and sustained rallies, we will not see retail money, who are always late to the party. If you believe in the long-term future of digital currencies and the blockchain then these levels are an opportunity.
Disclaimer: information contained herein is provided without considering your personal circumstances, therefore should not be construed as financial advice, investment recommendation or an offer of, or solicitation for, any transactions in cryptocurrencies.