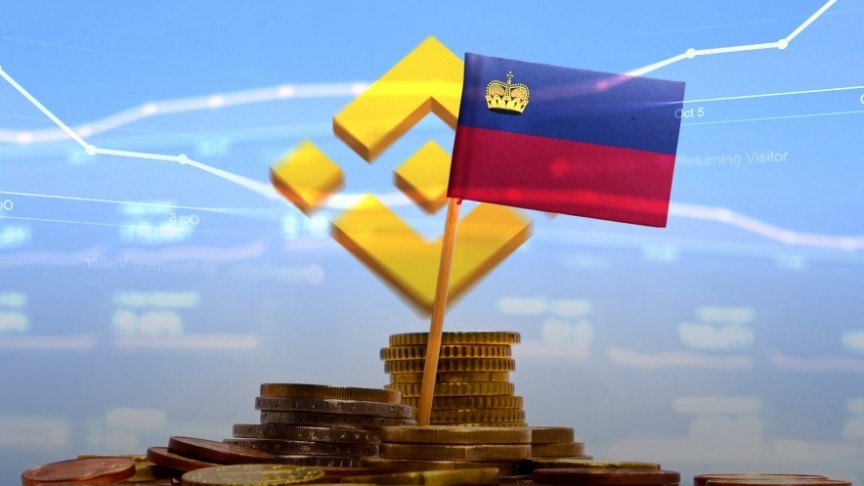 Binance and Liechtenstein Cryptoassets Exchange (LCX) Partner to Create Binance LCX
Aug 17, 2018, 4:58PM
Binance announced a partnership with LCX for the creation of Binance LCX exchange, to enable the purchase of cryptocurrencies for fiat currencies
Binance and the Liechtenstein Cryptoassets Exchange (LCX) revealed a collaboration to create a fiat-to-crypto exchange, dubbed Binance LCX, in a joint announcement on August 16.
Binance LCX will immediately start hiring staff for its Vaduz offices. While Binance will contribute its technological expertise and manage the trading platform's maintenance, LCX will be responsible for the customer support, legal requirements, due diligence, KYC, AML, and government communication. The crypto exchange is expected to initially offer support for three of the most popular cryptocurrencies - Bitcoin, Ethereum, and Ripple – while more options will be added in time, contingent on regulatory approval. Users will able to trade cryptocurrencies for Swiss Francs (CHF) and Euros (EUR).
Changpeng Zhao, CEO & Founder of Binance cryptocurrency exchange said,
I believe Binance LCX will create a sustainable and reliable fiat-crypto gateway for professional and regular investors alike. I hope Binance LCX will drive new standards for usability and compliance for the blockchain industry, and we are very excited to bring the relevant experience and best practices to grow our team at Liechtenstein.
Adrian Hasler, Prime Minister of Liechtenstein, maintains a friendly stance towards cryptocurrencies and hopes the country of Liechtenstein can become a big player in the cryptosphere by following the example of the Swiss city of Zug, commonly known as "Crypto Valley." His government has introduced a regulatory framework to embrace blockchain-based applications, titled Blockchain Act Liechtenstein.
In his presence during the Binance LCX office unveiling, Hasler said,
We welcome Binance LCX to Liechtenstein. Blockchain technologies are laying the basis for an entirely new industry. We are confident that Liechtenstein's existing and future legal framework and practice provide a robust foundation for the Binance LCX and other Blockchain companies to provide exceptional services here in Liechtenstein.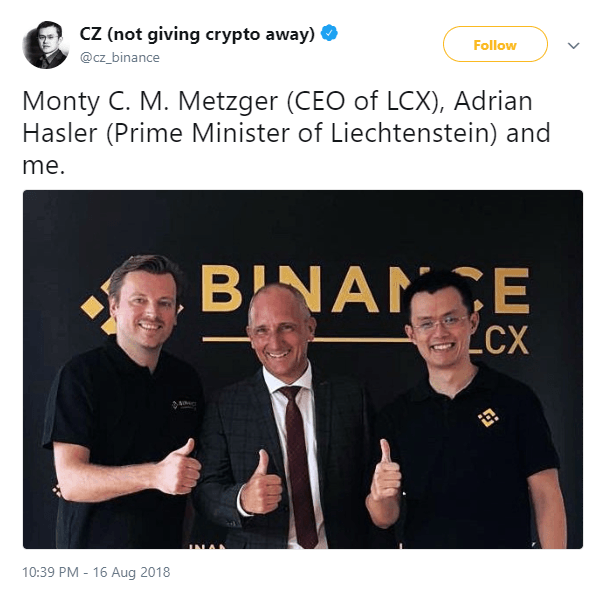 Zhao had initially denied rumors about Binance's alleged intentions to introduce fiat money trading pairs, only a few months ago. However, after migrating its company headquarters to Malta, it seems Binance is ready to work toward attracting more investors by implementing this new feature. Liechtenstein is a part of the European Economic Zone and companies based there are subject to a 12.5% corporate tax. More and more cryptocurrency-related companies have been turning to European tax havens, as they find fertile ground to grow their businesses. Earlier this month, Roger Ver announced a strategic partnership with the government of Cyprus, for the country-wide merchant adoption of Bitcoin Cash.
Disclaimer: information contained herein is provided without considering your personal circumstances, therefore should not be construed as financial advice, investment recommendation or an offer of, or solicitation for, any transactions in cryptocurrencies.