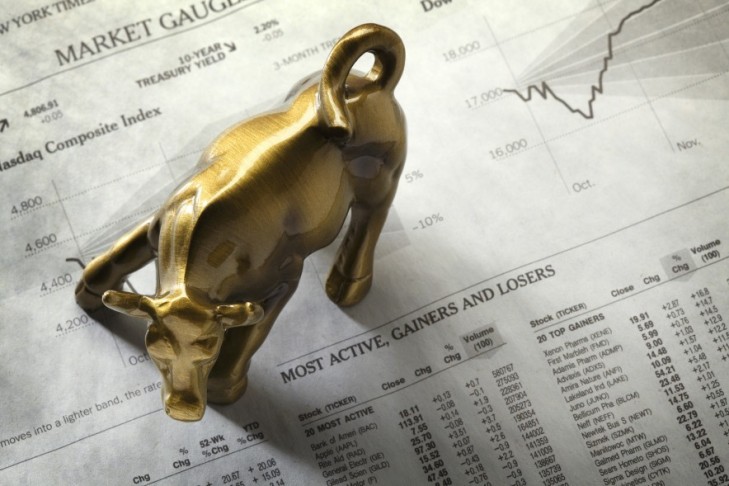 Bitcoin Blasts Through the $6,000 Level with a 24% Weekly Gain, ETH, IOST May 13
May 13, 2019, 5:35PM

by
Kevin George
Bitcoin shrugs off $6,000 resistance and charges higher. ETH 2.0 is coming and IOST releases a new stablecoin for their mainnet.
BTC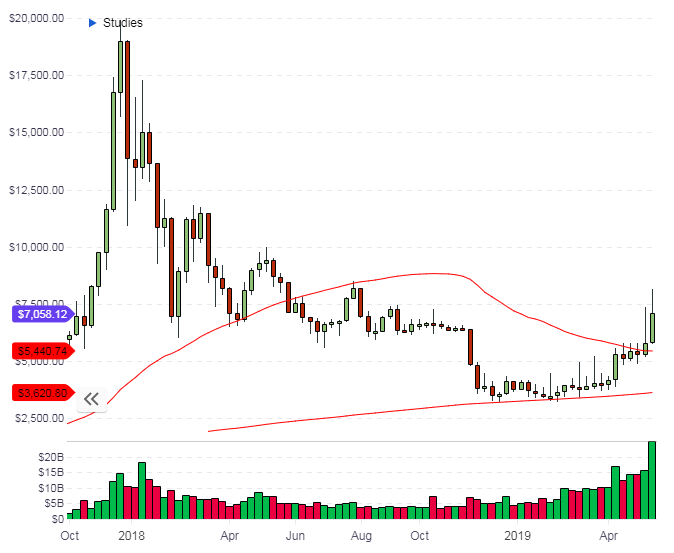 Bitcoin has blasted through the $6,000 resistance level and powered higher to trade above $7,000 after its first $1,000 weekend since 2017. I noted in last week's article that,
Continued support for Bitcoin could attract new investors, especially if the price can stay above the resistance and take out any physical and psychological stops, which could fuel a push higher.
Bitcoin's rally has brought increasing volumes and the 24% week is another outperformance for the top cryptocurrency versus other market assets. The U.S. stock markets and commodities were lower last week as fears of a trade war between the U.S. and China continued. It is likely that BTC is seeing some safe haven investment flows and that explains its strong performance compared to other coins.
The price of BTC touched $8,000 last week and we are now seeing increased media attention in mainstream financial news, which could see renewed interest. The obvious target for BTC would be $10,000 and that would be a significant number to trade at after testing prices under $4,000 in December.
BTC's performance is more impressive when considering that the Binance exchange is not currently accepting deposits due to a hack. The company advised that a "large scale security breach" happened on May 7, where hackers were able to withdraw 7000 BTC in this one transaction. The transaction only impacted a hot wallet with 2% of Binance's BTC holdings.
Binance has halted all deposits and withdrawals for days now but an update from the company has stated that deposits will resume on Tuesday:
We aim to fully resume deposits and withdrawals on Tuesday. The time will be communicated at a later stage, depending on how the testing goes. This upgrade will require a trading halt. We will update you again tomorrow.
ETH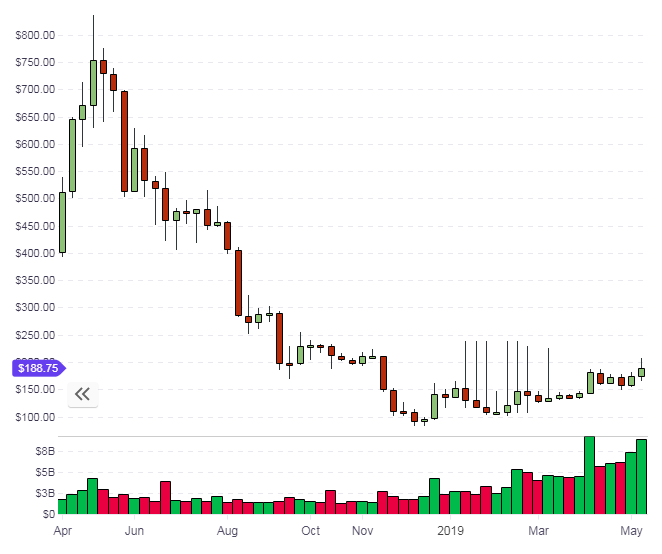 I expected further strength in BTC to pull Ethereum up for a test of the $200 level and that was hit at the weekend. The next sessions will indicate how strong ETH is and to see if it can sustain a move above $200.
Ethereum's co-founder Joseph Lubin told Cointelegraph that the Ethereum blockchain will become around 1,000 times more scalable in 18 to 24 months. Lubin was commenting on coming upgrades and said that the scalability increase will be created by Ethereum 2.0, also called Serenity. His timeframe for the upgrade was the next few months:
In a small number of months, we should have a fully operational testnet and possibly, by the end of this year we'll have a fully operational phase 0 Ethereum 2.0.
IOST
IOST continues to recover from a recent pullback, which consolidated some gains from the last few months.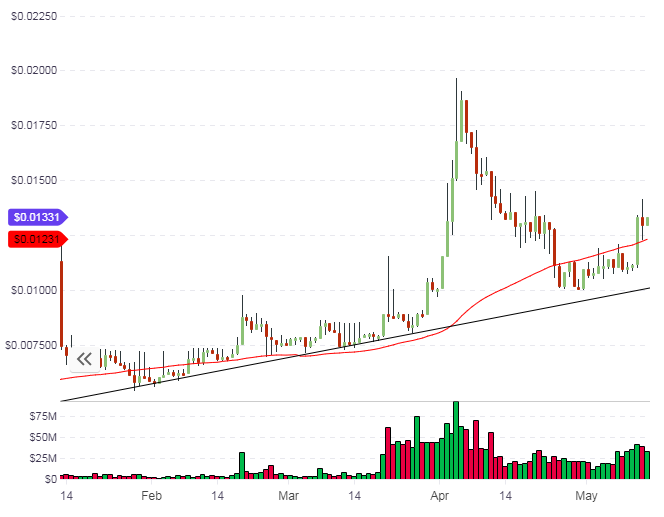 The IOST website describes the project as an "ultra-fast, decentralized blockchain network based on the next-generation consensus algorithm "Proof of Believability" (PoB)." The project has some high-profile backers, including Huobi and Sequoia Capital, the Silicon Valley venture company that has made early investments in tech heavyweights such as Apple, Google, Paypal, and Whatsapp.
The move higher last week sees IOST trading at $0.13 and is holding the 46th position in the list of coins by market cap with a value of $159 million and they recently launched their own mainnet, which saw them become one of the big 4 public chains behind Ethereum, EOS, and Tron. Today also sees the beta version launch of iUSD, which is An ERC-20 stablecoin solution that brings a new option for users of the network to transfer value.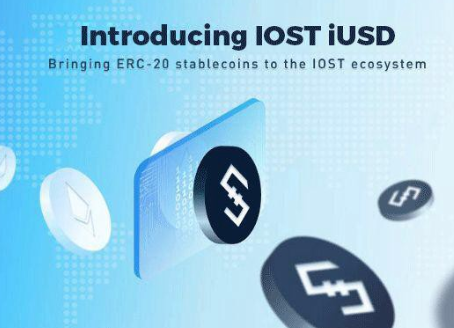 IOST is currently running an airdrop this week with DappRadar to celebrate the release of the mainnet.
GE
Another example of corporations turning to blockchain is the news that GE Aviation has built a supply chain track-and-trace blockchain with Microsoft Azure. The company supplies jet engines to around 60 percent of the global airline industry. GE plans to share the new ledger with other companies in the industry, which will allow more efficient tracking of parts and usage data, which is hugely important for safety within the airline industry and comes at a time when Boeing has come under scrutiny for failures with its 737 model.
David Havera, blockchain CTO of the GE Aviation Digital Group was interviewed by CoinDesk about the program and said,
Our vision is being able to trace parts as they are manufactured and the engine when it's shipped. Then how that engine performs in the field, when to repair it and then re-enter it into the field. We are ready to sell this service. We are actively engaging with customers now and more airlines are asking about it every day.
Products like this help to bring new players into the blockchain and to see its value. We could also see further blockchain projects from GE in its other divisions, such as healthcare or power.
The cryptocurrency market has now recovered from the 2018 downturn through an increase in institutional investment and we are seeing a constant stream of companies getting involved in blockchain projects as innovative chains like IOST push the technology forward and heavyweights like Ethereum are sizing up real solutions to the previous obstacle of scalability. The only thing really missing now is global adoption in large numbers. The rise in Bitcoin in recent months will help to attract new investors and if we see economic fallout from something like a trade war, it could push prices higher and bring a new wave of cryptocurrency investors from the retail space.
Disclaimer: information contained herein is provided without considering your personal circumstances, therefore should not be construed as financial advice, investment recommendation or an offer of, or solicitation for, any transactions in cryptocurrencies.