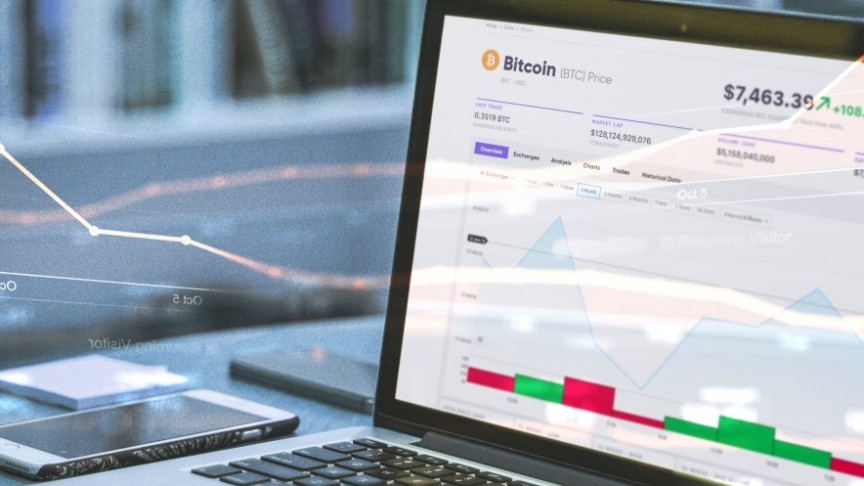 Bitcoin, XRP, OMG, NEO, & XLM Market Update for 20th July
Jul 20, 2018, 12:28PM

by
Kevin George
Bitcoin is on course for its strongest week since April as the bellweather cryptocurrency holds onto its weekly strength.
Bitcoin: BTC
Bitcoin is on course for its strongest week since April as the bellweather cryptocurrency holds onto its weekly strength. Bitcoin has seen gains of around 17%, which has also provided similar bullish moves across the general cryptocurrency market and we finally look set for the bullish weekly signal that will lead to further gains.
Yesterday's Senate hearing on cryptocurrencies brought some controversial remarks with Rep. Brad Sherman calling for a U.S. ban on cryptocurrency buying and mining, whilst Rep. Rick Allen was less extreme but still setting a negative tone stating,
We're creating another money supply here as I see it. I just don't know how that works. Our dollar sets the mark for the world. I can't visualize how this would work.
The fears over-regulation will continue to cast a cloud over the cryptocurrency market as the traditional finance system is threatened by the potential capital flows from stocks or bonds into cryptocurrencies.
A more positive tone was set by Digital Currency Group founder, Barry Silbert, who felt the bottom was now in for Bitcoin. Speaking on CNBC, Silbert said,
I think the bears just kind of ran out of energy," he said, noting that "a lot of institutional money" was looking for an opportunity to get in.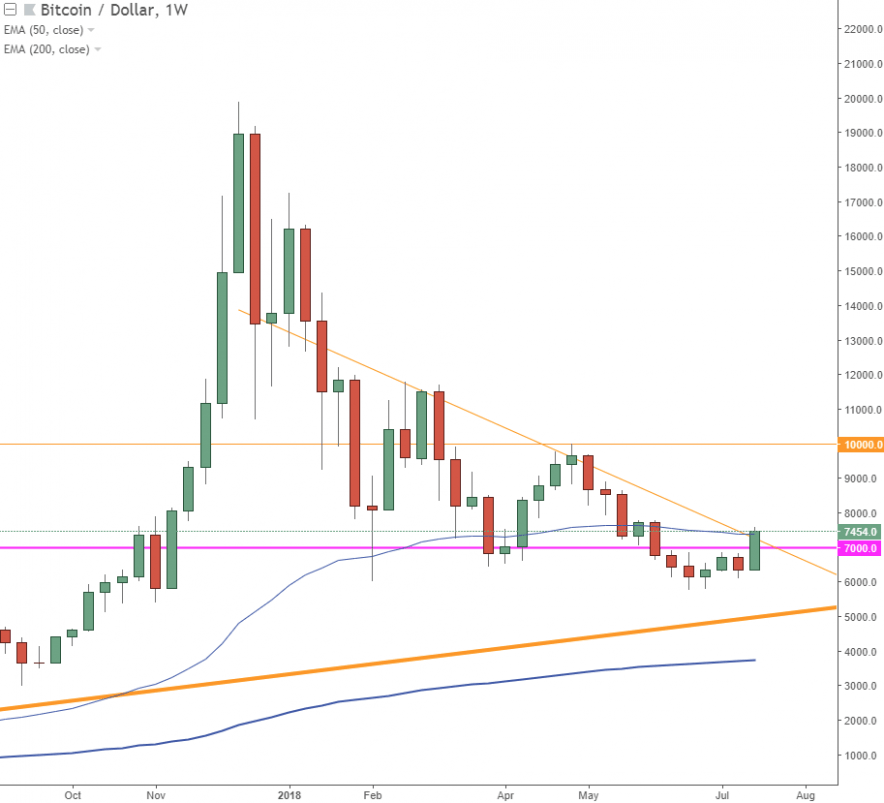 The weekly chart on Bitcoin has yet to close, however, we are testing the 50 moving average on the week and I have mentioned in recent weeks that the weekends have seen some bullish activity compared to the selling volume of weekdays. This week could, therefore, provide an interesting close for Bitcoin. Our next resistance of note would be $8,000 and a bullish close this week could even test that. Any bullish close for the week should see further gains of one week minimum. Note that the past two weekly chart rallies in February and April were of four-to-five weeks.
Ripple: XRP
Sadly for Ripple fans, the XRP currency is not looking as strong as Bitcoin. In my article last Sunday I wrote,
It is still possible that XRP can advance, but we need to see a good week that clears the resistance level around $0.48 to give us a signal for more buying.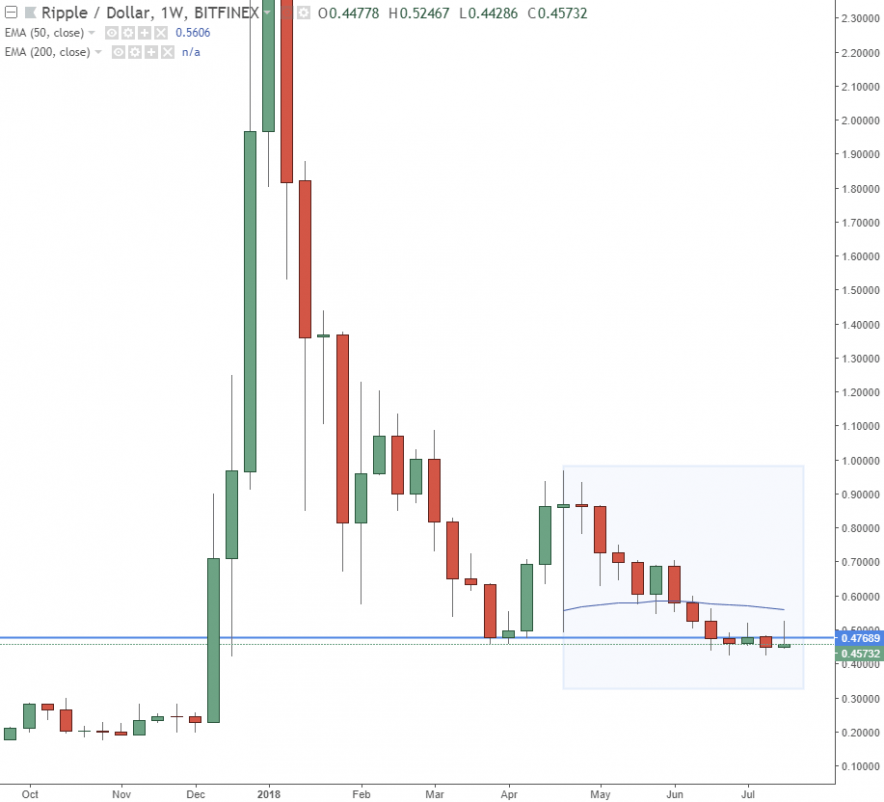 The price of XRP did get an advance this week with the rest of the cryptocurrency market, however, the gains have not been held and at present, this setup would signify another push lower. It is worrying that XRP is struggling at April's support level which has now become resistance. A close around here would likely see XRP look below the previous lows of June and there's little support underneath until $0.20. Some analysts have warned of a dip if XRP is classed as a security by the SEC and it's likely that this is weighing on the price.
OmiseGo: OMG
OmiseGo has a similar chart to XRP on the weekly with the currency unable to hold onto the week's gains thus far.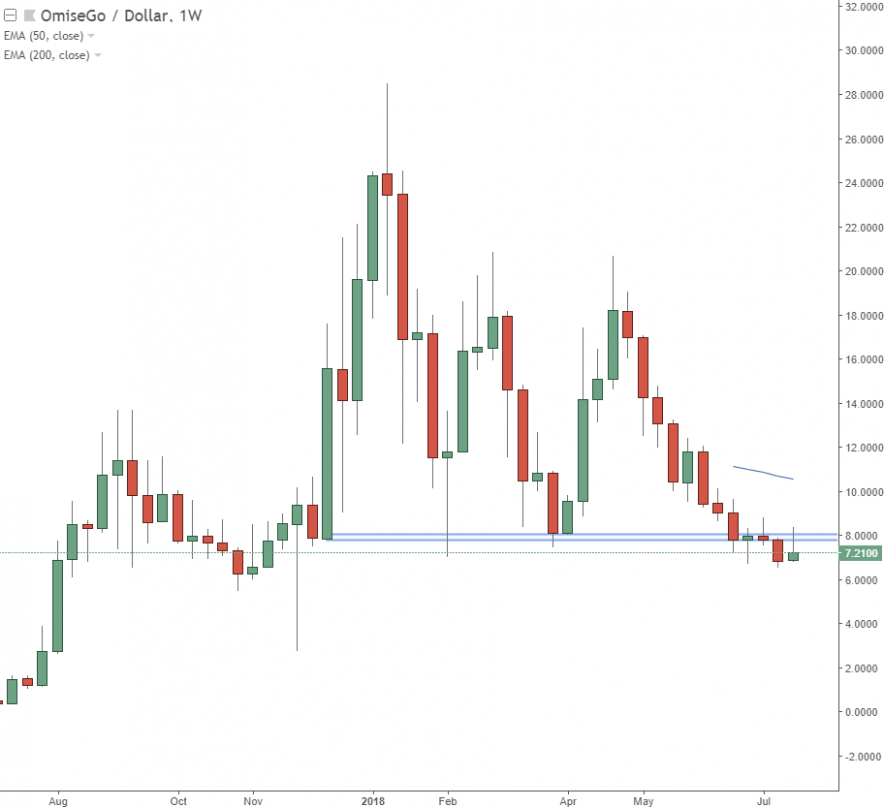 As with the price action in XRP, OMG is stalling at a key technical level, where previous support has now become stubborn resistance. If we close around these levels then OMG will likely probe lower and test the next support around $5-6.
Despite the weakness in price, many in the industry are optimistic about the recent tie-up between Omisego and Status Network. Positive developments could bring support to OMG, however, there is no buy signal being offered yet.
NEO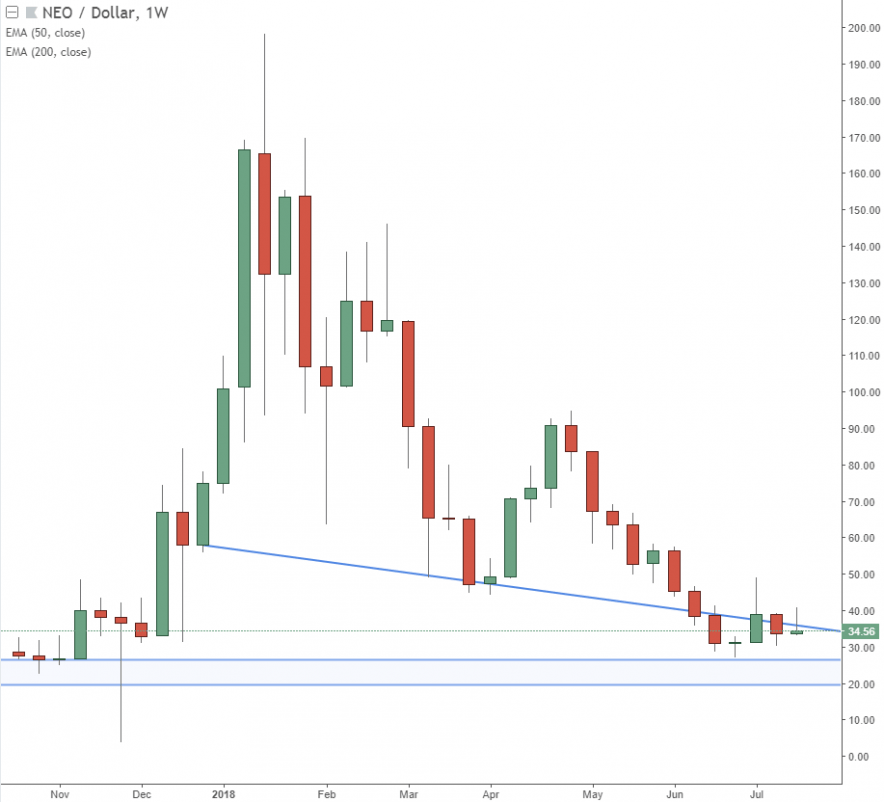 Another coin that may drift lower is NEO. Despite overall strength in the general market, NEO has been unable to hold onto strength like Bitcoin has. The $40 level is key for NEO and we also see a trendline through previous support levels that is now adding another point of resistance. The rectangle above shows the potential support levels if we get under the June lows.
It should be noted that these weekly charts have not closed yet and if these coins can see some weekend strength then their outlook can easily turn to bullish. A close near the $40 level would lead to further gains in NEO.
Stelllar Lumens: XLM
I was excited by the price action in Stellar Lumens in my Wednesday article. Strength in the overall market, combined with the news that IBM was launching a stablecoin on the Stellar network, saw Lumens up 20% on the day.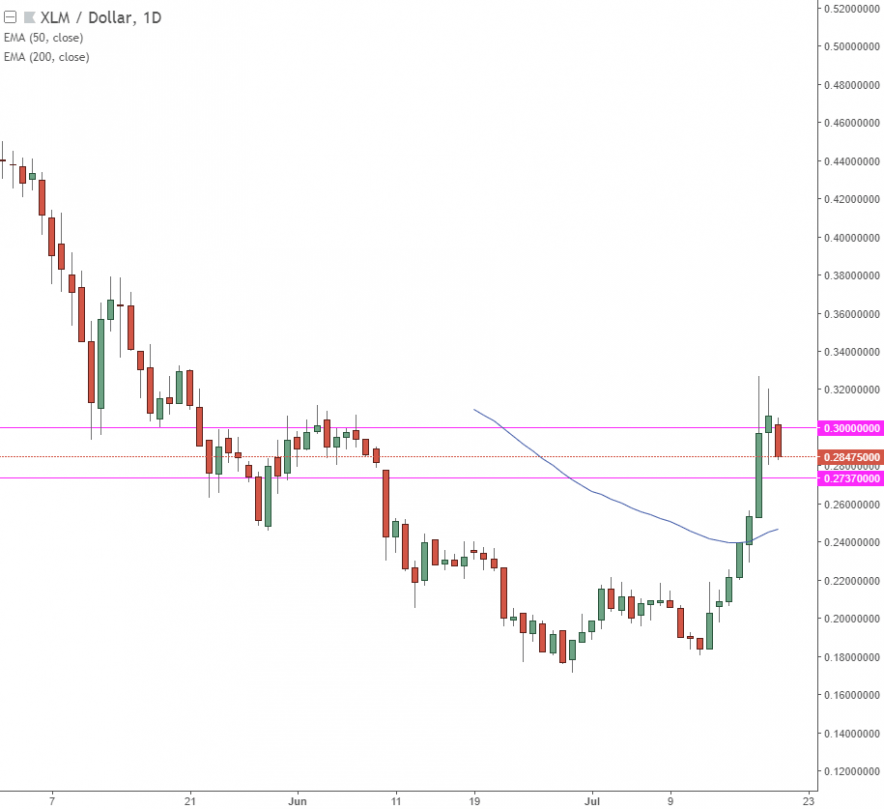 The price is pulling back slightly on XLM, which is a slight worry, however, as mentioned previously we may see support arrive over the weekend. I was hoping for Stellar Lumens to close above the $0.30 level for the week, which would be a really bullish opening but a close within the two levels marked would be an indicator of further gains.
Above the $0.30 level, there is really no previous levels of resistance so a strong close this week could see Lumens move a lot higher. I will provide an update on the key weekly closes in my next article.
Disclaimer: information contained herein is provided without considering your personal circumstances, therefore should not be construed as financial advice, investment recommendation or an offer of, or solicitation for, any transactions in cryptocurrencies.