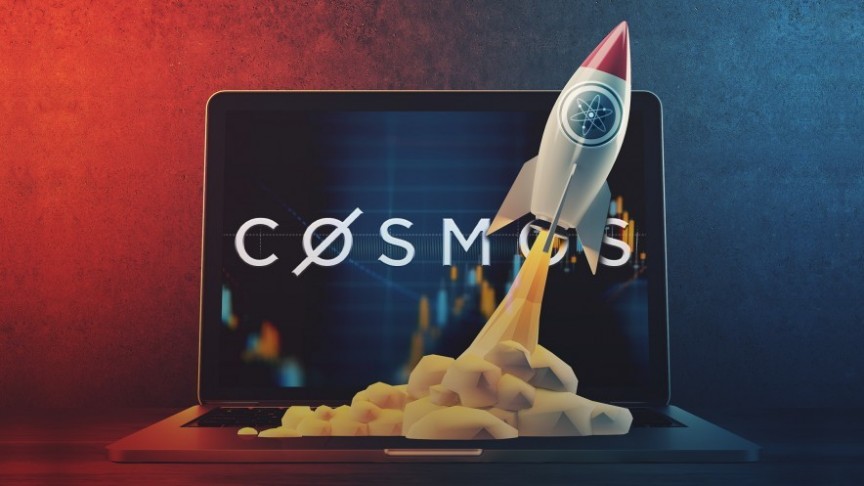 Cosmos Gains Ground: What Has Tendermint's New Blockchain Accomplished So Far?
May 10, 2019, 12:06PM

by
Mike Dalton
Cosmos is a new blockchain with a focus on interoperability and staking. What has it accomplished so far, and where has it gained adoption?
Cosmos is a brand-new blockchain from Tendermint Inc., and although the project is incredibly complex and ambitious, its main goals are simple.
Firstly, Cosmos plans to provide interoperability: this means that it can connect different blockchains and understand their activity. Cosmos will ultimately allow individual blockchains with different purposes to be built around its core system.
Secondly, Cosmos will facilitate staking by allowing coin holders to act as "validators." These validators will be able to earn revenue, gain voting rights, and even construct a cross-chain reputation. Not surprisingly, interoperability and staking can be found in many competing blockchains―but Cosmos' real potential lies in the amount of adoption that it has seen within months of its mainnet launch.
Cosmos' Mainnet Launch
In March, Cosmos launched its mainnet after three years of development―and, in fact, development is still far from over. Zaki Manian, who serves as the director of Tendermint Inc., has explained to Coindesk that the Cosmos mainnet launch introduced staking with real value and brought validators online. However, he suggests that Cosmos' interoperability features will take years to fully realize.
The wait hasn't stopped projects and companies from adopting Cosmos, though. Tendermint has been producing Cosmos-related tools for some time now: its earlier products include the Tendermint Core consensus engine and the Cosmos SDK development kit. These tools, combined with the mainnet itself, have managed to attract several big names to Cosmos' many offerings.
Coinbase Adds Cosmos Staking
Coinbase Custody is one notable service that plans to support Cosmos through its upcoming staking services. This will allow institutional investors to act as Cosmos validators when they stake their Cosmos ATOM tokens. In return, validators will earn returns on their staked cryptocurrency. They will also gain voting rights, and they will have their tokens "slashed" if they abuse the system.
Additionally, Cosmos validators themselves will provide staking services to non-institutional investors. According to Manian, several of Cosmos' initial validators will allow general users to delegate their ATOM tokens in order to earn a profit. This means that Coinbase will deliver Cosmos staking to large investors, but Cosmos itself will make staking viable for just about everyone.
Binance Builds On Cosmos SDK
Meanwhile, Binance recently decided to build its Binance Chain platform with Cosmos. It used the Cosmos SDK, which is designed to allow developers to create blockchains with native interoperability from scratch. Binance used a fork of the SDK, and Binance Chain is separate from the Cosmos mainnet. That said, Cosmos has suggested that the two platforms will become more closely connected in the future.
In any case, Cosmos' features suit Binance Chain well. As its online documentation explains, the Cosmos SDK and its "bank" module are being used to handle "basic token transactions," while Tendermint Core is being used as Binance Chain's consensus mechanism. As a result, Binance Chain is capable of hosting its own blockchain tokens as well as moving non-native tokens through its decentralized exchange.
Exchanges List the ATOM Token
For any new cryptocurrency, it is vitally important to earn listings on crypto exchanges. Cosmos' ATOM token is central to its staking system, but until recently, investors could only obtain ATOM from a few select exchanges. However, at the end of April, several exchanges announced their intent to begin trading ATOM. Kraken started the trend when it announced ATOM trading on April 21st.
Over the next several days, Huobi Global, Bitfinex, Ethfinex, and Binance all announced their own plans to list ATOM. This has coincided with a trading surge: since April 20th, ATOM trading volumes have increased approximately forty-fold, rising from $4 million per day to $160 million per day. Market aggregators have also started to rank ATOM: it is now a top-15 coin with a market cap of about $1 billion.
Conclusion
Cosmos has plenty of potential. The project is incredibly ambitious, and it is just getting started. Since new blockchain platforms are constantly coming into existence, interoperability is a valuable pursuit. In fact, Cosmos will face competition from other prominent interoperability projects like Polkadot and Interledger―although that competition will probably be friendly.
Cosmos is also very promising when it comes to staking: at the moment, it is competing very closely with similar proof-of-stake blockchains like Tezos. Last but not least, Cosmos' many exchange listings will ensure that ATOM trading becomes popular among investors. These accomplishments will collectively enable Cosmos to make a name for itself in the growing blockchain landscape.
Disclaimer: information contained herein is provided without considering your personal circumstances, therefore should not be construed as financial advice, investment recommendation or an offer of, or solicitation for, any transactions in cryptocurrencies.