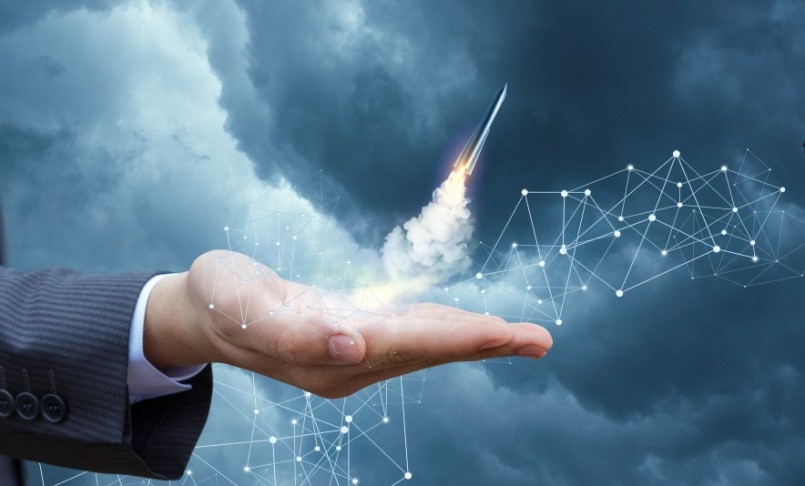 Crypto Rally Continues as Payments Market Heats Up, XRP, BNB, XEM, May 20
May 20, 2019, 3:30PM

by
Kevin George
XRP joins the party with a double digit rally. NEM beats the market on fundamentals and BNB rallies on the return of Binance deposits.
It was another strong week for cryptocurrencies as Bitcoin's recent strength filtered through to the market, with the top 25 coins all showing gains for the week. The return of deposits at the Binance exchange will have been a boost for altcoins and BTC saw its largest volume week for the year, with 24hr volumes reaching $33 billion near the weekend. This figure also doesn't account for over-the-counter (OTC) trading, which has been growing with a rise in institutional trading solutions.
XRP
The latest market strength has spurred some buying in XRP, with the third-largest coin by market cap now trading at $0.39. XRP fans will be hoping that this is the start of a rally that can reinvigorate the coin, which had overtaken Ethereum in the second half of 2018 to claim second spot.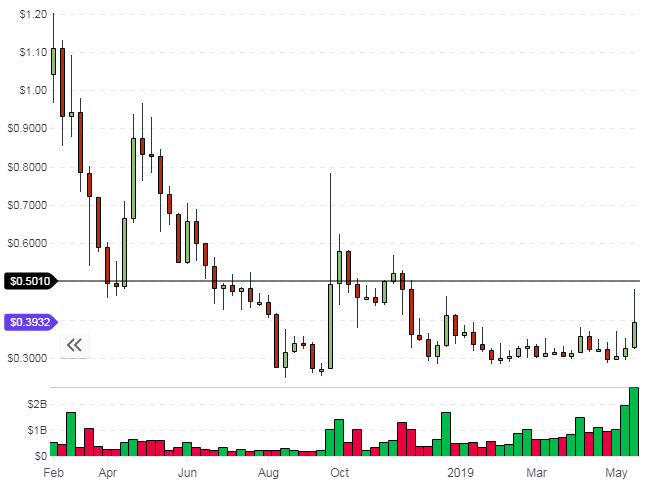 XRP still trails the market cap of ETH by £10 billion with average trading volume at a quarter of Ethereum's $11 billion. Ripple announced earlier in the year that they had passed a milestone of 200 customers signing up to RippleNet.
Ripple's CEO Brad Garlinghouse commented on their growth:
In 2018, nearly 100 financial institutions joined RippleNet, and we're now signing two—sometimes three—new customers per week. We also saw a 350 percent increase last year in customers sending live payments, and we're beginning to see more customers flip the switch and leverage XRP for on-demand liquidity.
One of Ripple's more recent successes was the addition of Ria Money Transfer to RippleNet. Ria is the second-largest transfer network in the world with customers in 150 countries and over $40 billion in transfer volume per year.
BNB
Binance Coin was up 26% on the week as the exchange re-opened its deposit and withdrawal services following a recent hack that saw 7,000 Bitcoin stolen. Binance shut down their key services as they worked on system upgrades to prevent a future repeat.
Binance released a report on the events surrounding the hack and the lessons learned. CEO Changpeng Zhao noted that the event may actually be a "blessing in disguise" for the firm, as he said that,
Given this incident, Binance has actually become far more secure than before, not just in the affected areas, but as a whole.
Binance has been praised by a lot of people in the crypto community for their communication with users during the downtime.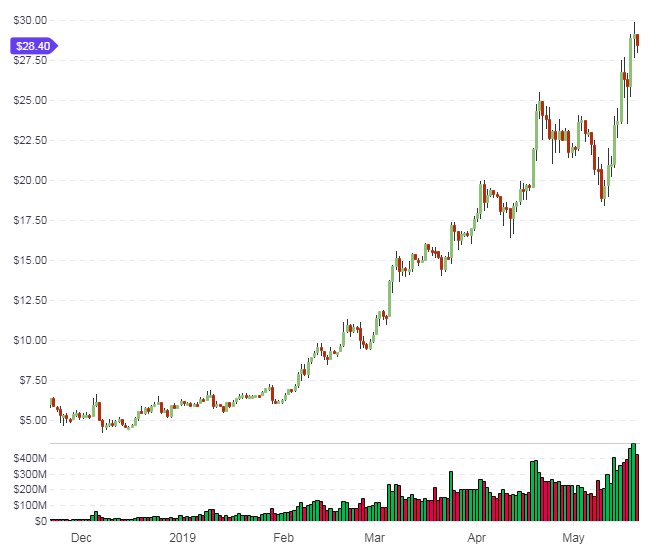 BNB currently trades at $28.40 and has seen steady gains from the lows around $5.00 in December. I noted in a February article that if BNB could take the $10 level then further gains were possible and mentioned the all-time high near $24. Similarly now, if BNB can find support at the $24 level then the uptrend will continue.
Binance is the largest exchange by volume according to data from Bitwise.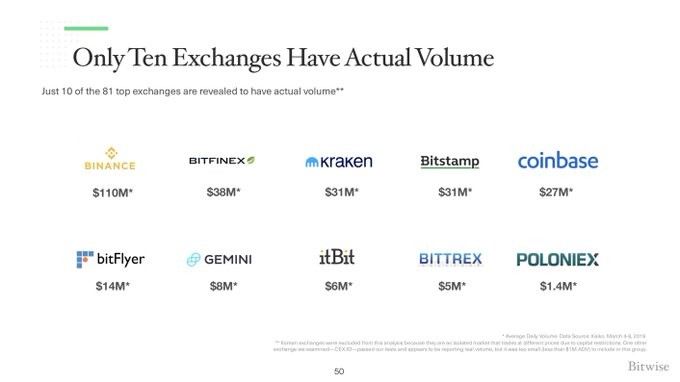 NEM
The best performer in the major cryptocurrencies last week was NEM with a weekly gain of $56%.
The additional gains were powered by some fundamental news with the new Catapult upgrade, which will improve performance and the user experience.
Another bullish headline saw London-based Fintech Zeux, announcing that the NEM token will be added to the company's digital payments platform. This will allow users to spend XEM with merchants that accept Apple and Samsung Pay.
Frank Zhou, Founder and CEO of Zeux said of the partnership:
This collaboration is another milestone in bringing the use of cryptocurrency and blockchain to everyday life.
XEM saw strong volume on the week and the price clipped $0.12 before settling at $0.089.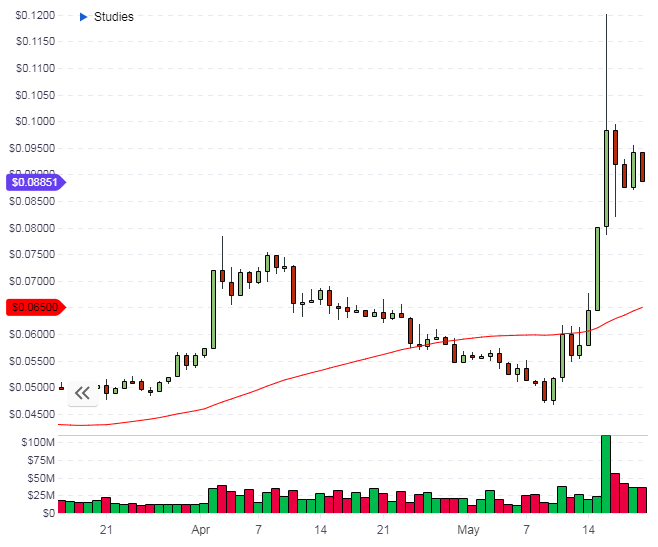 NEM is another coin that was beaten down last year after falling from highs of $1.20 to around 4 cents per token with the project running into financial problems through rapid expansion after the late-2017 rally.
The coin is currently holding 19th place in the list of coins with a market cap of $800 million. The addition to the Zeux app could be a game-changer for NEM as the token could become a household name through the Apple and Samsung pay options.
FLEXA
In another move towards greater adoption, the Verge reported that some big-name retailers will soon be able to accept cryptocurrency payments through the Flexa network.
Whole Foods, Barnes & Noble, and Bed Bath & Beyond are among the companies that will start taking payments in Bitcoin, Bitcoin Cash, Ethereum, and Gemini Dollars.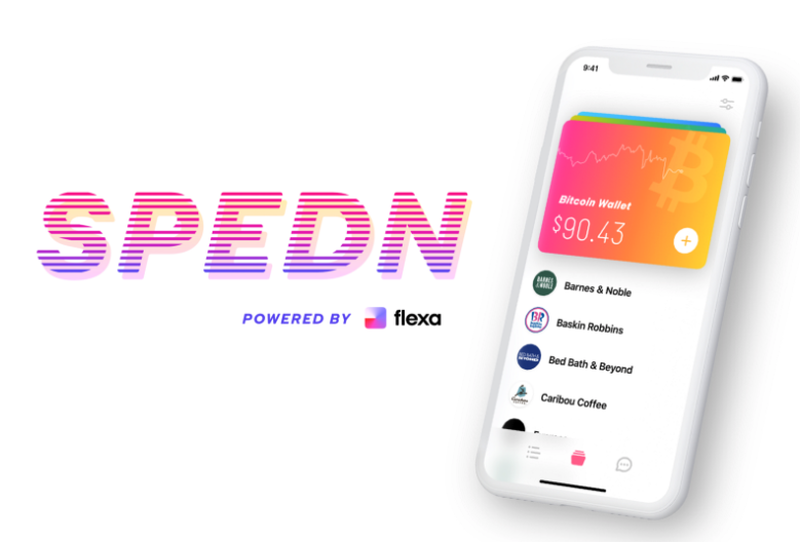 The goal for Flexa is to accept all cryptocurrencies, which are supported by its Spedn app. Users pay for goods with a QR code, the merchant is paid in dollars, and the corresponding amount of cryptocurrency is deducted. Flexa uses its own FlexaCoin to secure transactions before it is settled by the coin's network.
We are now seeing adoption amongst large corporations and networks on a weekly basis and this should lead to continued growth in usage and trading volumes.
Disclaimer: information contained herein is provided without considering your personal circumstances, therefore should not be construed as financial advice, investment recommendation or an offer of, or solicitation for, any transactions in cryptocurrencies.