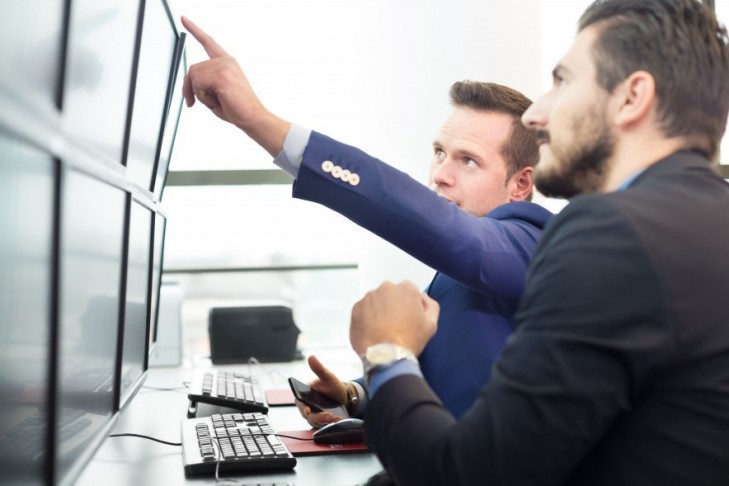 ETH Clears $400 With Derivatives Build, LEND, TRX, BTT, LINK, Aug. 17
Aug 17, 2020, 6:20PM

by
Kevin George
Ethereum saw another bullish week to clear the $400 level as open interest builds. TRX and LINK gain 40%. LEND targets mortgages in V2 upgrade.
ETH
Ethereum was up 12% for the week and managed to push through the $400 level. Data from Skew shows that the gains in ETH are happening alongside a big build in futures open interest, suggesting that traders are still bullish on the world's number two cryptocurrency.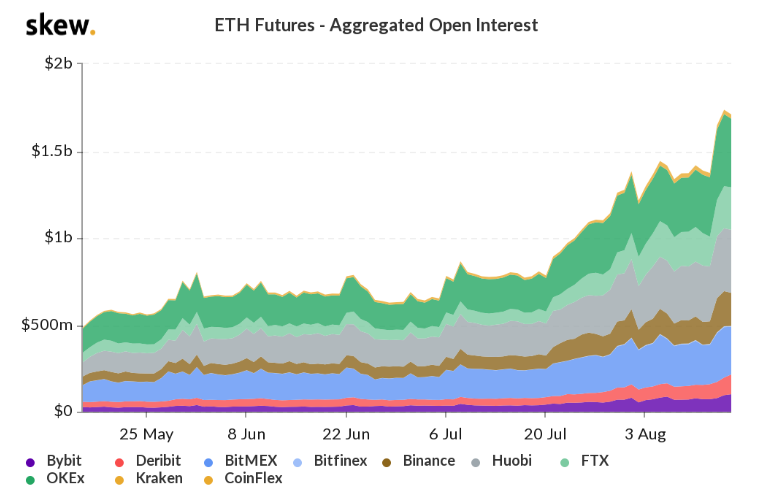 ETH is benefiting from the growth in the Decentralized Finance (DeFi) market as the majority of projects in the space are tokenized via the ETH blockchain. Open interest on Ether futures has grown by 250% over the past three months to reach $1.7 billion.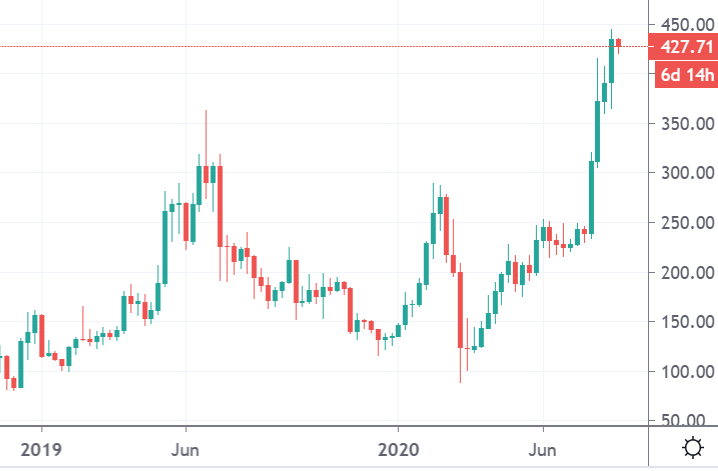 There is some resistance ahead of $500 but it's possible that ETH could get as high as $620 or $800. The push to those levels may be driven by a weaker dollar, which was a big catalyst for the latest gains in BTC.
Ethereum is also preparing for a major upgrade to ETH 2.0, which will see the blockchain transition from a proof of work (PoW) based consensus model to a proof of stake (PoS) blockchain consensus algorithm. This is being done to improve scalability issues in Ethereum.
Network transactions have doubled in ETH over the last six months but that is also seeing a rise in Ethereum network fees and this could pose a threat to many of the DeFi projects, which may have to switch to other networks or release their own blockchains if transaction fees got too high.
LEND
Lending project AAVE saw another week of new all-time highs as the coin moved towards the $0.600 level.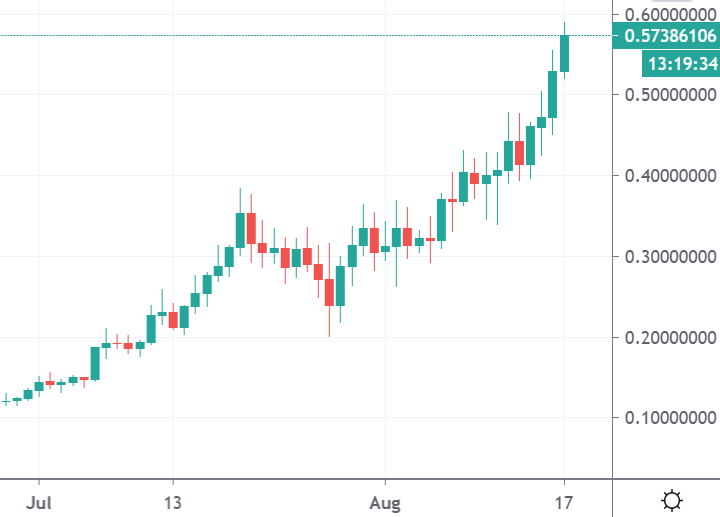 The latest gains came as the project announced it was planning to target the home mortgage market in an upcoming V2 upgrade. Aave will partner with real estate tokenization firm RealT to add home mortgages to the DeFi world. AAVE burst onto the cryptocurrency scene with their unique "flash loans" and the platform allows depositors to provide liquidity to the market to earn a passive income, while borrowers are able to borrow in different currencies.
The AAVE project is also preparing to migrate toward autonomous and decentralized governance with a newly-minted AAVE token. The 1.3 billion LEND tokens will swap for the new token at 1:100 resulting in 16 million AAVE tokens. Three million of those tokens will be issued to an "Aave Reserve" protocol improvements and development.
AAVE has soared to a ranking of 27 in the list of coins by market cap with a project value of $735 million. Despite those gains, the project would need to see an additional $1 billion in value to break into the top 20 coins.
TRX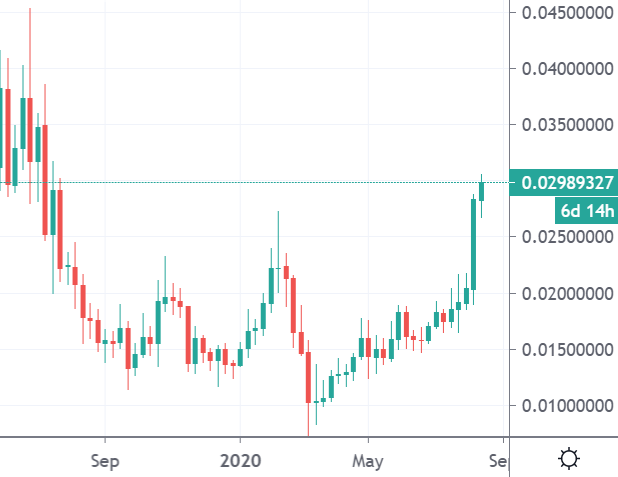 Tron was one of the best-performing of the major coins with a 40% advance on the week. TRX was trading under $0.0200 before a surge to the $0.0300 level. The move sees TRX ranked at number 15 in the list of coins by market cap with a value of $2.15 billion.
Tron's founder Justin Sun was celebrating the recent milestone of 2 billion downloads for the project's BitTorrent platform, which the Tron Foundation acquired in 2018. At the time, the file-sharing service only had 170 million users. Sun commented on the achievement:
Remarkable historic milestone for #BitTorrent reaching 2 billion installs which means 28% of the world's population has used our product! …Next goal is to make decentralized web & DeFi available to all 7 billion globally!
The first TRON-based token swap protocol named JustSwap is also set to launch soon according to a weekly update from the development team.
TRX could see further gains in a bullish market and resistance comes in near the $0.0400 price.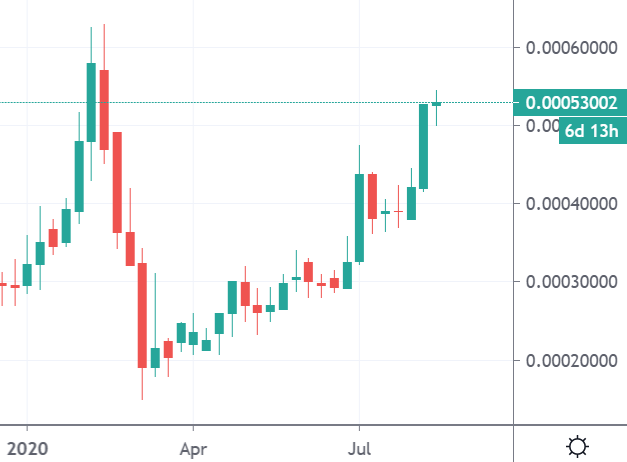 The BitTorrent token is now ranked at number 33 in the list of coins with a market cap of $540 million. The coin has seen its own solid gains from a March low near $0.00015 to trade at $0.00053 today. Key resistance is at the $0.00060 level and that could open a path to the previous all-time highs around $0.001800.
LINK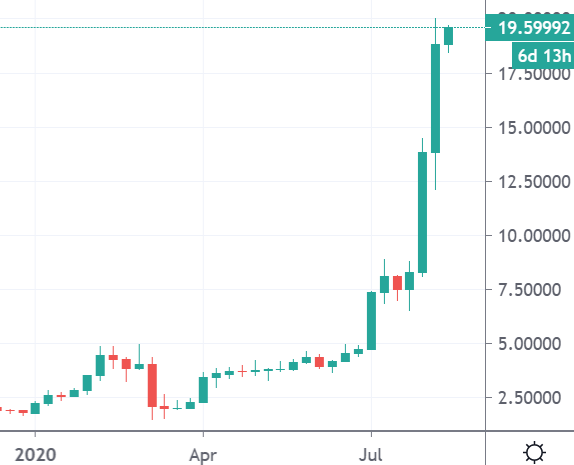 There's no stopping Chainlink at the moment as the project's LINK token saw another 40% advance over the last week. I discussed the recent performance of LINK in last week's article and this is another coin that is seeing a big demand for its technology as the DeFi growth continues.
Chainlink's Oracles are seen as a means of bridging the gap between blockchains and the outside world. LINK now has a market cap of $6.8 billion and is ranked as the number 5 coin in the cryptocurrency world.
LINK touched a high of $20.00 in the last week and its future path will likely depend on Bitcoin's ability to advance further. Further weakness in the U.S. dollar would ensure that happens in the weeks ahead.
Disclaimer: information contained herein is provided without considering your personal circumstances, therefore should not be construed as financial advice, investment recommendation or an offer of, or solicitation for, any transactions in cryptocurrencies.