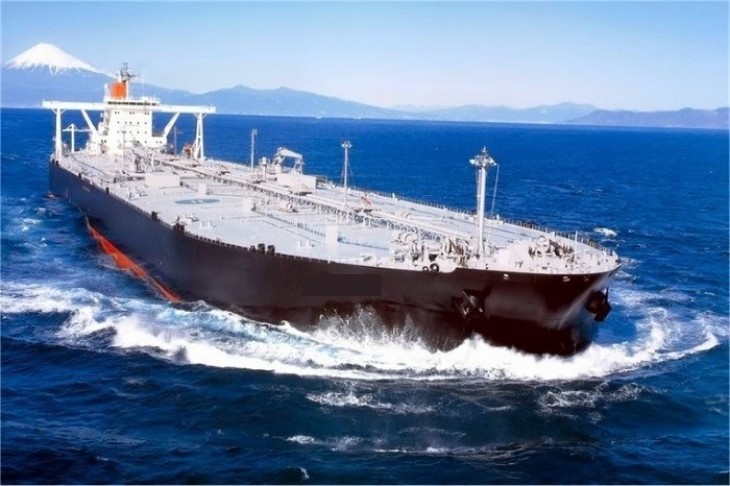 Oil Giants Go Live on Blockchain and Payments See Progress: Waves, Pay, 0x
Dec 17, 2018, 4:30PM

by
Kevin George
The Vakt trading platform brings oil majors onto the blockchain. WAVES, TenX, and 0X showcase their progress in payments solutions.
Another recent example of blockchain being adopted in the world financial system was the news that the oil trading platform, Vakt was now live. Developed by a consortium involving oil giants BP and Shell, the aim of the product is to utilize blockchain for lower costs and secure transactions with no intermediary. The Vakt platform was backed financially by ABN Amro, ING, and Societe Generale.
Initially, the platform will be used by the consortium and a handful of commodities trading houses before it is opened up to other participants in January 2019. Commodities trading is a core activity for the major energy companies and this product should be seen as another milestone for blockchain technology.
Bringing oil trading onto a ledger will ensure increased efficiency, security and speed to one of the world's most important assets. If the platform is successful then we can expect to see it rolled out into other areas such as gas, power, and carbon credits.
In a launch announcement, Vakt said the venture would,
Lead the migration of all forms of energy transaction data to the blockchain, improving data quality, further strengthening security and increasing the speed of settlements industry-wide, while reducing the cost for industry participants.
WAVES
One of the best performing coins on the week was WAVES with a 56% gain. It's always important to note coins that are outperforming in bearish market and WAVES would be one to keep an eye as the platform touts itself as the fastest blockchain with real-world solutions for storing and exchanging tokens, decentralized trading, and running smart contracts.
The move higher in WAVES was driven by a long-awaited update to the mobile app, which increases security and also allows users to lease their tokens from their smartphone. Mobile app users "number 207 million in the US and an incredible 1.02 billion in China," according to the WAVES blog and this is the market they are targeting.
The blog also states that the mobile app has been fully reworked to include a crypto wallet, the Waves decentralized exchange and an important feature being a fiat gateway, with the project stating proudly that no other platform offers anything like it!
The security features of the app include encrypted traffic, face ID, and fingerprint scanning.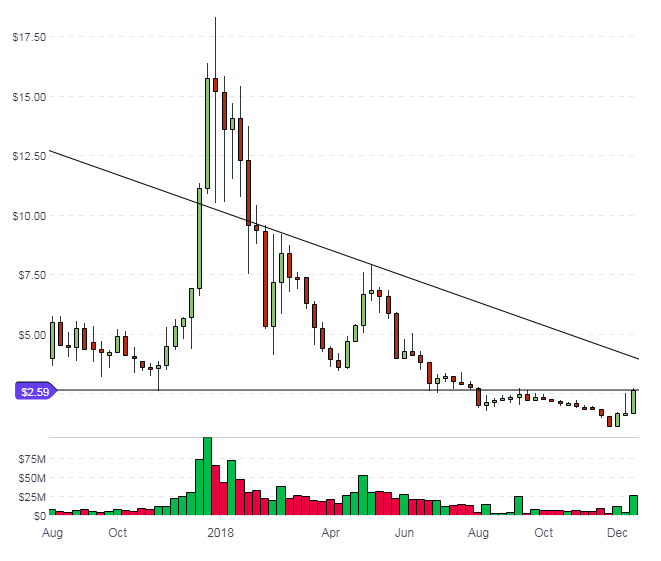 The gain in WAVES sees the coin trading at number 21 in the list of coins by market cap with a value of $250 million and a circulation of 100 million. The rally has WAVES probing the previous lows from November '17 and June '18 and could create the foundation for a move to resistance at $3.50 and $6.00.
PAY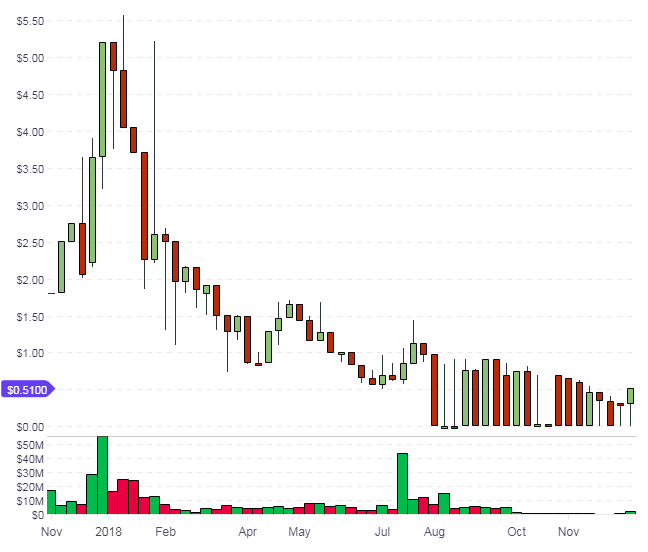 TenX is another coin that gained on the week with a 67% move higher to number 67 on the list. The move brings TenX to $0.40 and it looks like it may break out of the support levels to test the $1.00 level next. TenX has a market cap of $49 million with 114 million coins in supply.
TENx is a digital wallet with a physical card that allows users to spend cryptocurrency at any store – even if they don't accept crypto. Built on the COMIT network, the app is available for Android, iOS, and web. At present, the multi-currency wallet currently only supports Bitcoin, Ethereum, and Litecoin but has plans to expand to more coins in the future.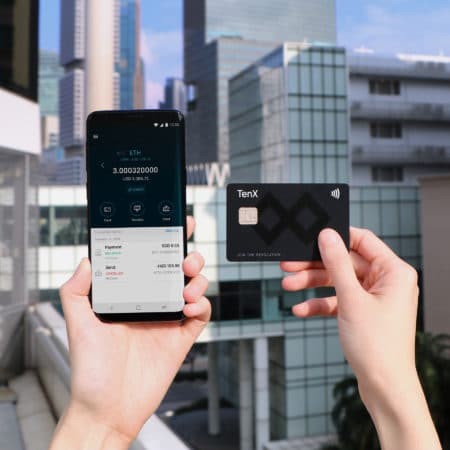 An interesting feature is that you can pay with a mix of coins, so, for example, you could split a payment into 50% Bitcoin, 30% Ethereum, and 20% Litecoin. This would be a useful feature to take advantage of price movements between different currencies.
ZRX
0x is another project that is bringing crypto payments to the next level with its release of 'Instant', which allows a free way for developers to add token exchange functionality to any website or application.
Instant could be a game-changing product for 0x with early adopters of the technology being Coinbase wallet and CoinGecko. Instant allows buying of ERC 20 and ERC 721 assets in an easy-to-use, secure interface without the need for order books.
Will Warren, CEO, and co-founder of 0x commented,
0x Instant provides a simple and intuitive interface that may be embedded in any website or app, allowing visitors to "1-click buy" Ethereum tokens with ease. Behind the scenes, each copy of 0x Instant pulls liquidity from a massive shared pool that is globally accessible.
The Instant news hasn't helped the price of 0x in a material way with the price still looking bearish around $0.275. ZRX has a market cap of $148 million and a circulating supply of 551 million.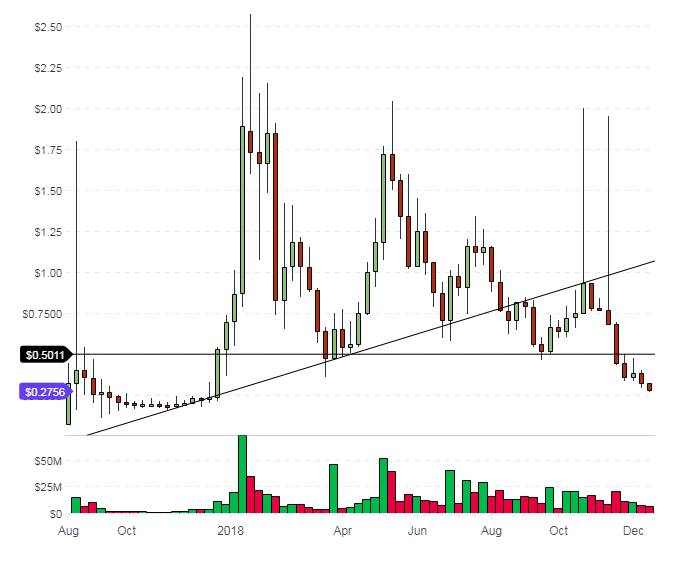 Key support-turned-resistance at the $0.500 level will be the key level for ZRX to breach if it's to make a sustainable rally higher.
Despite the continued bearish activity in the crypto market, the key takeaway is that major corporations are continuing with blockchain deployment, whilst some niche projects are opening the door to making cryptocurrency payments easier for the general public.
Removing the trading exchange layer from the payments system is vital for the adoption of cryptocurrencies. As we already see in the current fiat system with currency exchange, trading operates behind the scenes with vendors exchanging currency at the relevant rate. Providing a "one-click" exchange with fiat on-ramp is a move in the right direction towards seeing cryptocurrencies used for real-world solutions.
Disclaimer: information contained herein is provided without considering your personal circumstances, therefore should not be construed as financial advice, investment recommendation or an offer of, or solicitation for, any transactions in cryptocurrencies.