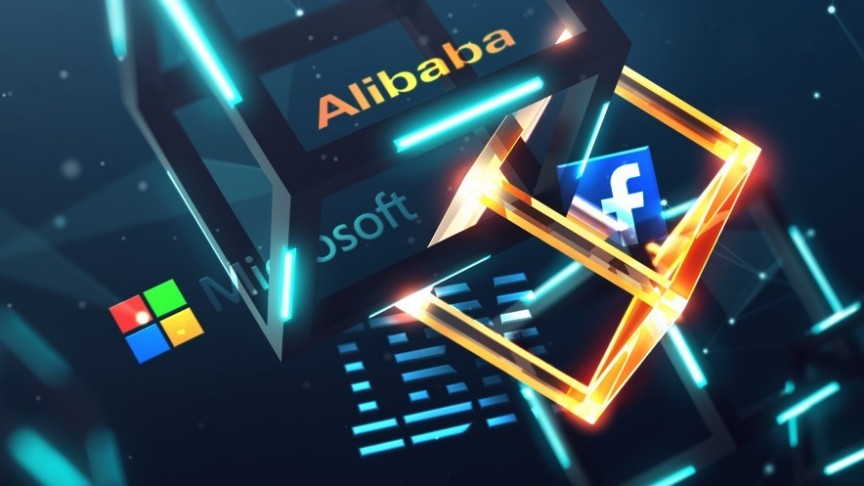 The Largest Public Companies Working With Blockchain Technology
Jul 13, 2018, 4:49PM
Several established companies like Microsoft, IBM, Facebook, and Alibaba are making blockchain a major part of their business.
One of the most trusted measures of the value of a technology is whether or not major established companies are showing interest in adopting it. The retail consumer market is essential, but corporate clientele can make or break an industry. Such was the case with the internet, just as it was with personal computers. Once major companies started buying in, the phenomenon was off to the moon.
So it is with blockchain technology. In the midst of all the hype (which many compare to the dotcom bubble), several of the biggest companies both in and outside the tech space are discussing the myriad ways they can incorporate distributed ledgers into their business operations, whether for internal use or as a service to customers.
In this article, we'll take a look at 5 major public companies, in distinct industries, who are already working with blockchain technology and what services they hope to offer with it.
Microsoft
Microsoft's reformation since Satya Nadella took over as CEO has been characterized by the once all-powerful tech company streamlining its business focus, primarily on the cloud and the intelligent edge. Continuing with toward their goal of giving corporate customers the power to customize their own productivity services, Microsoft has married their Azure cloud service with blockchain tools and tutorials to help their cloud customers integrate the technology into their business workflows.
One of these tools is the Microsoft Azure Blockchain Workbench, a tool for quickly creating custom end-to-end blockchain applications. The product is aimed towards businesses that want to quickly get into the blockchain game without making large time and money investments into blockchain development. Clients already include such names as Nestle and Webjet.
Microsoft itself has used blockchain for several initiatives, including to deliver royalty payments to game publishers on their Xbox platform. The computer giant is also eyeing another rapidly developing industry, the Internet of Things. IoT and blockchain are very much interlinked, with several cryptocurrency projects already developing the infrastructure for an IoT world.
Alibaba
China is at the cutting edge of several industries on the cusp of maturation. Artificial Intelligence, IoT, and blockchain are all thriving in the world's most populous nation, and ecommerce supergiant Alibaba is helping spur technological innovation.
While founder Jack Ma might think that Bitcoin is a bubble, he and his company Alibaba have a lot of faith in the underlying technology, with several patents and efforts serving as evidence.
In 2017, Alibaba applied for 43 patents related to blockchain, most related to the supply chain. The company's financial affiliate Ant Financial has worked towards employing the technology in the field of remittances, a use case that is ideal for blockchain because it greatly reduces the time and fees associated with cross-border payments. What's interesting about this effort is that Alibaba's choice of where to employ blockchain shows that it is approaching it logically, sidestepping ambitious goals for more practical ones that can bring immediate results.
Alibaba has also conducted a pilot program to track food across the supply chain, testing to see if blockchain could help reduce fraud. The program used the Food Trust Framework to monitor shipments from Australia to China. Alibaba Australia also previously partnered with PwC and Blackmores to check for counterfeit products.
IBM
IBM, a tech industry giant that has more ebbed than flowed over the decades, sees a chance to rise with blockchain. Among the companies described here, it has made the largest investments in the technology. It has reached far and wide in blockchain, championing blockchain in supply chains, digital identity protection, and administration.
Governments have joined in too, with the Australian government recently offering IBM $740 million for a five-year deal that would see the company provide blockchain services to various state departments. IBM's blockchain platform, like Microsoft's Blockchain Workbench, gives companies a tool with which they can easily integrate blockchain into their business. Even Coursera has a course on how to use IBM's Blockchain Foundation.
IBM's Blockchain-as-a-Service is based on the Hyperledger Composer and Hyperledger Fabric, an open source software. IBM is very similar to Microsoft in their intentions for blockchain, (even venturing into IoT), hoping that the power of cloud computing will spur businesses into adopting their platform.
Facebook
As far as cryptocurrency goes, Facebook has been in the news for all the wrong reasons, having banned related advertisements on their platform. The ban, which was recently reversed and since, rumors have been swirling regarding the social media giant's interest in blockchain. Very recently, Facebook appointed one of its mos senior developers, Evan Cheng, as "Director of Blockchain" for their Blockchain Division. Cheng also serves as an advisor to other blockchain projects, including Ziliqa.
Now that everyone knows Facebook is working on a blockchain product or service, the discussion has shifted to what it might actually be. The truth is that no one knows yet. However, given that it runs a social media platform that deals with user data and advertisements, best guesses are that they could employ blockchain to protect user identities, create an encrypted communication system, employ a more fair advertising model and/or integrate some form of payment system. The recent troubles Facebook has attracted over fake news and data theft is proof that it could very much do with improvements in those areas.
The Mobility Open Blockchain Initiative (MOBI)
Unlike the other companies on this list, BMW, GM, Ford, and Renault are not tech companies. Nevertheless, showing that they see the value blockchain has for the auto industry, the automakers have collaborated to create the Mobility Open Blockchain Initiative.
The car industry giants are researching ways blockchain can be applied to the automotive and mobility space, which is also quickly being revolutionized by IoT. (Interestingly, the MOBI initiative features IOTA.)
Possible uses cases of blockchain in the auto industry are in sales and insurance, as well as the automated functionality of the cars themselves, all of which can be streamlined with distributed ledgers. It is possible with blockchain and IoT, for instance, for suppliers, mechanics, and insurers to know when a car is suffering from a fault, and for the data to be automatically received and analyzed at their end. Manufacturers could learn in real-time which models and which batches of cars tend to suffer from which problems, greatly increasing efficiency, reducing errors, and avoiding numerous costly and dangerous situations.
Conclusion
If a more comprehensive list of major companies using blockchain were to be provided, the list would go on and on. Bitrates reports almost daily on new announcements from companies developing new blockchain projects. What we can expect to see over the coming months and years, as far as enterprise-level involvement is concerned, is more and more businesses, whether small or massive, utilizing blockchain tools to support their own businesses. This, along with the number of cryptocurrency projects serving unique but logical use cases, may bring about a time when blockchain is every bit as ubiquitous, if somewhat less visibly, as the internet.
Disclaimer: information contained herein is provided without considering your personal circumstances, therefore should not be construed as financial advice, investment recommendation or an offer of, or solicitation for, any transactions in cryptocurrencies.