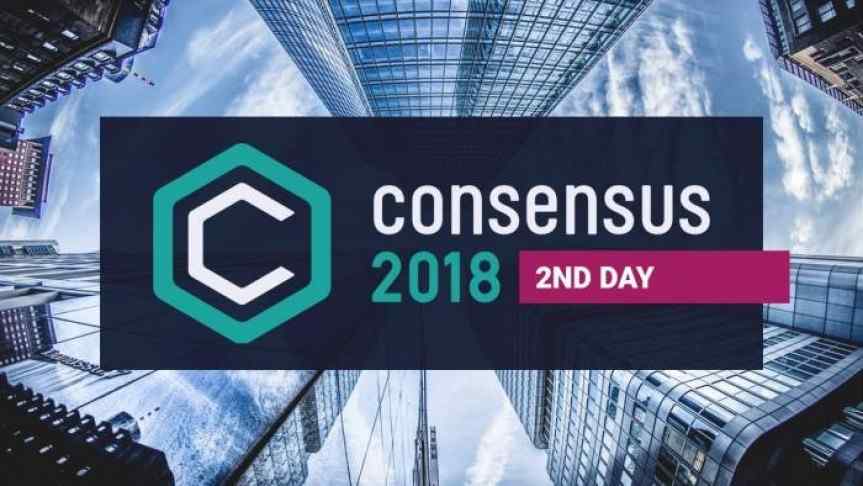 What You Need to Know About Consensus 2018's Second Day
May 16, 2018, 9:31AM
Consensus 2018, the blockchain summit hosted by Coindesk, is still going strong on day two. Here are some of the highlights.
Consensus 2018, the three-day blockchain summit hosted by New York Economic Development Corporation and Coindesk, is still going strong on its second day. The event is being attended by some of the biggest names in the cryptosphere, alongside some big Fortune500 names like IBM and Microsoft. After a stimulating first day, where thousands of attendees filled the halls of the New York Hilton Midtown, we continue to bring you highlights from the event.
Regulators Are Still Unprepared For the Blockchain Future
Kiran Raj, CSO of Bittrex, met with a panel of regulators at the "Consensus 2018 Enforcement Panel."
As the single representative for the private sector, Raj communicated to regulators the necessity for "clear regulations," since most companies are interested in compliance but fail to accomplish it because of the complications associated with the multitude of agencies and the amount of "patchwork regulations" that are being implemented.
The first half of the day was spent hearing how each regulator described the jurisdiction of their authority. Although a lot was said about how [the industry] should "protect investors," all regulators seemed to agree they should be careful not to discourage "true innovation." They also suggested that "good efforts" to comply with regulations "would go a long way."
Despite the rather positive tone from the regulators, no new regulation-related announcements were made, and the panel did not feature a Q&A section.
Deloitte: 74% of Companies Consider Blockchain a "Compelling Business Case."
Deloitte, an international firm providing tax auditing and consulting services worldwide, presented a survey which found that 74% of large companies in the fintech, tech, media, healthcare, consumer products, and communication services in seven different countries find blockchain technology to be a "compelling business case." Linda Pawczuk, head of Deloitte's U.S. Financial Services Blockchain Group, contended these results demonstrate that,
"momentum is shifting from a focus on 'blockchain tourism' and exploring the technology's potential to building practical business applications." -Linda Pawczuk, head of Deloitte's U.S. Financial Services Blockchain Group
Around 34% of all respondents have already implemented blockchain technologies in their production systems, while an additional 41% said they aim to implement some blockchain application within the next year. Interestingly, around 39% of respondents also consider that blockchain technology is "overhyped," 44% of which are in the United States. Notoriously, in China, all firms said they would be investing in blockchain within the coming year, compared to 84% in the United States.
Moving On to Day Three
Expectations are running high as Consensus 2018 is coming to a close. You can find Consensus' complete final day program here. If you are barely catching up with us, you can find a video recap of Consensus 2018 day one here. If you want to explore further what went down on Consensus' day two, there's a very cool graphic recap made by the guys at @vechainofficial, and you can check it out here. A live feed where you can see every hall during the event can be found here.
Disclaimer: information contained herein is provided without considering your personal circumstances, therefore should not be construed as financial advice, investment recommendation or an offer of, or solicitation for, any transactions in cryptocurrencies.